Nollywood actor, Victor Nwaogu also known as Nkubi has opened up on how he met and proposed to his beautiful wife.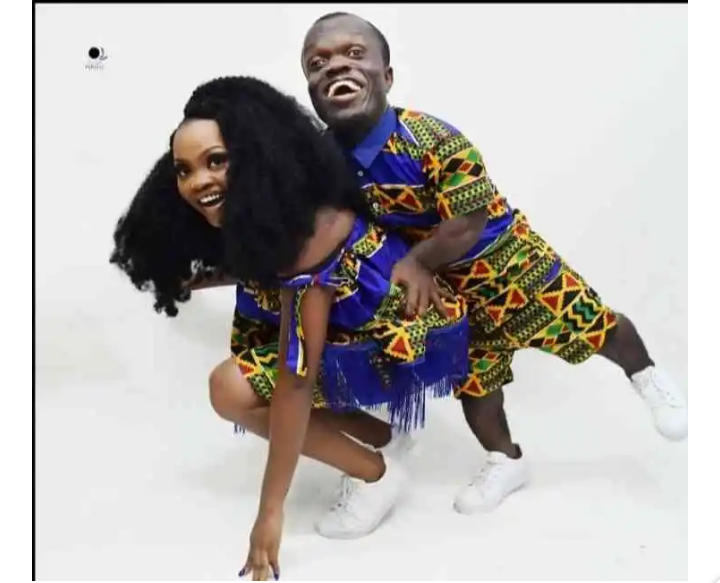 It was earlier reported that Nkubi is set to walk down the aisle.
The actor made the announcement while sharing lovely pre-wedding photos of himself and his wife to be.
Sharing the photos on Instagram, Nkubi wrote, "It is Official. D NWAOGU'S (MY 4FT LIFE WITH MY WIFE)
"Make e for no loss. As others dey talk, "I am off the Market"
The actor has now opened up on how he met his wife.
He disclosed this in a recent interview.
According to Nkubi, he met her via social media through a mutual friend and they have been dating for over three years.
In his words, "We have been dating for over three years now. We met via social media through a mutual friend. We have done the traditional marriage, the white wedding would hold later."
On how he proposed to her, Nkubi said, "We were in the room together with my siblings and I proposed, so it was an indoor proposal. I don't like too much attention."
In the interview, he explained why he takes on comical roles.
Nkubi said, "Honestly, I am a serious person naturally. I would want the viewers to see a different side of me. But then, there are some things that are beyond my control and when it comes to this industry, when an actor plays a particular character consistently, he'll get similar roles like that all the time. It happens in developed countries as well."
Nkubi is a Nigerian comedian, actor and media personality. 
He grew up in Oshodi, Lagos and graduated from the prestigious University of Ibadan with a degree in Theatre Art.
Nkubi began his acting career when he was a child.
He starred in church dramas before he moved into Nollywood.
Some movies he starred in include, Tinsel (season 5), Bella's Place, Single ladies (season 1), Officer Titus (season 3) and much more. 
He has also acted alongside with some popular comedians. He got the nickname "Nkubi" when he was an undergraduate because he was stuck with the word "Nkubi".
Content created and supplied by: Marachim (via Opera News )