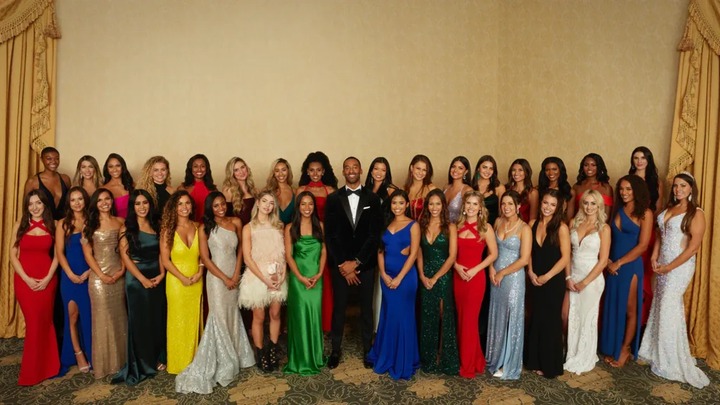 Okay let's begin. Hands up if you've heard or watched The Bachelor or Bachelorette?
I thought so.
Now hands up if you would of been watching the series when you were 19 years old?
I thought so.
So you've guessed my age already and have come to realise that I'm obsessed with the The Bachelor and Bachelorette. Now I know some of you maybe thinking why I'm so intrigued on a series where thirty men or women fight over one person for an engagement that may not even last. Well to be straight forward with you I really don't know. But what I can tell you is this not a typical show that a teenager would watch season after season and can never get bored.
So I do question myself why am I so fascinated in watching the last few seasons of the franchise. I guess it's the type of dating show that always has me blown away by the romantic dates that I wish for myself one day or how interested I am in people falling in love so quickly that their ready for marriage in just a couple of weeks. As theres no direct reason why I wait for a new season of the two shows to begin every year, I also wandered why I never told a soul that I'm fixated on the series. Maybe it's because I'm scared to be judged by friends and family on watching a loving adult series, or it could just be the fact that no one else around me or within my age group in obsessed with the show like I am. So I've summed up three possible reasons why I'm very hesitant in telling people my secret obsessive show that no one in my circle will never watch in a million years yet alone bother to search it up.
The Three Possible Reasons:
1. I Shouldn't Be Watching A Show About An Engagement
2. It's Boring And Repetitive
3. It's My G.P.O
1. I Shouldn't Be Watching A Show About An Engagement
This was the first reason that came to mind and out of the three is the most truthful one. The one episode that I look forward to on a season of The Bachelor and Bachelorette is the last episode which is always titled "The Final Rose" as I always love seeing the romantic set up the production crew have put together for the big engagement. So far the best engagement that I've seen on the show was for JoJo Fletcher as she was the Bachelorette for season 12 and gave her final rose to her fiancé Jordan Rodgers on private a beach in Thailand whilst sunset was taking place. Ahhh how romantic.
I would love to have a conversation about the final episodes for each season one day with someone but imagine all the scrutiny I would receive for watching a show based on getting married. "I shouldn't be watching a show about an engagement" will be the first saying that my relatives will say if I told them that I've been watching The Bachelor and Bachelorette for almost four years. Especially by my grandparents. Of course they don't want me to be caught up in the absurd reality of a dating show as they'll want me to focus on my future ahead and not be so hooked on finding love and having a wedding day. But why would I want to give up my youthful days ahead as I have my whole life to find the one and only? My family has always said to put your career and well being first before love and marriage so I'll never be encouraged by a reality dating show to find Mr right, not that there's anything wrong with seeking love first before your career.
For so many year I've been told by my beloved grandparents to watch TV programmes that can have an impact on my understanding of the world such as the international news programmes. Of course these shows can be beneficial for your own knowledge but for someone to be constantly watching these news channels 24/7 can become very tiring to watch. So for a family that puts constant pressure on their daughter and granddaughter to keep up with the educational programmes, there of course will be one show that I want to watch purely for entertainment and that has to be The Bachelor and Bachelorette. I'm not being influenced in anyway by the show to be in a rush to get married, I'm simply just watching the show for laughter, joy and to escape the unfortunate normal day reality of being a 19 year old.
2. It's Boring and Repetitive
Nowadays, majority of people within my age group are obsessed with psychological thrillers and horror series that everyone keeps on talking about. Within the last a couple of days I've received five text messages from close friends all saying if I've watched I am the Killer series on Netflix. So I lied and said yes to everyone that asked me, then I started receiving messages on my favourite part of the show which I clearly didn't have an answer to. But it's such a shame that everyone is so hooked on watching these murder shows whilst I'm over in my room questioning why Matt James didn't give a rose to the ballet dancer from NYC. Now it's ok to watch a movie or series thats an intense thriller or horror once in a while but everyday?
I guess this is one of the reasons why I'm very hesitant in confessing to any of my friends that I watch The Bachelor series as many of them may think its sounds very boring to watch in comparison to young dating shows such as Love Island and Too Hot Too Handle which are shows that based on having sex. If you've never watched an episode of either The Bachelor or Bachelorette then you've most likely figured by now these are mature dating shows (to some extent) no other 19 year old would be intrigued to watch simply because there isn't that level of maturity to watch an older adult series for someone entering there twenties. Even if I got one person from my friendship group to watch one season, I very much doubt they'll return for another one, mainly because the drama and fights that happens in the house amongst the men or women are very similar for nearly every season. Even though the producers and directors alongside Chris Harrison himself (the host) tends to switch things up for a new season so ratings don't go down, there always will be the same dramatic scenes that happens season after season where one person will always be the b*tch of house that creates conflict amongst others.
The Video above shows a stir up between Victoria and Marylynn in the current season of the Bachelor
With that being said, it looks like I won't be persuading anyone to be a part of Bachelor Nation so I just have to keep it as a guilty pleasure for much longer than I hoped. Even if I succeed in trying no one will be watching it for long. However it maybe a different scenario ten years down the line if the shows are still up and running, one of my friends could have the series as there guilty pleasure and I may not even know.
3. It's My G.P.O
The more I think about why I'm hesitant to tell anyone that I watch The Bachelor franchise, the more I've come to realise, that its a challenge to watch one new episode of the show here in England. Let me explain.
New episodes of the series don't air on British television. If you want to watch the current season of show thats showing in the US, you'll have to wait two years for it to come on mainstream television in the UK. So why am I going to wait two whole years for a season when I know there are other ways of streaming?
But heres the joke, I pay £15 a month for Amazon Prime Video then another £10 for Hayu reality TV on demand just to watch a new season. I don't even watch anything else on Amazon Prime and Hayu so I pay £25 a month just to watch four new episodes of The Bachelor or Bachelorette.
So I'm glad your able to realise that I will do anything to watch the best dating show in the world, even if it comes at a price. But would any of my friends be willing to pay this amount for a show they may not even like?
The answer most likely will be no, as no one will ever risk there precious coins. Even if I tried to convince them the show is worthy of binge watching, they'll probably think that I have a real G.P.O (Guilty Pleasure Obsession) that spends my money on watching a boring dating show instead of watching the best TV shows that their currently watching. I mean of course I have a G.P.O with Bachelor Nation but I just don't want them to think that. I may come across as this strange person that doesn't watch loving, sexy, reality tv for free but instead pays £300 a year to watch an unheard dating show that no one pays attention to in the UK. So I guess this is the third possible reason. People won't bother streaming the series if its not on TV and everyone will think I have a have this compulsive obsession for a romantic reality series.
My Hesitation For Telling Anyone About The Show Will Be Around For A While
Well there you have it, the three possible reasons why I'm hesitant to confess my love for The Bachelor and Bachelorette to anyone. As I mentioned earlier before there is no direct reason for me watching the show. There are numerous reasons why I'm so fascinated by every season but I cannot figure out the main reason why I watch the show. Hopefully that makes sense.
However, I know for sure that my G.P.O for the series won't be told by anyone in the nearby future. Despite the fact, that I'm not the type of person who cares of what others think, when it comes to confessing my love over for The Bachelor franchise I know it will be a red light for anyone. Whether its friends, family or meeting new people, I don't want the thought of someone thinking that I'm too caught up in finding love at 19 years old or having the idea that I'm a boring person that watches a mature dating series. It's sad that I have no one to discuss the latest drama that's happening within The Bachelor community such as someone calling off an engagement or the fight that the group of men had in the house. All I know is this secret of mine that has consumed my life for four years will remain a secret for a very long time. So promise me you won't share my obsession with The Bachelor and Bachelorette with no one else outside of this community. I'm counting on you to keep my secret safe until I'm ready to admit to anyone that I've been watching the series for a couple of years which won't for be quite some time.
So in true Chris Harrison style:
Those of you that don't see the fascination for the show, take a moment say your goodbyes.
Those of you that do, thank you sympathising with me on how the show is my guilty pleasure. Please fill free to leave a like and a tip if you can and be sure to keep up on my upcoming stories!
Content created and supplied by: Supertee (via Opera News )