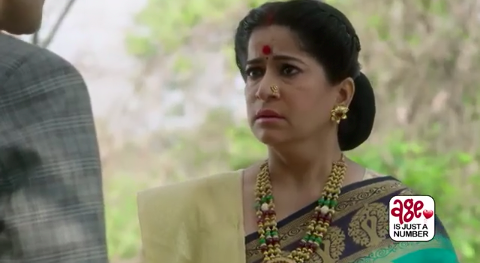 Shruti tells Vaidika she only wants that she knows the man she married and her husband knows her. Bari Amma comes to the room with Anjana and wasn't ready to listen to Vaidika blaming her to speak Yash's language and interfering in their internal matters. She shouts at Shruti to go downstairs and agree to this marriage else she would force her to the mandap. Shruti wasn't ready to marriage. Shruti warns to deny from this marriage in front of the guy's family downstairs but Bari Amma forcefully drags her. 
Vaidika comes to Sahil in the corridor. She tells Sahil it's about his sister's life, at least he must understand it's about his sister's life. She wants someone who marries her after knowing about the reality of her past. Sahil says he is with Shruti, and no one will force her. Vaidika was relieved and says Shruti isn't ready for marriage at this time, she isn't denying marriage right now. Sahil now pins Vaidika to the wall behind and says if she agrees that forcing someone into a marriage is wrong, why he got him married to Nidhi? 
At Agarwal House, Sahil asks Vaidika if he seemed ready for wedding from any angle. Vaidika says he wanted the right decision for him, she has repeatedly apologized him but he was no way ready to accept that SahiI-Vaidika love story isn't possible. She leaves. Sahil says Sadika was and will always be possible. He was determined to find out who is the father to Nidhi's child soon. There, Nidhi comes to meet Karan outside, she complains to Karan why he insists to meet her repeatedly.
There are guests at home. Karan says a fan fell over her, if their child is fine? Nidhi says it's only her child, and he is fine. Deepak just came out looking for Nidhi, she vanishes from beside Karan. Deepak comes to Karen who says he was just coming inside. Deepak says there are guests for Shruti's marriage inside, what he is doing here. They go inside together. 
Deepak watch Nidhi come inside. The guests were discussing that they must wait until Shruti and Prerit speak to each other. Shruti and Prerit come outside. Shruti says she is ready for marriage. Vaidika thinks there must surely be something wrong, she can't let Shruti marry a wrong guy. Shruti says I am ready to marry him, all congratulate each other, they leave. Mom congratulates Badi Amma. Vaidika asks Shruti why she is doing this? You told me you dont want to marry before getting to know the guy then why did you say yes?
Badi Amma says enough, we have told you to not involve in our matters. Sahil says Vaidika is worried about Shruti, he asks Shruti why she wants to marry? Shruti says I dont know why Vaidika doesnt want me to marry Prerit, I am doing this marriage with my will. I am happy Badi Amma. Flashback shows Shruti trying to talk to Prerit alone but Puneesh, messages her intimate photos, she calls him and asks him what is all this? Puneesh asks her to marry Prerit otherwise he will leak her photos, shruti looks on. Flashback ends. 
Mom asks Vaidika to not tarnish their happiness. Vaidika says you people can curse as much as you want but look at Shruti, she seems scared and worried. Shruti says I am happy and I am doing this marriage on my will. Sahil asks Vaidika why she is doubting her answer? Vaidika says I understand you think Shruti accepts this but, Badi Amma asks her to stop it.
Vaidika thinks there is something fishy, Shruti tell us what is wrong. Puneesh says to himself that there will be trouble in Agarwals lives and I will destroy them. Prerit says I did as you said, proposal is confirmed now. Puneesh says just do as I say, keep doing your thing, those Agarwals dont know what is going to happen with them, he recalls how Sahil had beat him. He says I will take revenge from them in such way that they wont be able to ever recover. 
Scene 2 
Manjila brings her guests to Sahil's house, she shows them around and brags about the palace. They come to dining table, Manjila sees all continental, Italian food, she says what insect food is this? Badi Amma comes there and says this is foreign food, Manjila serve them. Manjila tries to pick spaghetti from hands but Badi Amma says you pick it from fork and first you have to start with appetizer soup, guest says Manjila you should learn rich living from Badi Amma. Manjila gets angry and throws soup on Badi Amma's face. Badi Amma is angry.
Shruti requests Prerit to say not to this marriage. She promise to arrange the money for him. He is a nice man and help her in the matter, she begs of him. Prerit slaps Shruti and asks if she considers him an idiot. If she believes she can get out of Puneesh Tiwari's capture. There was a deal between him and Puneesh, he only wants a luxury of life and Puneesh wants her. After they get married, she will live with Puneesh and he can't go against Puneesh. She must tell her mother to prepare for the wedding, he will bring the Baraat in four days.
Karan was passing by. Prerit slaps Shruti again. Karan comes to grab his collar and asks how dare he slaps Shruti, he questions how dare he slaps her. He takes her to tell everyone about it. Shruti says this isn't possible, Prerit is a nice guy and she is really happy. They both like television serials, they had only been acting. She goes to speak to the tailor. Karan senses something was wrong. He goes to tell Vaidika or Sahil about it. Vaidika was in her room when Karan comes there with a solution to her problem. He says Prerit slapped Shruti in the room. He says they were arguing at some matter.
Shruti denied this and said they had been acting at some matter. Vaidika says at least they must have told Sahil about it. Sahil comes there to listen about it. Vaidika tells Sahil that Prerit slapped Shruti. When Karan asked her, she said they were acting like some scene of television serial. Sahil was relaxed and says Shruti is like a drama queen and re-enacts the scenes from television serials. He tells that Karan doubts everyone.
He says its been proven that Vaidika cares for everyone in his house. He is happy that Shruti is finally marrying someone, he is happy and wants her to marry soon. Prerit's parents have taken a date in next four days. He takes Karan along to make the preparations. Vaidika was determined to keep an eye on the matter, she can't allow Shruti marry someone wrong. 
Later, Vaidika speaks to Karan on call that he knows they have to find the truth about Prerit. She finds Nani deterring Bari Amma. Bari Amma calls Shruti to the hall and slaps her, she shouts at her for keeping false relations with her brother in law. Nani says she told her, she doesn't know if this memory loss is a drama or not but Bari Amma insulted her. She can't also keep her respect or the respect of her family members. Sahil tries to explain but Bari Amma blames Anjana for not bringing her daughter up well. She announces that she will marry Shruti tomorrow and not after four days. Prachi spices up the matter that she wanted to tell the matter earlier but was cautious of her health.
Bari Amma instead scolds Prachi for not taking control of her husband and bearing a child in time. Shruti leaves the hall. Bari Amma now shouts at Anjana for being a bad mother to both her children. Vaidika stops Sahil from saying anything in front of Bari Amma with a signal of her hand from upstairs. She was worried about her wedding tomorrow.
Shruti comes to her room, she recalls Puneesh blackmailing her, Prerit saying that she will marry him but will live with Puneesh. Sahil comes there and asks her to not cry, he says I know Badi Amma slapped you out of shock but think that you will be married in a day, you will be with me in Kanpur, dont worry about it, I will talk to Prerit, I will tell him about your past, I promise to be always with you, you will be very happy in your wedding, he hugs her.
Shruti thinks I wish I could tell you how big this wedding is a punishment for me. Badi Amma meets Prerit's parents and says our priest found a good time tomorrow for wedding. Prerit's mom says we are happy to have Shruti as our daughter in law. In function, Sahil says to Prerit that Shruti is young and she did some mistakes. Prerit says dont worry about it, we all do mistakes in this age, I will keep her very happy. Sahil says you are the best for Shruti. Prerit thinks that he doesnt know what is going to happen with his sister. Shruti comes in her function.
She looks at Prerit and recalls how he slapped her and said he would do anything with her after marriage. Engagement ceremony starts. Vaidika comes there. Prachi comes to her and says I know you have something going in your mind, I suggest you to leave like your Yash. Badi Amma has ordered for you to stay away from Shruti's wedding. Vaidika looks on. Prachi leaves. 
Karan comes to Vaidika and says I searched about Prerit's family but they seem like nice people, all praised them. Badi Amma gives ring to Shruti, she makes Prerit wear it, all clap. Prerit makes Shruti wear the ring but she jerks her hand away. Vaidika notices it and thinks that Shruti seems very tensed. Vaidika asks Karan if he checked Shruti's social media profiles. He says Sahil's family did so much with you but you are still trying to save them. Vaidika says this is about a girl's life and I will do everything to protect her, find anything you can. Karan nods and leaves.
Sahil comes and takes Vadika from there. Vaidika speaks to Sahil why Shruti feels so afraid. Sahil says Bari Amma just slapped Shruti, her marriage has been preponed. She seems fearful and it's normal. Vaidika was worried what if something happens to Shruti again. Vaidika asks Sahil what if something bad happens to her again. Sahil says he doesn't want something wrong happen to her again, else she will have to bear it after marriage.
She told him she likes Prerit and wants to marry him; he needs to trust her this much. He requests Vaidika not to create any hurdle. Vaidika says she also wants the same, Shruti will marry but the right man. The girl tells Karan she was Prerit's girlfriend for the last two years, he teased her so much. He is a true bastard and must be in jail. He will spoil the life of any girl he lives with. Karen calls Vaidika to inform her. 
Anjana was applying henna on Shruti's hand and curses her brought up. She says she wanted to do a lot on her wedding, but didn't know this all would happen in such urgency. Shruti requests Anjana to requests some time from Bari Amma. Anjana was irked and says Shruti herself agreed to this marriage. She leaves the room. Sahil comes there, Shruti tries to speak to him but recalls Puneesh's blackmailing call. She couldn't speak to Sahil. Karan and Vaidika come to the girl, Fatima's house so that Vaidika can also meet her. An old lady appears and denies any Fatima live there.
Fatima had been tied to a chair inside. Puneesh had held Fatima hostage. He says no matter what Vaidika does, Prerit will surely marry Shruti. He will become the groom and he will celebrate the wedding night with Shruti each night. He pays the old lady a bundle of money to take care of Fatima till tomorrow. At Agarwal house, haldi ritual was Shruti took place.
Nidhi thinks soon Shruti will become Mrs. Puneesh Tiwari 2. Shruti stands up at once and faints in the midst. They take her to the room. Sahil was with Shruti in the room when Vaidika comes to the room concerned and rubs her hand. Sahil watch her there. All at once, there was a message at Shruti's phone. It was Puneesh, texting Shaadi Mubarik. Vaidika wonders why he sent message to Shruti. Nidhi heard this from outside. Vaidika asks how Puneesh knows Shruti is marrying. Nidhi was happy she deleted the old messages of Puneesh from Shruti's phone and calls Puneesh that he must be thankful to her for the favors.
There, Puneesh had scattered his photos with Shruti on his bed and thinks he will not let the fish slip from his net. Shruti's life has to ruin, Shruti must marry Prerit no matter Vaidika's life has to be sacrificed for the purpose. Vaidika convince Sahil that her gut feeling says there is something wrong in the wedding. Sahil says he trusts her that she can never think wrong for her famity, but they have no proof and need to find it. Vaidika was worried that Baraat will be here in half an hour.
Thanks for reading. Please do share to all other Zee World Lovers. Kindly follow my page for more daily updates.
Content created and supplied by: Insta_News (via Opera News )
Opera News is a free to use platform and the views and opinions expressed herein are solely those of the author and do not represent, reflect or express the views of Opera News. Any/all written content and images displayed are provided by the blogger/author, appear herein as submitted by the blogger/author and are unedited by Opera News. Opera News does not consent to nor does it condone the posting of any content that violates the rights (including the copyrights) of any third party, nor content that may malign, inter alia, any religion, ethnic group, organization, gender, company, or individual. Opera News furthermore does not condone the use of our platform for the purposes encouraging/endorsing hate speech, violation of human rights and/or utterances of a defamatory nature. If the content contained herein violates any of your rights, including those of copyright, and/or violates any the above mentioned factors, you are requested to immediately notify us using via the following email address operanews-external(at)opera.com and/or report the article using the available reporting functionality built into our Platform See More