According to report from Sahara Reporters, General Overseer of Omega Fire Ministries, Apostle Johnson Suleman has come out to apologise for the audio clip of him which went viral earlier today.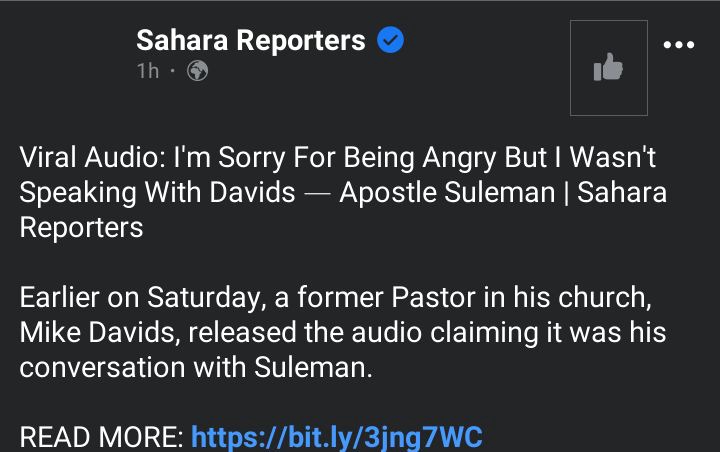 The audio clip which was released by Mike Davids, who was a former pastor of Omega Fire Ministries claimed it was a conversation he had with Apostle Johnson Suleman. Pastor Davids had earlier accused the General Overseer of sleeping with his wife, Faith Edeko, who is currently the head of a branch in Abuja. Apostle Johnson Suleman outrightly denied the allegation labeled against him and tagged as a cheap blackmail.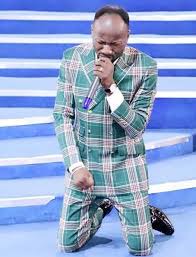 Apostle Joshua Suleman has broken silence with respect to the audio clip which went viral today after it got released by Pastor Mike Davids, he made it known that the voice on the audio clip was truly his, he truly retorted but the audio clip was doctored. Apostle Johnson Suleman was heard on the audio saying, "You will die prematurely". He went on to say that the clip was a conversation he had with a lady who he warned to stop calling his line three years ago, and that it wasn't a conversation with Pastor David. That it was only used to lower his dignity and blackmail him. He went on to accuse Pastor Davids of conniving with other pastors whom he groomed.
Apostle Suleman also disclosed why he stopped Pastor Davids from parading as a pastor of Omega Fire Ministries. He disclosed that Mike Davids was a man with a black heart and he was always fond of planning evil against other pastors. He further issued a warning to Mike Davids to repent of his evil before it's too late.
However, Apostle Johnson Suleman begged for mercy and asked for forgiveness for losing his temper, he disclosed that he is also human, flesh and blood, so he isn't above mistake.
In his words;
"I'm not a perfect man, I'm human, I make mistakes. I'm not perfect. I sent you out of Omega Fire Ministries because of how evil your heart is; you spend all your time plotting against people, planning against pastors, thinking of how to bring pastors down. That was the reason I sent you out of the ministry."
"You called off your union with your wife, and she was languishing in severe pain. We decided to give her a helping hand and you outrightly refused, and insisted that she must eat from the gutters and suffer. As a father who groomed your wife, should I let your wife pass through such a severe suffering? My wife spoke to me about the need for us to support your spouse and the kids. You said you want your wife back, you live in Abuja with your wife, you never for once gave her a call."
He further went on to say that he isn't perturb about Pastor Mike Davids claims of having blackmails of chats and text messages. He went on to apologise to his everyone for letting his emotion take the better part of him.
In his words;
" I apologise to everybody; to my family, to Omega Fire Ministries for making anger take hold of me."
I honestly believe that with time, whoever is saying the truth would be vindicated.
Content created and supplied by: packettracer (via Opera News )