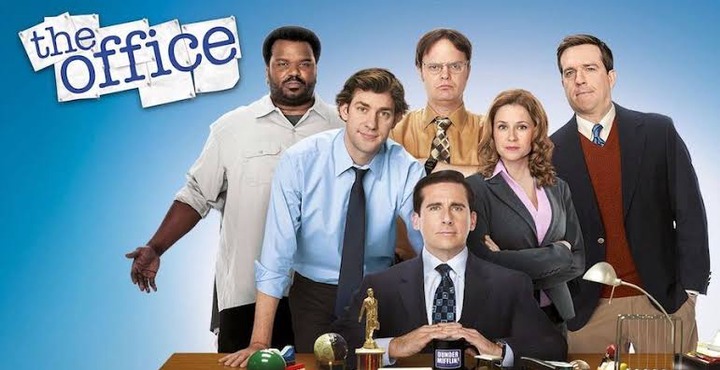 Narrowing down 188 episodes across 9 seasons into a "Top 10" list is not an easy thing to do. There were a couple of episodes that immediately sprang to mind, because I already knew what those absolute favourites were, but there are so many classic moments across the entire run of The Office to make it a challenge. I almost felt bad for leaving certain things out, and I'm sure there won't be a single person who agrees with the list in its entirety. In fact, there will be days when even I don't agree with my own list; sometimes I like certain episodes more than others, and the list changes position.
So, anyway, here is my current list of my favourite (which may be considered different to "the best") episodes of The Office: An American Workplace.
(NB: episode numbers are derived by having part 1 / part 2 as separate episodes where applicable)
10. Scott's Tots (Season 6, episode 12)
Tenth position was always going to be the most difficult to pick, and I went back and forth between this one and two or three others.
But, for me, this episode earns its place in the list by being the ultimate culmination of the two factors that make Michael Scott who he is: 1) a generous, kind nature that makes him want to help everyone around him and 2) lack of foresight as to when he's about to make a ridiculous decision.
You just know that Michael promising to pay for college tuition for a group of students when they graduated was a spur-of-the-moment thing, because his heart was breaking at their lack of opportunity, and he truly believed that he would be able to help them when the time came.
I have made some empty promises in my life but, hands down that was the most generous - Michael
9. Cocktails (Season 3, episode 17)
Another one that could have easily been swapped out with something else without causing me any trouble. In this episode, Michael, Jan, Jim, Karen and even Dwight visit David Wallace's house for a cocktail evening.
Most of the episode is fairly by-the-by, except for two main things:
This is Michael and Jan's first time out together officially, and it really shows the way their "relationship" works. Michael is thrilled at the prospect of announcing his love for Jan to anyone who might listen, but Jan herself would rather hide away in embarrassment.
The second comes nearer the end, while the rest of the office are attending Happy Hour. Pam, deciding she needs to be truthful with Roy, makes the mistake of telling him about her kiss with Jim. So kicks off the rest of the entire show, leaving the door open for Jim and Pam to finally get together. Hooray!
I am taking a calculated risk. What's the upside? I overcome my nausea, fall deeply in love, babies, normalcy, no more self loathing. Downside? I, uh, date Michael Scott publicly and collapse in on myself like a dying star - Jan
8. Blood Drive (Season 5, episode 16)
I don't know what it is about this episode that I love - nothing much really happens, and it's fairly inconsequential. I think it's the sweetness of the story of Michael meeting someone while donating blood and then spending the rest of the episode hatching a plan to try and see her again without knowing anything about her. The fact that everyone else in the office who isn't with anyone at the time (which is pretty much all of them) agrees to stay behind late and wait with Michael in case the blood drive woman turns up is also a lovely thing.
And Pam and Jim's awkward dinner with Phyllis and Bob Vance of Vance Refrigeration is kind of fun too.
Inconsequential episode, but sweet and fun.
I hardly even talked to her we just, we were lying there next to each other, I think our blood bags touched - Michael
7. Goodbye, Toby (Season 4, episode 14)
Now, this is a wonderful episode. The sheer glee that surrounds Michael as he plans the biggest party in the history of the office to say farewell to Toby is a sight to behold. He's not planning it as a nice gesture to see off the man, of course, but more a celebration of his own joy that his HR nemesis is finally leaving.
Things don't go to plan, and a new HR rep arrives on the scene (what, did he really think there would be no HR department once Toby left?)
But, of course, the person who was coming in to replace him was the wonderful Holly. At first repulsed by her - simply because she's HR - once Holly says something that sounds like she's on his side, Michael's immediately smitten. At this point, we all think it's going to be another awkward romance that comes to nothing, but gradually as the season goes on we realise that she really is the one for Michael, so for that reason alone this episode is very special.
Other things happen: Andy gets engaged to a seemingly less than thrilled Angela (having invited his parents to attend the party!), thwarting Jim's plan to propose to Pam that same night, even buying fireworks for the party to set the atmosphere; and Kevin is made out to be mentally challenged as a prank against Holly, which is quite fun but that sends Kevin's character into more of a downward spiral to being ridiculously dim for the majority of the rest of the show's run.
So here we go, just a matter of hours now, until his horribleness has left the building - Michael
6. Andy's Play (Season 7, episode 3)
Another episode that I was tempted to switch out with something else, but I enjoy this one too much. It's perhaps one of the highlights of the awkward humour that makes up a large part of the show, with the whole nightmare scenario of Andy's cellphone going off during the performance and him answering it on stage, then trying to make it a part of the play itself. And as if that wasn't bad enough, Michael sends an empty wine bottle clinking its way down the steps in the auditorium, and letting go of one of the many balloons he brought in with him, popping them on the ceiling, causing Cee-Cee to cry from the back of the room where Erin - who is supposed to be baby-sitting - is standing and watching the performance.
The fact that the guy playing Sweeney Todd himself in the performance happens to be Darryl's plumber really triggers Michael, and that's a wonderful moment.
That's without mentioning Michael's own audition for the show where he played out an entire episode of Law & Order.
It's like The Hurt Locker! - Jim (attempting to move Cee-Cee from her car seat)
5. Garage Sale (Season 7, episode 18)
The main storyline of this episode is another fairly inconsequential one: it's all the stuff unrelated to the titular garage sale that make it so very special.
Every single time that I watch this episode, I'm crying by the end. The corridor of candles Michael uses for his proposal (rather than the "Marry Me" spelled out in flames in the car park, which Pam stopped him from doing) is wonderfully romantic and weird, with every character along the line asking Holly to marry them ("The only one I was worried about," Michael says after Holly refuses Ryan's fake proposal).
And then the sprinklers go off, and it brings back memories of Jim's proposal to Pam in the pouring rain at a rest-stop between New York and Scranton, and it's an equally magical moment.
But Michael follows up the beautiful proposal and the joy that it brings his friends and colleagues by immediately announcing afterwards that he's moving to Colorado.
Talk about bitter-sweet.
I was just coming out to see what you were doing and to maybe stop you - Pam
4. The Search (Season 7, episode 14)
The episode where Holly proves beyond a doubt that she's the one for Michael, even putting doubters Dwight and Erin in their place in the process. The fact that they're able to track Michael by smells that he might be drawn to, or the fact that he signed a cellphone provider's sign up sheet with a fake name (Fanny Smellmore), or that he might be going somewhere high up, to a place where he could see the office from his vantage point is some superb writing.
Finally Michael and Holly are back together in a touching scene where Holly finds exactly where he is - Michael: "Can I kiss you?", Holly: "Yeah".
Tissues out, once again.
He answers to Michal. Michal G. Scott. Michael J. Fox. Mr. Fox. The Incredible Mr. Fox - Erin
3. Business Trip (Season 5, episode 7)
We're back on the topic of Holly again in this episode, even though she doesn't actually make an appearance. Michael is sent on a business trip to the faraway land of Canada by David Wallace, who claims to feel bad for sending Holly away.
It's Michael's first time out of the country, so he's particularly excited about the whole experience, and looking forward to something from the in-flight menu, only to be told that they don't serve food on such a short flight.
Whilst there, Michael becomes infatuated with the concierge, who has almost magical abilities, as far as he's concerned. He has a bit of a rebound one night stand, and clearly feels bad about it by the end of the episode, telling David that the whole trip sucked, and telling him exactly what he thought of David's decision to send Holly away.
The highlight of the episode, though, is perhaps Andy and Oscar sharing some screen time. It doesn't happen often, but here it's great fun, with Andy trying to play Oscar's "wingman" and set him up in the hotel bar.
A drunk Oscar persuades and even more drunk Andy to call Angela and ask why she hasn't slept with him yet. The scene the following morning when Andy realises what he did the night before is painfully hilarious.
I have always been intrigued by all things international. The women, the pancakes, the man of mystery… - Michael
2. Niagara: Part 2 (Season 6, episode 5)
Of course Pam and Jim's wedding had to feature in here somewhere. There's not much to say about it, other than it's something we waited for 6 seasons to happen, and it doesn't disappoint.
The boat was actually Plan C. The church was Plan B and Plan A was marrying her a long, long time ago. Pretty much the day I met her - Jim
1. The Dinner Party (Season 4, episode 9)
Out of all of the episodes, this is the only one where I knew for an absolute fact that it would be on the list, and I knew for sure that it would be right at the top.
To kick off the episode, Michael had to essentially trick Jim and Pam into going to his house for dinner by inventing an order from Corporate that they had to work late. Once he'd made sure that no one could have had plans for that evening, he "called Corporate" and told them that they weren't going to be staying late to do the work, thus freeing up the evening and making Jim and Pam available for dinner.
Things only get worse from there as the full toxicity of Michael and Jan's relationship is put on show for their dinner guests, even going so far as Michael believing that Jan might be poisoning him with his food.
It's the ultimate nightmare of a dinner party, where the hosts are constantly at each other's throat, despite calling each other "babe" at the end of every sentence.
And it's absolutely hilarious.
I don't care what they say, I just want to eat. Which I realise is a lot to ask for… at a dinner party - Pam
Having written out this list in full, a few things became apparent to me:
First, it seems that some of my favourite episode of The Office don't actually take place in the office at all, or at least not for the majority of the run time. Taking these characters out of their "natural environment" and into the "real world" seems to work wonders for the storylines and humour, leading to some special moments. Though these episodes wouldn't have worked without first establishment the characters fully beforehand.
Second, clearly I'm a big fan of the Michael-Holly relationship, since 3 of the 10 episodes listed are heavily to do with that couple (2 of the 3 are even in my top 5).
Third, the episodes after Michael Scott left didn't even get a look in. There are some good episodes once he's gone, and Robert California was great on the whole, but there weren't any favourites in there for me. The whole Sabre pyramid was kind of ridiculous, though the concept of sending up an Apple store concept was great. An honourable mention would have to go to the "The Finale", especially part 2 (season 9, episode 27, if you're counting the parts separately) - this probably would have featured in the top 10 if Michael had been given more to do on his return.
So there it is - my top 10.
I know you think I'm wrong, but it was really hard.
That's what she said
Content created and supplied by: Supertee (via Opera News )