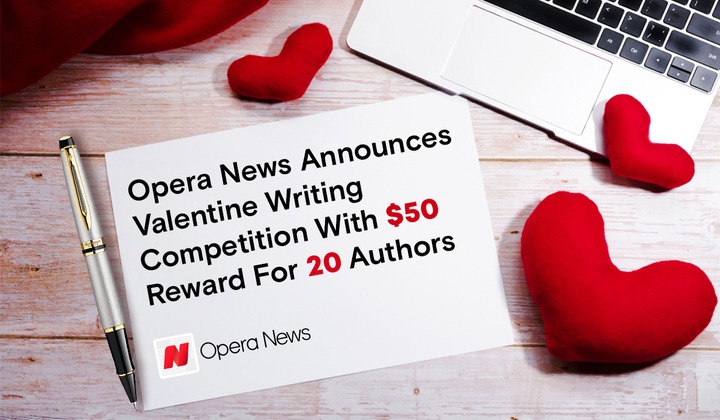 February 14 is celebrated globally as a season of love, friendship and admiration. Every year on 14 February people celebrate this day by performing acts of love and showing affection to partners, family, friends, and the less privileged in honour of St. Valentine. 
This year's February 14 is around the corner!
To mark this special event for 2021, Opera News invites all hub creators to actively share their inspiring "True Acts of Love" stories to inspire hope and impact positively on Opera News readers and set the mood and atmosphere as Valentine's day approaches. 
Please Note:
- Your story must be "Inspiring And Positive". 
- Only original and well-written articles stand a chance of winning.
- Winning articles will be judged based on Quality, Clicks and Engagement.
- Images in articles must not be of random individuals. Use strictly stock photos. Also, images must not sexualize the body.
- Authors sending in entries for this competition should be sure to use the following keywords "Valentine" and "True Love" in the TOPIC column before they submit their articles.
- If you do not use the keywords "Valentine" and "True Love", your submission will not be considered for the reward.
- This competition ends on February 17th.
- Winners will be announced before the end of February 2021.
- Opera News editors will select the top 20 articles and each winner will be rewarded with $50. 
Please understand that quality is all that matters in this competition. THIS IS IMPORTANT.
Articles like "2 years after my heart was broken, see how love changed my life", "I almost jumped into 3rd mainland, see how my true love rescued me" etc will be considered as low-quality submissions and will not be considered for the reward.
Finally, there's more to the season than romance, so please let your stories reflect the full spectrum of love beyond intimate relationships between two people. THIS IS IMPORTANT.
Opera News team.
Content created and supplied by: OperaNewsHubAcademy (via Opera News )