After Donating 3 Trucks of Snacks and Water To Protesters, See The Replies Mama Adeboye Got
Wife of Nigerian pastor Mrs. Foluke Adeboye today joined the list of influential Nigerians who have donated either in cash or kind to the cause of the Nigerian youths.
You will all recall that presently as we speak, the youths and other well meaning Nigerians are currently on a nationwide protest against police brutality.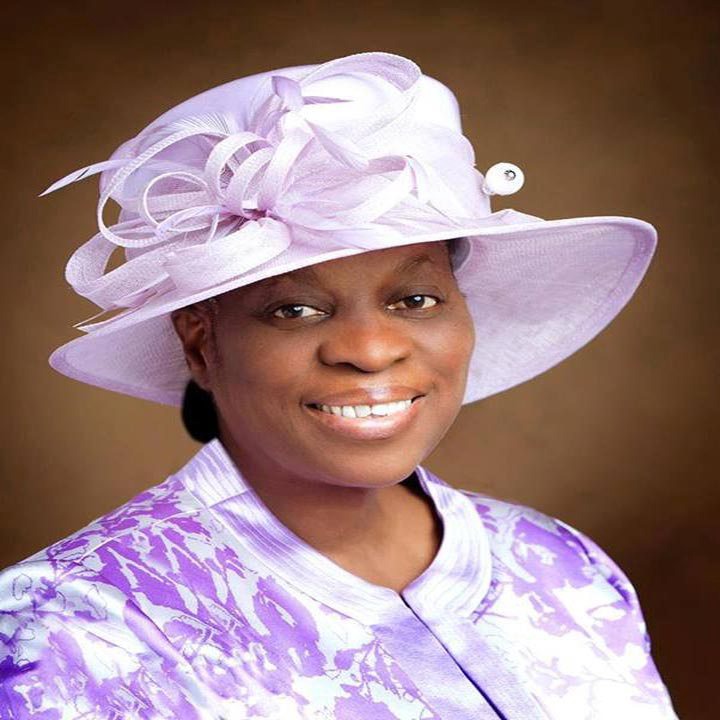 Ever since the protest commenced the previous week, there has been a massive turnout as youths across states in Nigeria rally round to lend their voices towards stopping police brutality.
Also, since the protest started, there has been a huge amount of donation from well meaning Nigerians which is in turn used for feeding and providing one or two necessities for Nigerian protesters.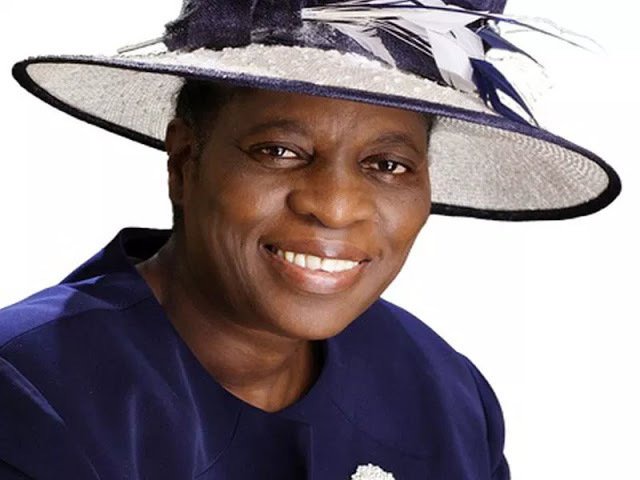 While the identity of some of these cheerful givers are not known, that of others are publicly stated for everyone to see. One of those who had given out to protesters include wife of the the General Overseer of the Redeemed Christian Church of God Mrs. Foluke Adeboye.
Her donation was made known by one of the food vendors saddled with the responsibility of providing food and refreshment at the ongoing protest known as Iyameto food and events.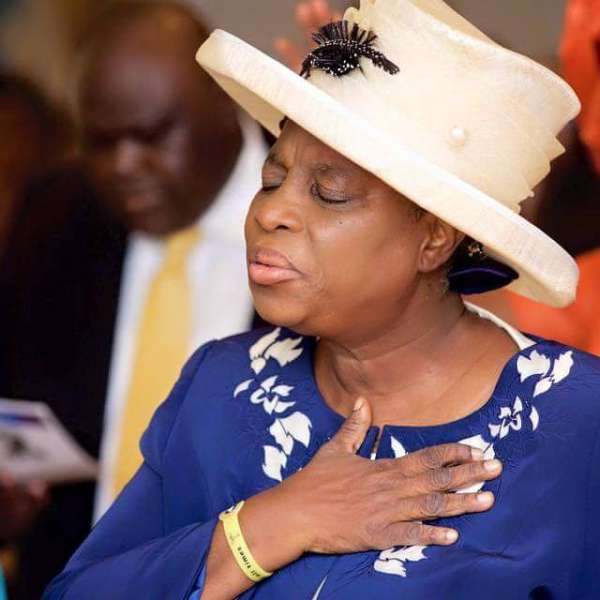 She took to her twitter handle as she made the donation known. She wrote "Mummy G.O sent in 3 trucks to Alausa this morning. We have 27 packs of bottle water, 1,000 of pure water & 27 bags of puffpuff directly from RCCG camp. We see it, we appreciate it! #EndSARS #AlausaProtest"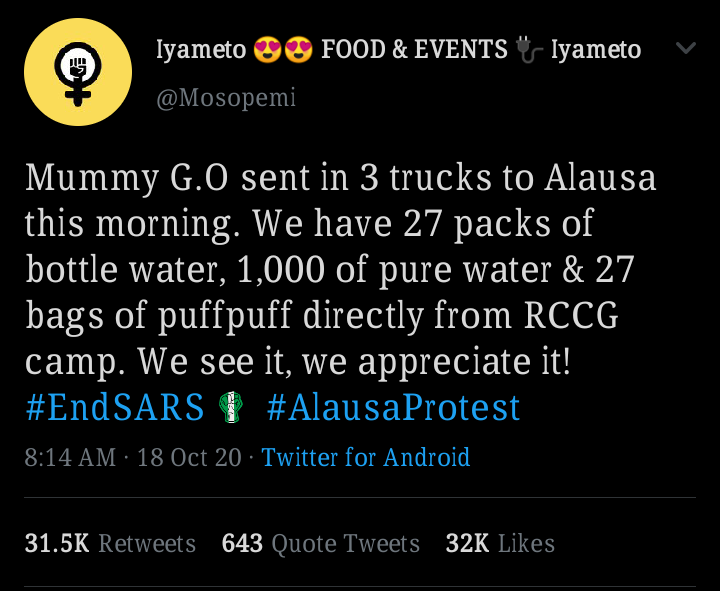 Reacting to the news, some Nigerians feels such donation wasn't enough while some others thanked her for her kind gestures. Others in turn remained indifferent because according to them the current vice president of the country is from the same church.
Here are some of the replies
Baba Abbey "Did she send her children to join the protest? If the answer is no: sit down and think deeply " omo olomo ni won ma nran ni ise de toru toru" (they could only send children of another errand that would make such child to tarry outside till late in the night"
Samuel O. Williams "Upon all d money wey she & her husband don make from church members, na pure water & puffpuff dem fit give. People wey nor reach dem dey cook better food with chicken and all. Are u expecting people to thank her for puffpuff of ₦50 and or bottle water/pure water of ₦50/₦10?"
Gloria Godwin "Okay. After giving us a donkey as Vice President, this reason the youths voted and re voted for this government."
Princessyheenk4 "God bless our mummy . pls keep us in ur prayer ma . greeting to our Daddy GO."
Erneststiloe "Yeye people puffpuff with all the money they have we don't see it we don't appreciate it #EndSARS"
Content created and supplied by: boluwrites (via Opera News )