The vampire drama Twilight was a huge breakout success for Taylor and his co-stars, Robert Pattinson and Kristen Stewart. For a while, the names Bella, Edward, and Jacob were even bigger than Harry, Ron, and Hermione. So why hasn't Hollywood embraced everyone equally?
Unlike Taylor, both Kristen and Robert began starring in other films while the Twilight franchise was still booming. By the time Taylor finally got a major role outside of his days as a supernatural icon, it was too late. Not to mention, he totally bombed it.
2011's Abduction was an American thriller starring a young man (Taylor) trying to learn the terrible truth about his past. Spoiler: he was abducted. Who saw that coming? Apparently, the critics did. The embarrassing numbers say it all.
Abduction earned a shameful 4% on Rotten Tomatoes and a Metascore of just 25 out of 100. That's an F minus minus. The film made $7 million less than what executives had spent, turning it into one of the biggest box-office bombs. Some placed the blame on the bad writing, while others placed it on someone in particular.
Critics were quick to point out Taylor's awkward onscreen presence. Back when he played Jacob, Taylor got to be quiet and stoic. Plus, his shirt was off. In Abduction, his acting — and only his acting — was front-and-center, leading to some pretty harsh reviews.
Alison Wilmore from Wilmore wrote of Taylor's performance: "This may be the first film I've ever seen where when an actor goes to put his hand thoughtfully on his chin, it's so awkward I became afraid he'd somehow miss and poke himself in the eye." Ouch. Surprisingly, Taylor's lackluster acting wasn't even his biggest issue.
When you've already made it as a big movie star, you don't always have to win the Oscar. But if you've only been in one major franchise, you might want to quit asking for bigger and bigger paychecks. Taylor learned that lesson the hard way after the title of "highest-paid teen actor in Hollywood" got to his head.
For Abduction, a movie with a $35 million budget, Taylor asked for $5 million. After that flopped, Taylor had the audacity to request $7.5 million to be in freakin' Stretch Armstrong. Then, he asked for $10 million to be in a low-budget biblical film. Finally, he was cast in Tracers, which pulled a pitiful $2.8 million at the box office. To make big bucks, Taylor would have to try a different genre.
To salvage his crumbling career, Taylor decided to try out comedy. Less six packs, more one liners. When Taylor landed a role with movie icon Adam Sandler, it seemed like a total career-saving move. But thanks to Taylor's awful luck, the Netflix film became Sandler's most criticized movie of all time.
Sandler's The Ridiculous Six was supposed to be a parody of The Magnificent Seven. Hilarious wordplay. It earned an unheard of 0% on Rotten Tomatoes due to its racially charged jokes about Native Americans, many of whom were extras on the film. When actors began storming off set, Taylor knew he'd made another crushing mistake. Maybe, he thought, it was time to go for something more personal.
Taylor dropped his big Hollywood prices to star in Run the Tide, an indie film with almost zero budget. The actor told Metro that it was "a passion project for everyone involved." Once again, bad luck bit the werewolf on the tail.
Critics just couldn't get past Taylor's performance. It was "too blandly folksy even for Sundance" according to The A.V. Club. One review from The Young Folks said Taylor "just isn't very believable, as much as he tries to be." Speaking of non-believers, Taylor's critics were growing suspicious of the star's string of romantic partners.
We've never dated Taylor Lautner, so we can't be sure what's true versus what just sells tabloids. But skeptics have pointed out that his relationships have had a rather convenient timing, starting all the way back when he starred in Abduction.
Taylor was supposedly "dating" his Abduction co-star, Lily Collins, whom he broke things off with just one week before the movie hit theaters. The same pattern happened with his films Grown Ups 2 and Tracers, when he reportedly dated co-stars Maika Monroe and Marie Avgeropoulos. But his most suspicious split was from Taylor Swift.
The two starred together in Valentine's Day, a movie designed to take full advantage of the heart-filled holiday. As such, it came as no surprise when the two Taylors announced they were dating. Who wouldn't want to see the film now? Unfortunately, the plan backfired.
Not even Swifties could get behind the PG-13 cringefest of Valentine's Day, which reached just 18% on Rotten Tomatoes. People were actually relieved when the two split up in real life. After less than 6 months of dating, and with no salty break-up song from T-Swift, fans remained suspicious. But after years of career bombshell after bombshell, Taylor Lautner might have finally found his calling.
When Andy Samberg quit his role on the BBC comedy Cuckoo to star in FOX's Brooklyn Nine-Nine, writers had to act fast. They wrote off Andy and unexpectedly replaced him with Taylor. The choice seemed out of nowhere, which is exactly why it was a success.
Taylor's "emotionless" acting ended up being the perfect basis for dry, British humor. Fans realized they had misunderstood the stone-faced superstar (though they still weren't going out to buy Abduction). Not only was Taylor's deadpan met with raving reviews, he'd managed to find his way around the system.
Taylor took a huge gamble by working on Cuckoo, but it paid off. The Telegraph said he was "very good indeed," which is British for "he totally nailed it." When Taylor departed from the show in 2020, fans weren't happy, but his parting quote has left them with hope.
"Not all goodbyes are forever," Taylor said in a statement, leaving many to wonder what's next for their favorite sexy werewolf. While he hasn't acted since, there are rumors that an American remake of Cuckoo is in the works. Could Taylor be planning his big U.S. comeback? Or maybe he's planning something big with a past co-star.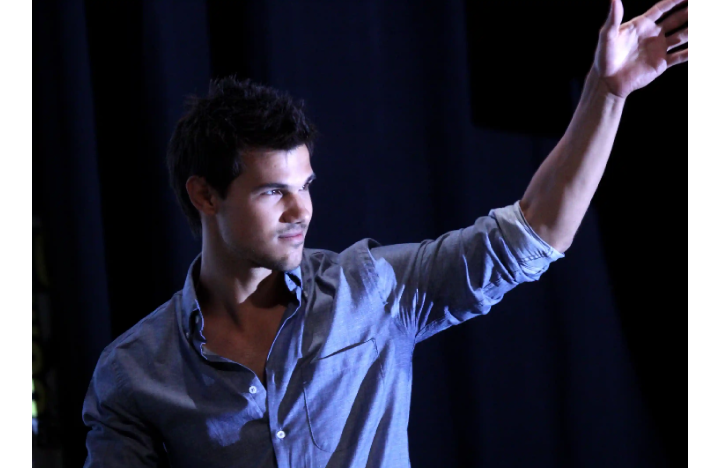 Content created and supplied by: Olufhemyy (via Opera News )