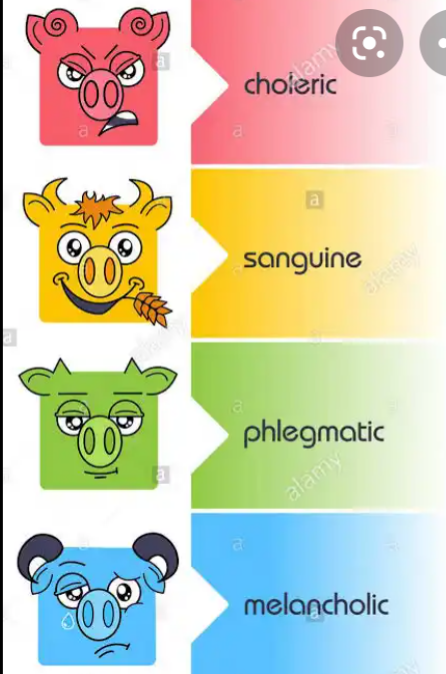 You act the way you act simply because of the combination of traits (emotions, feelings, thoughts) inherited from your parents. Now these traits, emotions, feelings, thoughts etc are collectively known as, or referred to as TEMPERAMENT.
Temperament is believed to reside somewhere around the mind or heart called the emotional center.
It is believed that environment and experiences also affect or cause us to act the way we do sometimes.
In the subject of temperament, researches have proven how temperament affect everything we do and even cause us to do things the way we do. It affects even our eating habits, and delicacies choice, driving skills, friendship, the way we worship God, our leadership styles or skills, love, anger, humour, study habit, sex etc.
We have four (4) major types of temperament. These are Sanguine, Choleric, Melancholy, and Phlegmatic.
Studies have shown that Sanguines are superextroverts and super fun lovers but highly undisciplined people. To them, everything should be FUN, even leqrning, sex, love, worshipping God. They are talkatives but very compassionate. Being that this is their inborn nature, it affects them in anything they do and anywhere they go. They make friends easily. They are the first to talk. These guys love passionately but cry alot.
The Cholerics are hot, quick, practical, active, strong-willed, self-sufficient and very independent fellows. They make excellent leaders when given or assigned leadership role. These guys are mildly extroverts. Activities keep them going since they are practical. These guy wouldn't engage in aimless activities. They love music alot arts with courses like geography, literature, history etc. These guys hardly love nor sympathize with others. And they are not moved by what others feel, think or say. Inshort, they are disgusted at the sight of others' tears.
The next temperament we will look at is the Melancholy. According to studies, this is the finest and richest temperament. They are almost perfect people. They are introverts with great love for art works. They are very sensitive to emotions with regular mood swings. Melancholy is a very faithful friend but doesn't really make friends.
Phlegmatics are calm, easygoing persons. They almost get angry. Naturally they are likeable by all. They have a great sense of humour. They live like spectators in life. They must be highly inspired or motivated before they can be able to function excellently or take up a challenging routine. And they are characterized by fear.
Some people could also be characterized by two temperaments combined. The primary temperament would be the predominant while the secondary temperament would be a sub-temperament.
Now you have seen the reason why you act the way you act. So which group do you belong?
Follow this page for a subsequent bulleting which would be THE STRENGTHS AND WEAKNESSES OF EACH TEMPERAMENT so that you discover your strengths and weaknesses and as well know how to maximize and minimize them respectively.
Content created and supplied by: Niggapulorigg (via Opera News )