Scientists worldwide have disapproved the existence of ghosts saying, there is no evidence that ghosts really exist. However, different cultures around the world believe in what is known as "spirits that survive death" which live in another realm.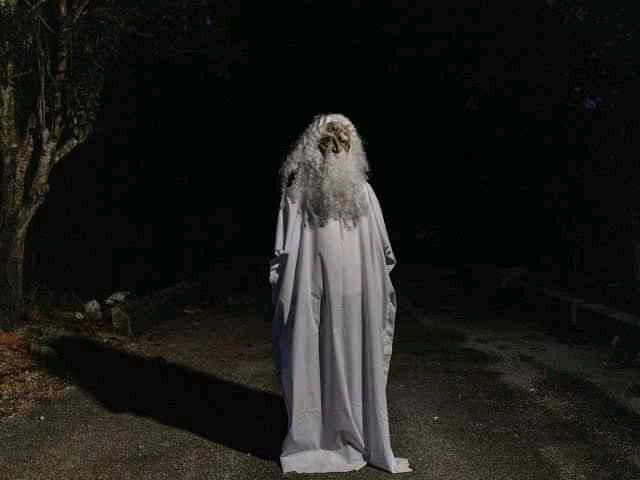 Mingle Island is a social media Facebook group of like-minded folks. In the #ghost_are_real_challenge that trended on social media few days back, Cliff John, a member of Mingle Island asked the question; "Are ghosts real?"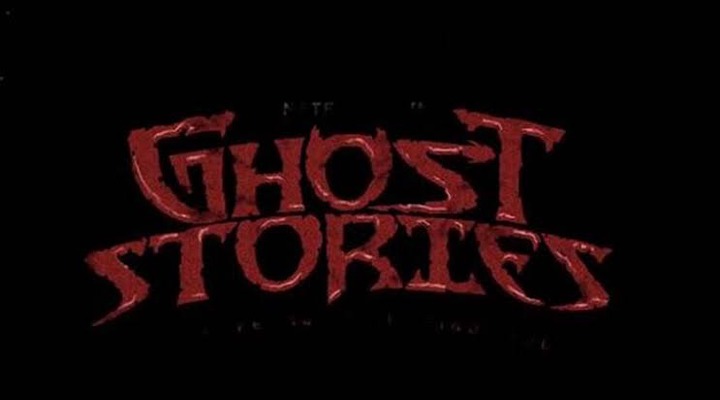 According to Cliff John, he wrote; "I remember a lady who died in a car accident some years back. She was a big friend and I used to help her fetch water and run errands for her when she was alive. I was a teenager then. After her death and burial, early in the morning by 5am, her spirit used to come out with this long broom and start sweeping their entire compound. She used to whistle while sweeping. Their house was just by the roadside so whoever passes that road at that time was sure to see and hear her. It was really scary. Yes, ghosts do exist!"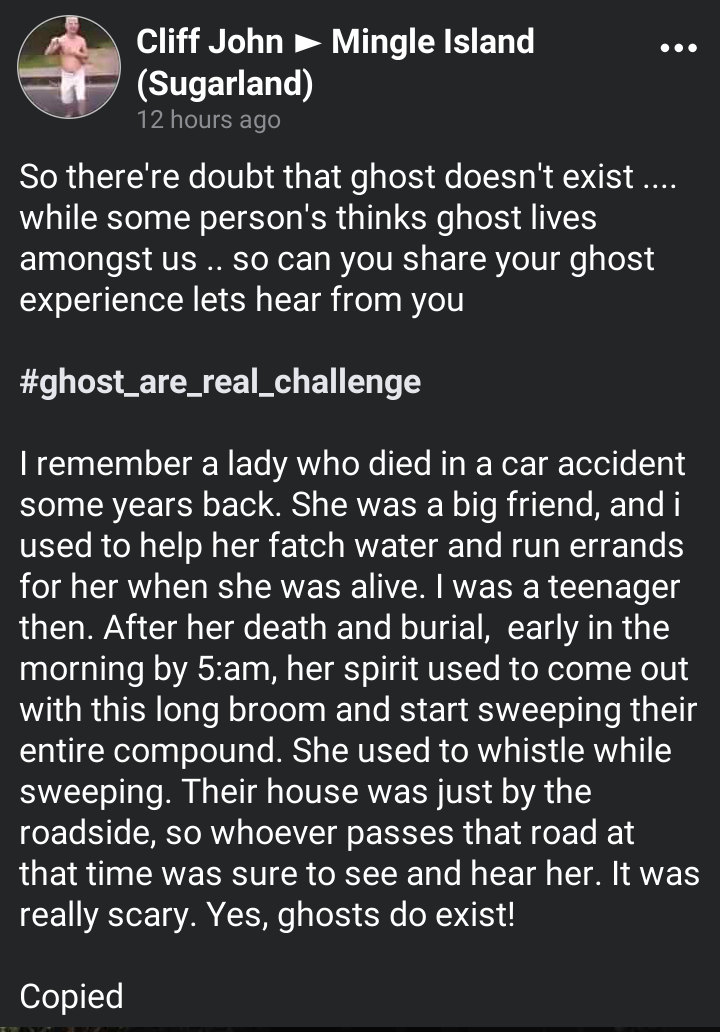 While some persons think that ghosts actually live amongst us, they have come out to share their experiences. Read through.
Remilekun Michael shared; "years back in the village, I used to f**k around one village girl then. I left her house at about 1am as I was walking alone in the dark, all of a sudden I saw someone ahead in a white gown moving with speed. Immediately my body system changed and fear gripped me. I rush to the house shivering that night. I won't forget that night. That was the last time I stayed outside till that period in that village."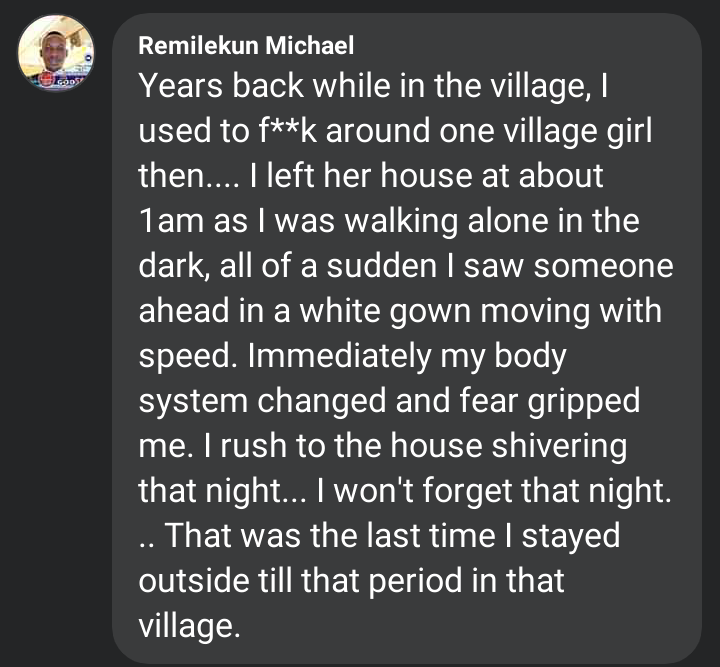 Joyce George Godknows wrote; "yes they do exist, I have been saved by a ghost back then in school, he later vanished before my eyes. Ooh God I fainted."

Olowolaye Ki Blaq wrote; "was walking alone one day on a lonely road, there's nobody in front or behind me, suddenly I perceived a strong fragrance like someone walked by, I knew it was ghost."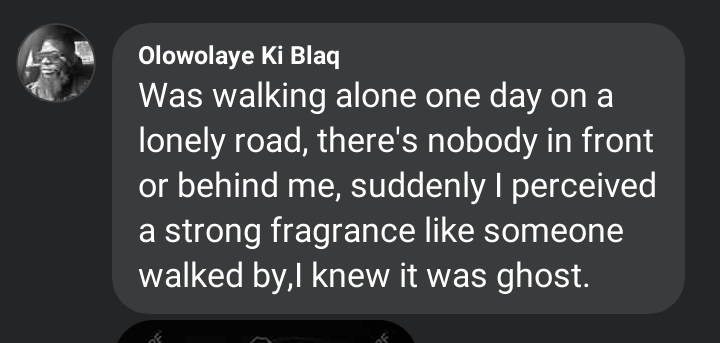 Karen Amy Anyanwu shared her experience, she wrote; "packed into a new place with my family. Two nights later my sister woke up with some odd scratches, we felt she'd injured herself unknowingly. The next morning my mum woke up to even more similar scratches while my sister had an odd dream about an evil presence. We talked to a few people and were told to buy some things to pray with and eat. And that was the last we had the incident."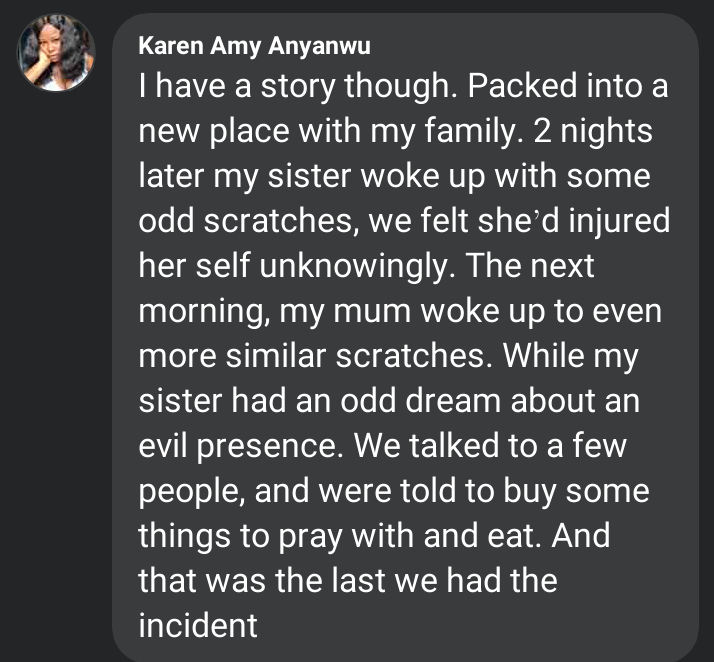 Chuks Kelvin wrote; "it was in 2013 when I went to write waec in a village, made friends there and we all slept in the same room. One night we decided to take a walk and we walked towards the school area, we were four; Kizito, John, Blessing and I, when we got there we saw someone (not sure if it was male or female) from a distance but the person was standing at a spot blessing pointed at the person but we felt reluctant all of a sudden we saw the person next to us in a nearby tree omo see run that night."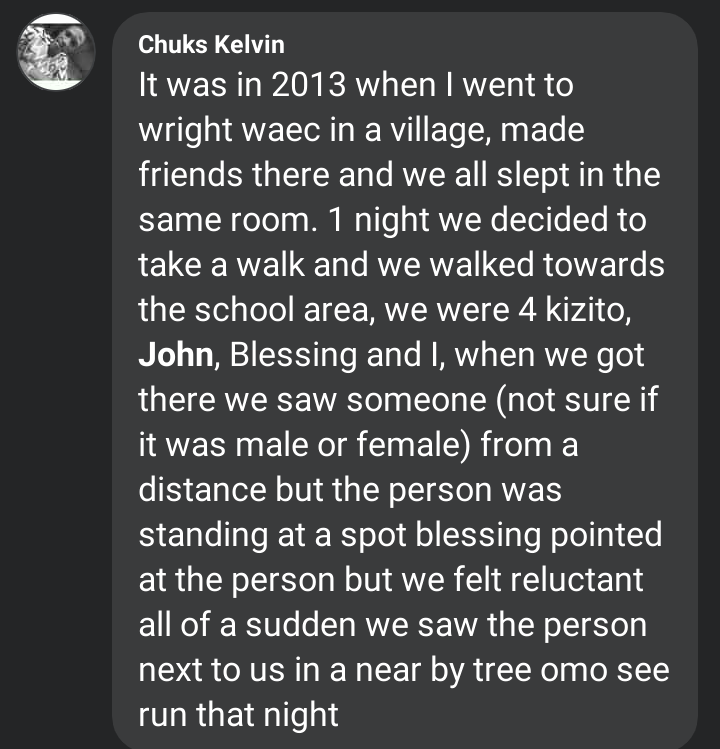 Justin Daniels wrote; "Ghost exist ooo… some time ago (many years ago before the demise of my grandfather). Each time I visit my maternal home I love to sleep in his room which was close to the playground, so one night he asked me not to open the windows or pip through the windows that he's going for a meeting. As disobedient as I was I opened the window what I saw I couldn't comprehend till today (I saw him surrounded by some men all white from their head to toe, my head was getting big I fell back to the bed). He came in and was angry with me that I disobeyed him. So yes ghost dey exists. (Meanwhile, my grandfather was the head of masquerades in ibere ikwuano of umuahia).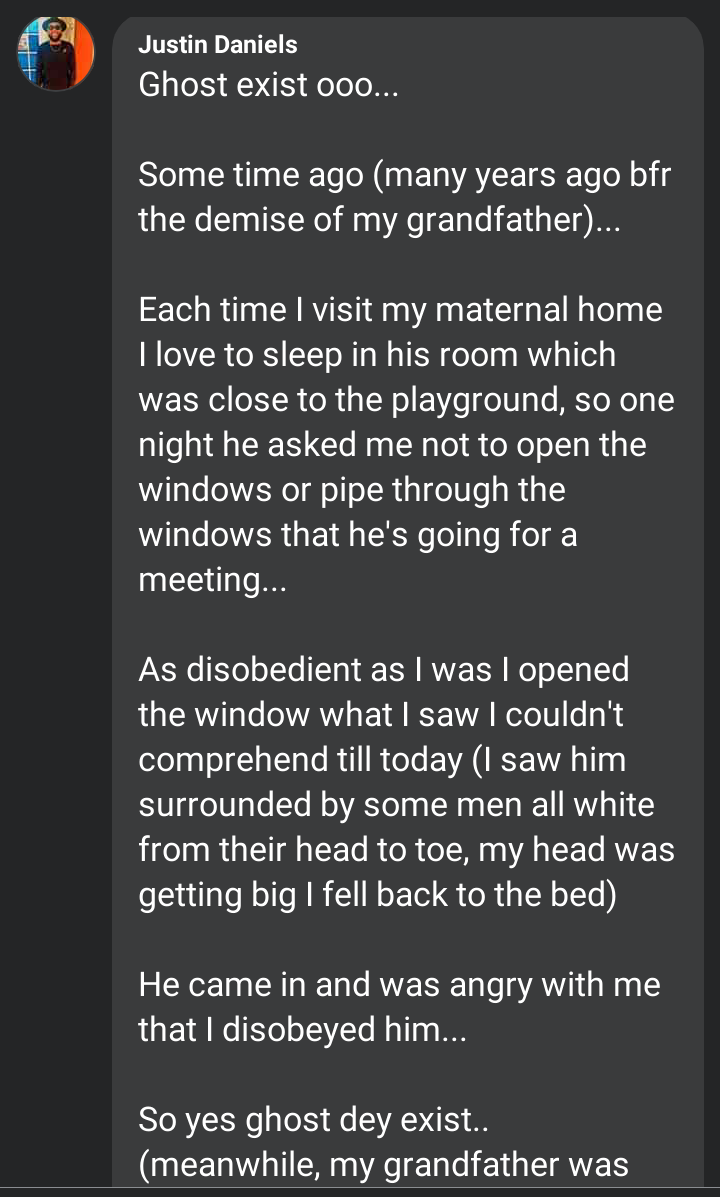 Meanwhile, with all of these shared experiences, a lot of persons still do not believe ghosts exist, to them it is mere illusion. However, most things cannot be explained until personally experienced.
Content created and supplied by: Masterjjboy (via Opera News )