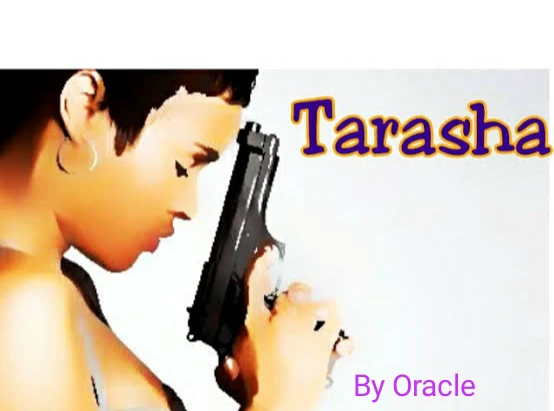 **Friday Morning**
1am
'No Omotara, No' Jefa was shouting as his eyes popped open. He was sweating and breathing heavily. He used his palm to wipe off the sweat on his face and stretched on the chair. He realized that he had slept off while reading the diary. His dream was consistent with his situation but it somehow made him scared. He had seen seven year old Omotara playing with some kids in his dream, in the large compound of their house in Lagos as at then. She was playing happily with the rest of the kids until he walked in through the gate. She stood up from their midst where she was and stared at him, looking terrified. He wasn't planning to flog or scold her, so he couldn't understand why she was terrified. She began to step back slowly without turning back, towards the building of the house. Her friends gradually disappeared into thin air.
'Come Omotara, come. I'm not flogging you' he said in the dream. She refused and continued to step back, looking more terrified with the steps she took.
'Why are you running away? Come and play with your friends' he repeated but she was adamant. A tall man appeared from behind her, looking deadly with a blood stained dagger in his hands.
'Omotara stop' he cautioned, himself terrified also but she didn't listen. It was already late when she turned back, the strange man was only one step behind her. He was shouting her name as he woke up.
Jefa made a quick but deep prayer for Omotara's safety and ended it with the cross sign. The chair creaked as he relaxed back, the diary was still open on his lap, on the same page he read before dozing off. He flipped to the next page.
"Today, we transferred Adunni to the General Hospital where we work. I carried the baby to see Adunni, Adunni fed her baby with her breast milk for the first time. She was glad to do it. But we couldn't live her baby with her, she'll be sleeping most of the times and won't be able to look after the baby."
He scrolled to the next day, it was longer than usual.
"Adunni is gradually getting better and would be discharged from the hospital tomorrow. She spoke with us today, revealing to us the circumstances surrounding her pregnancy and childbirth. Adunni who is just eighteen year old was brought up by her single sickly mother. She finished her secondary school education last year. Being a bright and promising young girl, her village decided to send her as their first female child who would get a university education. She was sent to see a son of the land who is a lecturer in the State university and discuss about her admission process with him. She went to his home in the village and met him. He promised to help her secure the admission, asking her to come see him in his office at the state's capital where the university was. She travelled to the capital the third day after. He welcomed her warmly into his office and closed the doors to have a quiet talk and career advice session with her. All was going well until the man got up from his seat and turned round the table to seat in front of her. His first move was to encourage her to unbutton the upper part of her shirt since the place was hot and the power holding corporation had seized electricity flow. To cut short the matter, she was r*ped and forced to leave the office immediately. He threatened her not to tell anyone, else that would be the end of her dreams of the university education. She made up her mind to keep the ordeal to herself and take it as a sacrifice for her greatness. But he didn't keep to his own part of the agreement. She was surprised when she got back to the village that day and he had already called and lied to the village King and Chiefs that she tried to seduce him.
They believed his story against hers and decided that it was useless to help an immoral person. The whole village turned against her and her mother for trying to spoil the image of the most successful son of the land. Few weeks after, Adunni discovered that she was with child. All these resulted to her mother's depression state and she died two months after. Adunni was left alone with no one to help her. She became sick at the ninth month of her pregnancy and began to treat herself with local herbs. She was gathering firewood in the bush when her time for delivery came "
Jefa placed a finger on the page where he stopped and closed the book. He let out a deep breath and got up, he took the picture under the table and placed it between the pages of the diary where he stopped reading.
~~~
8am
'Good morning Mr Sylvester' Henry greeted as he walked into the control room.
'Good morning Mr Henry' Sylvester replied, raising his eyes to look at Henry from behind the computer where he was seated. He was looking smart in his black suit and blue inner shirt, Henry was also dressed in the same way.
'Are you ready for the meeting?'
'Of course, I am' Henry answered, taking his seat behind a computer on the row before Sylvester's.
'We got another application last night' Sylvester announced.
'Application for what?'
'Application for the job'
'Well…' Henry seemed interested. 'Does it qualify for an interview?'
'Yes, this CV is particularly interesting. Come take a look at it' Sylvester invited.
'No need for that' Henry declined, putting his focus on what he was doing. 'Just keep it, we may review it later'
'It's okay' Sylvester answered and got up from his seat. 'We'll be leaving by 9am'
~~
'Agent James Elvis!!' hailed the deputy commissioner of police, Kwara State. 'Welcome once again to the state of harmony'
'Thank your sir' agent James replied, smiling back to the DCP. They were both seated in the extension of DCP's office, which had comfortable sofas to relax in.
'I believe you'll have no problems in this state especially as it is your state of origin' the DCP continued. 'How's his Excellency, your father?'
'He's fine, I believe'
'What was his response when he heard that you've been transferred to this state?'
'I don't know, he didn't say anything. You know he has never been in support of my work in the force' James answered, taking a sip from the cup of juice on the table.
'That's strange, considering his effort in tightening the security of the nation. One would think he would even compel his children to join the force'
'He thinks it's too dangerous and that I'm not strong enough' James answered.
'Well, that aside. Back to your job here.' The DCP sat up. 'We want to strengthen our anti assassination and terrorism squads and we believe that you can make it work. That's why you were sent here, your job would begin fully on Monday. Now you'll be taken to the house and allowed to rest. You'll find every information you require for your job in your office when you resume on Monday'
~~~
Officer Dakolo was in his office, gathering the files he would be taking along for the meeting. He was dressed in his special agent's uniform for the occasion.
His doorbell rang. 'Come in' he said without paying much attention'
'Good morning sir' officer Ken saluted after closing the door.
'Good morning officer Ken' Dakolo replied, without looking up. 'You may have your seat' he offered and waited for Ken to sit before he continued. 'Are you prepared for the meeting?'
'Yes sir, I am' Ken smiled. ' I actually came to ask if we'll be moving together'
'Yes, of course. No need to go separately' Dakolo answered, taking a glance at Ken's face. 'What's the time now?'
'It's 8.15am' Ken replied after taking a brief look at his wristwatch.
'Okay. Hope you've got all files ready?'
'Yes sir and there's something new' Ken answered, sounding serious.
'Something new?' Dakolo turned his eye focus to Ken.
'Yes sir and I think it's important we look into it'
'Now?' Dakolo frowned. Ken nodded in affirmation. 'What are you talking about?'
'It's the reply from the US headquarters. It just came in this morning' Ken removed a paper from the file in his hands and handed it to Dakolo.
Dakolo read for two minutes. 'Have you sent the substance sample they sent to the forensics?'
'Not yet sir, I wanted to tell you before I do' Ken replied.
'You should send it immediately.' He said and stared at the paper again. 'It would have been nice if we got this earlier. With what it states, the assassin team in Nigeria here is related to the one in the United States. They function with the same instruments and similar strategies. '
He handed back the paper to Ken, 'let's handle the meeting with what we have gotten before, we'll come back to this'
~~~
**Saturday Morning**
The meeting with the President went well. All attendees left there fired up and determined to stop the assassination menace at every cost. The Vice President had during the meeting warned the security officials to be careful and always remain optimistic. 'The assassinations have not yet began, they are still doing their test run' he had said. 'I believe this group have a more dangerous motive and what they've done so far is a ploy to weaken the security by making the concerned bodies give up their hopes of capturing them. Once this is achieved, they would launch more attacks and aim for more government officials.'
The vice president also promised to work closely with them as an experienced officer that he once was and see to it that every useful knowledge he has would be provided to them.
Amidst several other things he said, the President, Emeka Vincent finally ended the meeting encouraging the bodies to put in more effort and ensure that their purpose was achieved in two months.
Sylvester had arrived into his office not long ago and settled down when he received a call from the reception that someone was waiting to see him.
'But you know I don't see anyone on Monday early mornings' he answered the caller.
'She insisted that you asked her to come' the secretary replied in low tones.
'I did?' Sylvester asked, trying to remember if he really fixed an appointment with someone.
'Yes, that's what she said'
'What's her name?'
'Kimberly Alexander'
'Huh?' Sylvester squinted, trying to remember where he had seen or heard the name before. He remembered, in the new CV. Could it be that he had mistakenly sent her an invite?
'Let her come in' he finally said and ended the call. He hurriedly logged on to the company's mail to confirm if he sent her an invite.
His doorbell rang. He minimized the mail window and opened the app to check the monitor cameras outside his office. He saw the person at the door, a lady dressed in black suit carrying a small black bag. 'Come in' he said, unlocking the door with the remote control on his table.
She opened the door and walked in gently. 'Good morning sir' she bent her knees slightly after closing the door.
'Please come in' he repeated and she walked forward briskly and stood beside the visitor's seat. 'Have your seat'
'Thank you sir' she sat down and placed the bag on her lap.
'What may I do for you?'
'Sir' Tarasha began. 'I'm Kimberly Alexander, I read about the urgent vacancies and I decided to check here'
'I've gotten your mail already, why didn't you wait for a reply?' Sylvester frowned.
'Sir, since it was announced as an urgent vacancy and I didn't get a reply immediately. I decided to show in person in case my mail wasn't delivered.'
'It was delivered, you should have been patient. In fact, your mail came late' Sylvester intensified his crown. 'And how come you were referred here directly? Someone else was supposed to attend to you before sending you to me' he said with slight anger in his voice. He picked the landline and began to punch the keys.
'I asked directly for you' she said softly. 'I demanded to see Mr Sylvester'
'What?' He stopped dialing. 'How did you know my name?'
'I read about the corporation and I knew you would be the one to attend to me'
'Well…' His doorbell chimed. Sylvester paused and checked the computer again to see who was at the door, Henry was the one. He unlocked the door.
Henry walked in slowly staring into a tab and reading something. 'Oh! You have a guest' be exclaimed on seeing the lady seated on the visitor's seat facing Sylvester.
'Yes'
'Okay, let me drop this with you and go' Henry said and began to step forward slowly.
'You may need to see her, she's the lady who sent in the last CV' Sylvester explained.
…to be continued
Do drop your comments below
Content created and supplied by: Oracle01 (via Opera News )
Opera News is a free to use platform and the views and opinions expressed herein are solely those of the author and do not represent, reflect or express the views of Opera News. Any/all written content and images displayed are provided by the blogger/author, appear herein as submitted by the blogger/author and are unedited by Opera News. Opera News does not consent to nor does it condone the posting of any content that violates the rights (including the copyrights) of any third party, nor content that may malign, inter alia, any religion, ethnic group, organization, gender, company, or individual. Opera News furthermore does not condone the use of our platform for the purposes encouraging/endorsing hate speech, violation of human rights and/or utterances of a defamatory nature. If the content contained herein violates any of your rights, including those of copyright, and/or violates any the above mentioned factors, you are requested to immediately notify us using via the following email address operanews-external(at)opera.com and/or report the article using the available reporting functionality built into our Platform See More