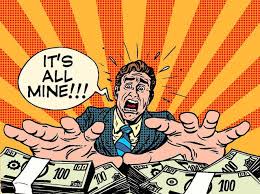 Its often often been said, that everybody in Nigeria is a comedian. Well I wouldn't antagonise the idea because almost all the incidents that occur in Nigeria are comedy driven.
Mr. James is a married man living in Port Harcourt area of Rivers State, he is a good example of a very greedy man, he derives joy in cheating others of their fortunes. Mr James remains the only man that bought a Mercedes e350 at 85 thousand naira, he bought an almost new Samsung 55 inches tv at 12 thousand naira. He never borrows money to anybody, who ever want financial assistance from him must be willing to trade in some of his valuables for the financial assistance that Mr James offers. Some say his statue fits his personality because he is a very shot man with a very annoying kind of bald head. One evening Mr James was sitting outside his house when some young men approached him, greeting him and giving a half bow as a form of respect, he smiled in a way showing all his teeth, and then he offered them a sit and ask them almost immediately what brings you to my house this evening. The young men answered him with a grim on their faces, they said " sir we are agents searching for interested buyers of landed properties in GRA area of Port Harcourt, they stated that they acquired the properties some years ago, but now since they wanted travelling out for business and also to raise funds, they were selling the properties. They stated that they heard that he is a very serious business man and so they decided to come and enquire if he had interest in buying some of their properties. Mr James smiled in an almost cunning way, he then spoke up, asking them how much they intended selling and how many properties they wanted to sell. They young men unanimously said they were selling the properties at 5 million naira each, and they were only three properties left, since the time is limited they wanted only serious buyers so they brought the price to 5 million naira each. The young men then brought out some documents showing him proof of the landed property in their possession, stating that they were very serious and would take him to the property the next day if he was interested in buying, Mr James accepted and agreed to going with them the next day to see the properties. That night, he uncannily explained the whole thing to his wife, boasting that he'll soon be a landlord, his wife then suggested that he involved a lawyer since he had no knowledge about landed properties, he shouted at his wife asking her why he would waste money on a lawyer when he had seen all the proofs and was sure the documents were legit. The next day after they had taken him round the properties, he picked the best two, and said those were the ones he'd love to buy, but he could only afford 2.4million naira for both, stating that times are hard and he cant go beyond that. The young men accepted his offer after a long argument, he then took them to the bank and gave them the money, an estimate of 2.4million naira. They then Trasfered the properties to him, signing all the documents and handing it over to him, he smiled and wished them a safe trip abroad.
Two weeks later, Mr. James heard announcements on the radio that the state government were demolishing the said properties he had acquired, so he rushed down to the site with the documents to find out why the government were demolishing his properties, on getting to the site, he made quite a scene, shouting and raining curses on them, so the supervisor in charge of the project called him and asked what the problem was. He explained that they were destroying his properties, that he had acquired the property two weeks prior, he brought out the documents and showed the supervisor. After going through the documents, the supervisor then looked at him in an awkward way and asked him how he how he would have believed that someone would sell a landed property in GRA for 2.4 million let alone two properties. He they explained to Mr James that the properties belonged to the state government, they purchased the building about a three years ago but were working on the proposed plan for the site that was why the building had not demolished. He then asked Mr James why he didn't seek the advance of a legal practitioner before he went on with the transactions, He explained to Mr James that the documents were falsified and he had been defrauded. The news of Mr James loss spread like wide fire, sometimes the neighbours would go to his window and startup discussions a landed property they were intending to sell for 210 naira each in lekki axis of Lagos.
Content created and supplied by: Scottxy (via Opera News )