See What Emma Labista Said After Daddy Freeze Posted These About Pastor Suleiman (Reactions)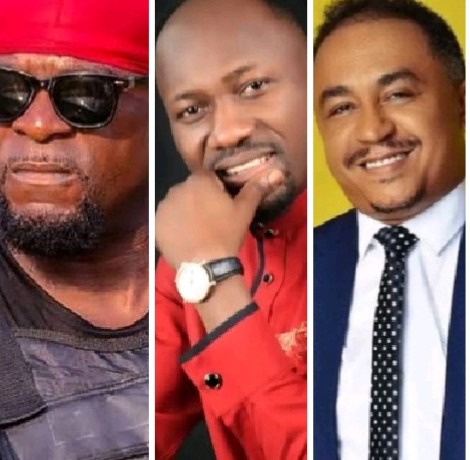 Emma Labista reacted to Daddy Freeze's post via his Instagram Official handle as he called the spade a spade.
Ifedayo Olarinde, who is Popularly Known as Daddy Freeze, is a Nigerian-Romanian broadcaster and radio talk show host. He base in Lagos, Nigeria.
Daddy Freeze who is a popular figure that is known for his controversial topics that he Oftenly share via his social media platforms. His post which are mostly about Men of God including Bishop Oyedepo, Apostle Suleiman, pastor Paul Enenche and other Nigerian clergy.
This time, the radio presenter posted an Audio voice of apostle Suleman, the senior pastor of Omega international ministry threatening a lady via a voice call.
According to Daddy Freeze's post, he claimed the recorded audio voice call was to tarnish the image of the clergy, as some ladies are into the urgly business of using such means to trap down men.
See below Daddy Freeze post via his social media platform, (Instagram to be precise).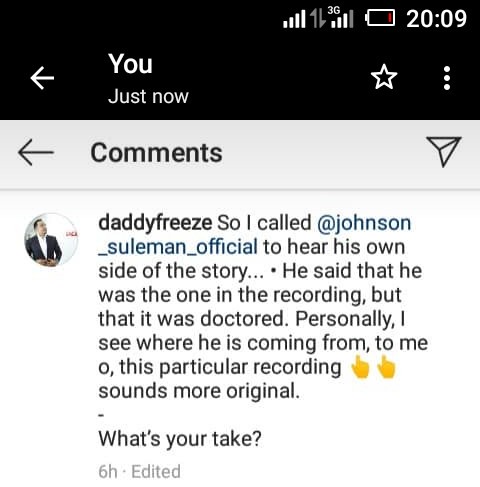 Daddy Freeze who got the initial voice massage, said he called @johnson _Suleiman_official to confirm if what he received was true or not, and according to the apostle who agreed that he was the one on the voice call. "I was the one on the recording but it was doctored" @johnson Suleiman replied Daddy Freeze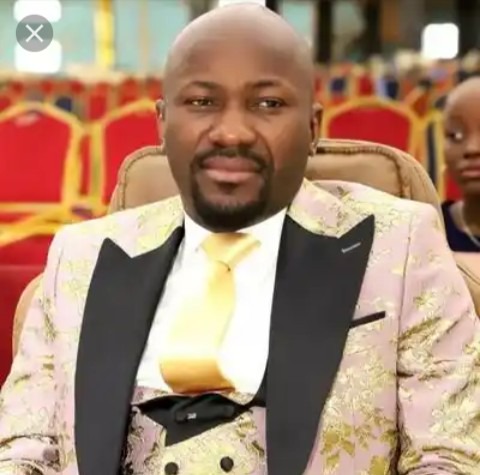 Following Daddy Freeze's post via his Official IG, Emma Labista and Other readers made their opinions on the issue between the Man of God and the ananimous lady who claims Apostle Johnson Suleiman threatened her live goes viral on social media.
Here is the screenshot of Actor Emma Labista 's Reaction after reading the post made by Daddy Freeze partening to @johnson_suleiman_official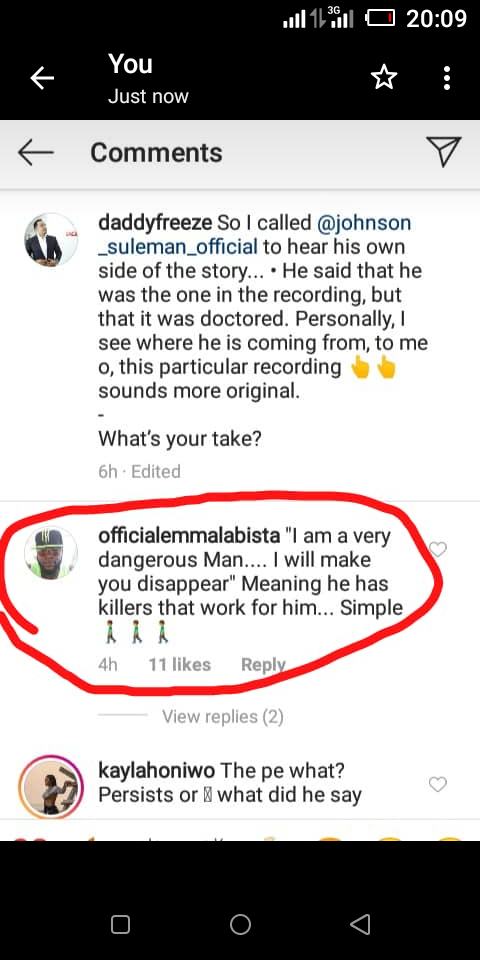 According to Emma Labista, he is not comfortable with Apostle Suleiman for saying
"I am a very dangerous man, I will make you disappear" meaning he has killers that works for him.. simple. @officialemmalabista sumitted his opinion.
As it was not enough, other readers also shared in their observations and opinions regarding the threat of death from the clergyman.
Read through the thread;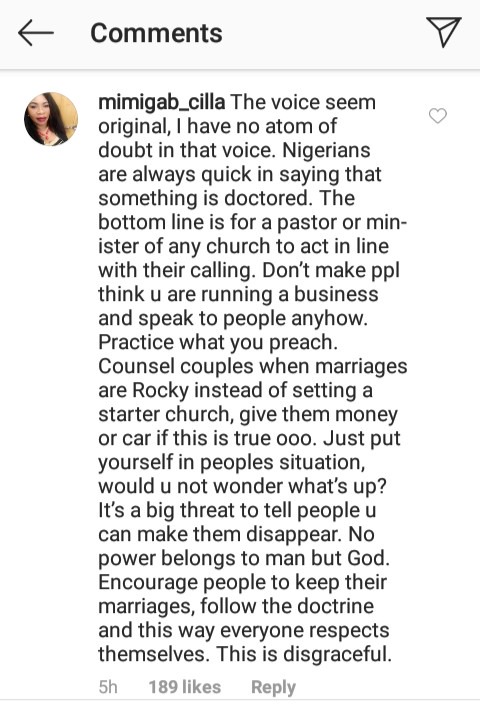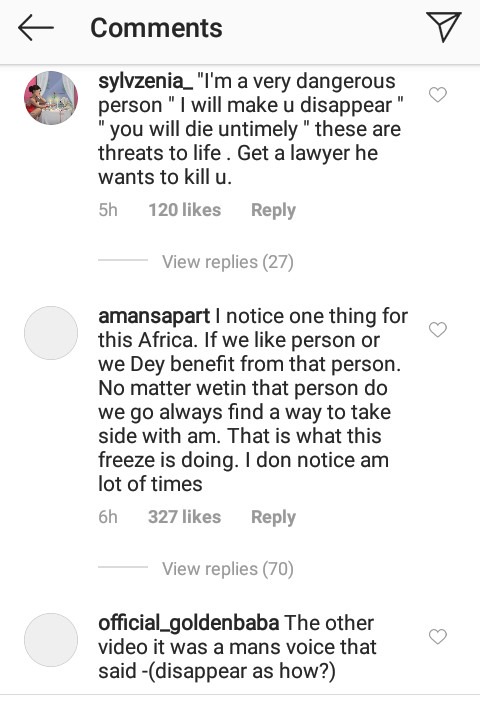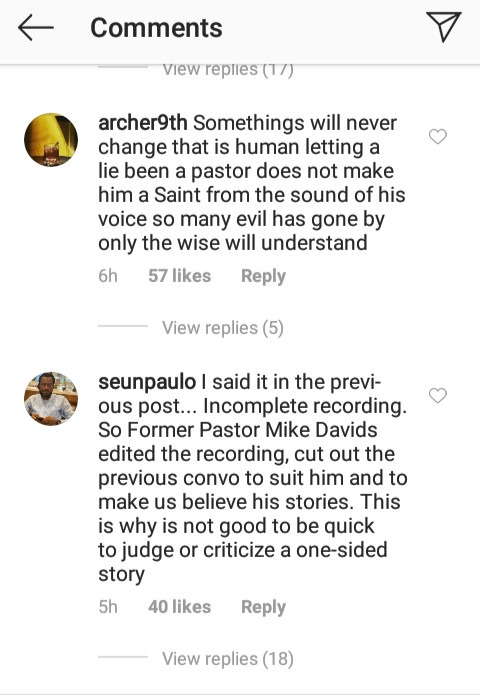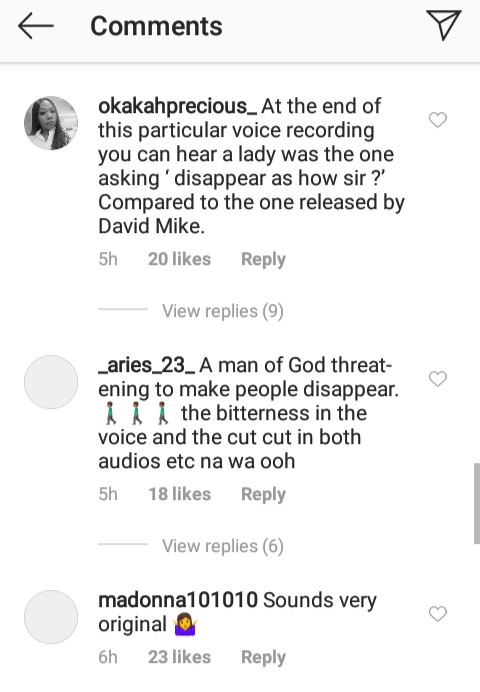 From the comment section, people are of different opinions regarding the Audio record, to some, they were disappointed to hearing a pastor threatening the life of someone, while others are on the defensive side
Do you feel @Johnson Suleiman went too far for threatening the lady, "tthat he will make the lady disappear and die untimely? If yes is it good for the body of Christ? Lets discuss in the comments section.
Content created and supplied by: Kingzentertainment (via Opera News )