Oloye Akin Alabi is an author, entrepreneur, politician and philanthropist. Akin alabi is a phenomenal business man that has tweak his way through the Nigeria business industry to join the evoked set.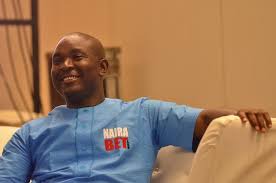 He's the chief executive officer of Nairabet, the first sport betting online platform in Nigeria. Akin is a smart entrepreneur, who has juggled through multiple business, had learnt, and studied throughly the business environment of Nigeria. He's the owner of Nightlife. Com, an online hub that oversee night activities in Lagos, suggest great hangout sports, anticipate upcoming events, and also serves as an intermediary between Night party club owners and their prospect customers.
As an author, Akin alabi has written multiple publications. He was into a business of publishing information products, which are manuals that entails useful information and science behind various life hacks. He's also the author of the best Nigerian-made Business and marketing book, SMALL BUSINESS, BIG MONEY. in this book, Akin tells the story of how he had failed and succeeded in various businesses and the important lessons he had learnt. He also proffers guide to small businesses on how to grow their business immensely in the Nigeria market. 
Akin alabi joined the Nigeria politics in 2019, as a member of the ruling party, ALL PROGRESSIVE CONGRESS. He's currently a member of the Federal house of assembly representing the Egbeda/ ona ara Federal constituency. 
Content created and supplied by: 9japarrot0019 (via Opera News )