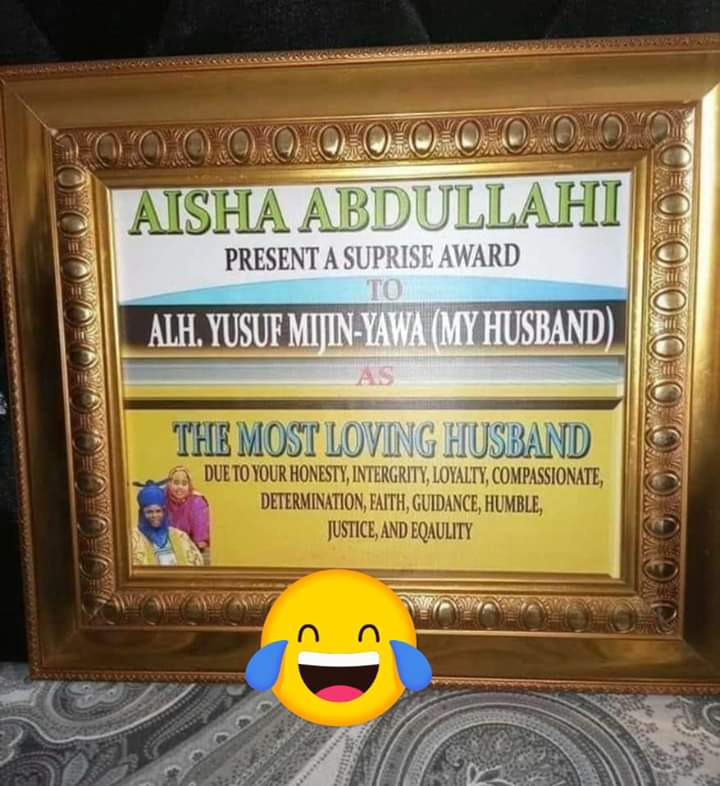 It takes little effort to create a lasting impression on someone. We've seen and heard how women have appreciated their men be it their husbands or boyfriends for being loyal faithful and hard working. These appreciation ranges from gift of cars,perfume,wrist watches,Ps4,cash gifts and other stuffs the men in question would appreciate.
A Nigerian woman has done so well as she appreciates her husband for being loyal and faithful to her. Maybe she couldn't afford expensive gifts but she made an award to give to her husband.
According to what she wrote on the plague,she is giving him the award for being honest, loyal,compassionate,determined,humble,his integrity,faith, equality,guidance and justice.
The said woman's name is Aisha Abdullahi and she referred to her husband as Alh. Yusuf Mijin Yawa as a loving husband.
The award might look funny,but it meant a lot to her and the husband who it was presented to.
Don't forget to share
Don't forget to maintain good and proper hygiene
Content created and supplied by: Asaoyoko1 (via Opera News )