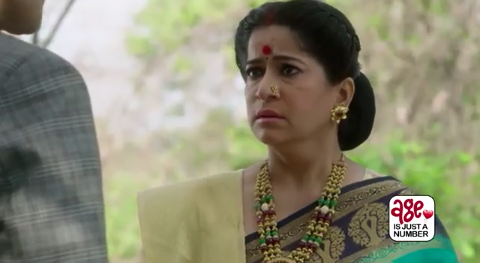 On Age is Just a Number Wednesday July 22 episode, Sahil hurries outside as he gets the clue that this is Vaidika's piece of cloth.
Previous Episode: Click here for Tuesday July 21 Update on Age isJust a Number
Nidhi hears Sahil's footsteps and hide the girl in another room. She was alert why Sahil was looking for the girl and wonders why is Sahil finding her. Sahil reaches unnad bus stand and thinks this girl has a connection with Vaidika for sure, he wonders where he must find her. Sahil reach a temple around and asks for help about how to find Vaidika. He thinks he wants to find Vaidika, still he got an empty paper as help. A paper fly of Sahil with an address on it.
Sahil recognizes this is an address of the same city. If Vaidika has sent this. He was determined not to spare the person who has hurt her. He runs across the streets looking for the address and stops to pant. Vaidika's shadow comes to smile at him. He was left staring at her face when at once he realizes where he was. He was five minutes away from the location.
Vaidika was in the lockup. She was shocked to see Nidhi pointing a gun towards her. Nidhi says Vaidika is left with only a few breathes of life. She begins count down from 50. Vaidika understands Nidhi was there behind Panday and questions why she did this, she claimed being in love with Sahil then why she betrayed him. Nidhi confesses she had done a lot worse than this. Vaidika's life is going to end soon, she must only think positive right now. She tells Vaidika to only think about Sahil and wish they are age fellows in their next lives. Sahil runs towards the location. Nidhin tells Vaidika their love story can't be true in this life, she must lose her life right now. It's for the sake of her love and Sahil. Sahil asked some people around for the address.
Nidhi points the gun and fires the bullet. Sahil enters the lock up, it was the same address that GPS showed. There was non one inside. Sahil was broken and sits on the stool kissing the cloth piece. At Agarwal house, Nani instructed the decorators on a call. It was after all her daughters marriage. Nani calls Aarya to bring a paper pen and note down the dishes. Suomya comes cheerful about Vaidika's marriage. Aarya confirms Vaidika if she is sure to marry Sahil.
The imposter replies this is for Sahil's better future. She was lost in the thought of being fed up to pose sweet. Yash comes there and wish a jewelry set to Vaidika. Chambeli was left in an awe, Nani was excited to see the set and says Vaidika doesn't wear such heavy jewelry. She drags the set. Chambeli day dreams about insulting Nani and pushing her.away but soon returns from her thoughts and allows Nani to keep the set. Yash tells Vaidika to get ready by 4pm.
Gauri comes to her, Chambeli tells Gauri she clarified to Sahil she doesn't love her. She makes Gauri rest on the couch while she leaves. Gauri was upset about where Sahil has been, he must be heartbroken watching Vaidika as Yash's bride. Sahil reaches a Dargah. There, Vaidika reaches the entrance of Dargah. Inside, Sahil was sure Vaidika was somewhere around and prays to meet her, Vaidika covers her head and hides her face.
Panday had also reached the Dargah. Nidhi calls Panday and curses him for letting Vaicdika flee. Nidhi says Pandaynmust finish Vaidika as soon as possible and she wants to see the dead body this time. She has to make a marriage happen in Agarwal house and can't stay. Vaidika sits in then corner of Dargah, panting. Panday points a gun towards Panday held a gun over Vaidika but she moves on. Sahil was in the same hall praying. Vaidika runs across the hall for life, Panday follows her. Sahil could sense Vaidika was somewhere around. He walked through the same corridor and stands holding a boundary. Nidhi was enraged over Panday for not being able to accomplish a single task.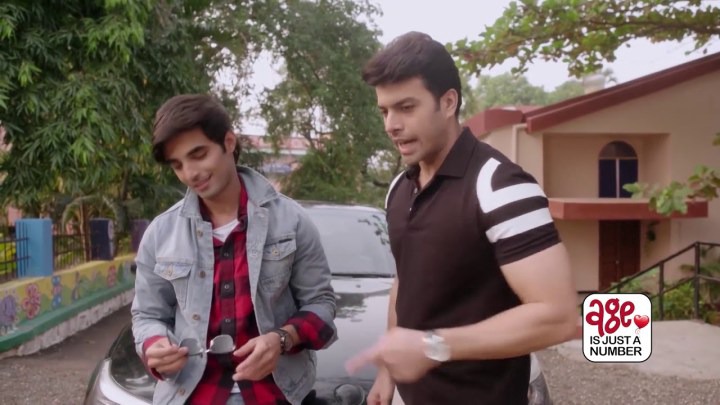 Pandit comes inside the house. Nidhi stuffs a bundle of money in her pocket and tells him to hurry the wedding process and the vows. The wedding much finish within 10 minutes. Nani comes to insult Nidhi for interfering in her daughter's matters. She tells Pandit ji to get the wedding accomplished ritually. Bari Amma comes out of the room. Nidhi walks inside. Nani comes to insult Bari Amma for being poor now and gifts her an empty bowl so that she can beg. Her daughter and Yash would soon take over whole of her business and propery. There, Sahil showed Vaidika's photo on his cell phone to people asking about her.
Vaidika cries with the boundary. She was shocked to see Sahil standing at a small distance from her with the same boundary. Her past with Sahil flashes in front of her eyes. She hurries towards him and was about to place her hand over his shoulder for help when she looks outside. Panday held her fellow lock up mate with a knife over her neck and signals her to come outside, Vaidika leaves silently. Panday takes hold of her in the corridor. Nidhi warns Chambeli to get all the shares named after her after she married him. Chambeli wasn't ready to listen to her orders and says she doesn't own a magic wand. It might take somentime. They hear Suomya telling Yash that this lady isn't her Mami (Aunt). Yash insists she is the same and even saved her life. Suomya asks Yash to come and see by himself, she isn't the one. Chambeli and Nidhi were cautious.
Sahil looks outside the gallery to see the same dumb girl. He asks about Vaidika's whereabouts. The girl points behind him. Panday came from behind clapping and asks if finally found Vaidika. Sahil holds Panday by collar and beats Panday badly. Panday points towards antree where Vaidika was hung through a rope. Sahil hurries towards the tree.mThere was a ring of fire just beneathmwhere Vaidika hung. His men had tied the young girls with the tree trunk.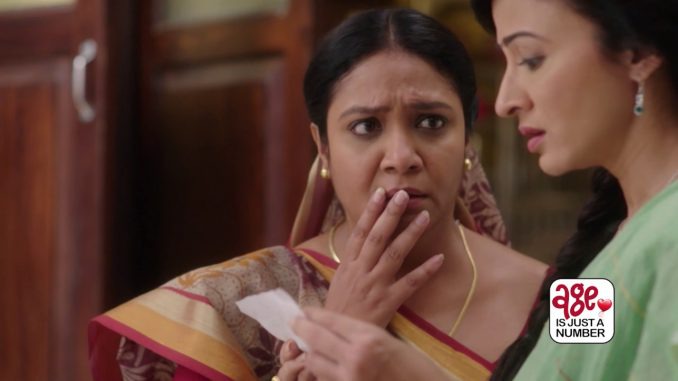 Panday warns to kill Vaidika and threw oil to ignite the already burning fire. He says Sahil would witness his lover die burning in fire in front of his eyes. Suomya tells Yash that this lady doesn't remember any of her choices. Her favorite color, her favorite food or anything. Yash asks Chambeli to satisfy Suomya with a few things she can remember. Suomya insists she isn't the one, she can't remember anything. Yash convinces Suomya that she got hurt on head and might have forgotten everything. Chambeli thinks Sahil didn't teach her anything about Suomya, what if she speaks wrong in front of her.
Nidhi watches this from the window and comes to her help with a note written on the banner. Chambeli says favorite food is Cheese and burger, favorite color is blue and favorite story is sleeping beauty. Suomya cheers and hugs her. Yash goes to get ready for the wedding. Nidhi comes to the room, they laugh together. Nidhi says when Suomya took tuitions from Vaidika she used to live with them as Sahil's wife. She shows how much Chambeli would need her to stay in the house. Chambeli enjoys how devilish Nidhi was. Nidhi says she took pleasure with Karan and made Sahil a father of her baby, she wonders what Nidhi is capable of. No one can stop them when the witch and a dyan work together. Chambeli tells Nidhi to leave now, she has to get ready for wedding. Panday begins the cut the rope Vaidika was tied with. Sahil fights the goons and was beaten badly by them.
Vaidika pleads Panday to stop this, Panday stops his goons and warns Sahil to save his love if he can. Sahil was able to get rid of goon's grip, he holds a nearby rod and hits the men. He now comes to Panday and saves the rope from falling off and keeps it pulled, Panday drags him behind. Sahil finds the knife fallen right under her foot and marks a cut on Panday's arm.
Wednesday episode on Age is just a number ends when he runs to save Vaidika. Both fell over on the other side of the fire ring. Vaidika holds a rod to hit Panday. Panday resists but himself fell into the fire ring, he was burnt alive. Sahil tells Vaidika this is Karma, he kiss her forehead. They free the other two girls. Sahil tells Vaidika it seems there was a day after long hours of night. He has gained his oxygen back. Vaidika tells Sahil she wanted to tell him something very important before the accident.
Follow my page for daily updates on Age is just a number. Don't forget to share to other Zee World lovers using the share buttons beside you. Thanks.
Did you miss Monday's episode? Click here to read Monday 20 July update on Age is Just a Number.
Content created and supplied by: Insta_News (via Opera News )
Opera News is a free to use platform and the views and opinions expressed herein are solely those of the author and do not represent, reflect or express the views of Opera News. Any/all written content and images displayed are provided by the blogger/author, appear herein as submitted by the blogger/author and are unedited by Opera News. Opera News does not consent to nor does it condone the posting of any content that violates the rights (including the copyrights) of any third party, nor content that may malign, inter alia, any religion, ethnic group, organization, gender, company, or individual. Opera News furthermore does not condone the use of our platform for the purposes encouraging/endorsing hate speech, violation of human rights and/or utterances of a defamatory nature. If the content contained herein violates any of your rights, including those of copyright, and/or violates any the above mentioned factors, you are requested to immediately notify us using via the following email address operanews-external(at)opera.com and/or report the article using the available reporting functionality built into our Platform See More