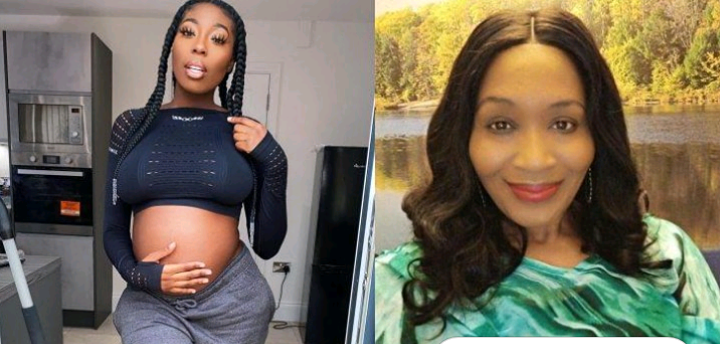 Following the death of pregnant British YouTube star, Nicole Thea, Kemi Olunloyo has warned women to desist from flaunting their baby bump on social media.
According to Kemi, not everyone are happy for your pregnancy. Kemi added that some women who flaunt their pregnancy online, end up loosing the baby.
"#WELLNESSKEMI For me it's a personal opinion: How come so many showing their pregnant belly on this app always lose their baby and now her life? NICOLE IS DEAD!!
Pregnant ladies I believe in this destruction juju. Stop exposing your personal pregnancy life on social media. Not everyone is happy for you.
This young pregnant media personality lost her life and the baby. Her family wants privacy while most of you want to know what killed her.
This is where I come in but you now see why Investigative Journalism with no funding ends. I know how she died.
It will come out later from them. "A month full of sadness, health gone and life ended" the opposite of her caption. Lord plssss watch over us. May she rest in peace💔💔💔", she wrote.
See comments and reactions
Omon Akowe Princewill: Hmmmm i laf in Edo language… as for me oh, i really do not like it at all, i can only post it afer given birth… village peope are every where including social media…
Lilian Odey: Why even expose your pregnancy on social media? It will only invite evil eyes to harm you or your innocent child. Is a very sad one. may her soul rest in peace
Chukwuka Ifeoma Blessing: You are right, let them continue, as long as Africa is concerned I will never be part of it, not in my life, I don't believe in such, rather take pictures for future reference, keep it in your home, what is social media, women pls stop imitating foreigners, we are forever African's.
Winifred Ene: Aunty Kemi for the first time you nail well. Tell them please, because our mothers gave birth to well, and very responsible generation's, but never do what we are seeing in today's world!.
The celebrities are telling today's women how to dress, appear, and how to think!!. My question is this, what has happen to the men of this generation that, they can no longer stands up for integrity anymore?
Why have the men becomes almost all of them, woman rappers? Please men, stand up for your positions as the Head and reduce insanity.
Supersoft Berinyu: I tell u oh the way pregnant women are flaunting their pregnancies on social media to di wonder me oh everywhere now na baby shower if ur pregnant now without doing bb shower or not showing ur pregnancy to the world u be old class.
I sorry wina if only them know wayti them call for that unborn innocent child them thinks na to much love n happiness them get for that child them no no say na that children destiny's them take give them way di rule the darkness kingdom I sorry wina.
Daniel Ayogu: Kemi is right to some extent.u never can tell who is wishing for ur downfall.some people may post theirs and nothing happen to them.
While some might post and village people go enter their matter.we just have to be careful and know the kind of background we come from.
Ola Mi De: Especially the pregnant women dancing with their baby bump to the #dudukechallenge stuff and posting all over the social media, I'm not condemning the song cos it's a beautiful song, even Simi that sang it , released the song to world after giving birth.
Confidence M Okome: People were dieing before social media times. Though I believe you should private about some things but let who want express their joy express it the way they want whether on social media or not.
Chiagozie Uliaga: It is just written to happen like that. Even those that don't expose theirs die in labor too. Women see hell to bring forth a life. Only God is our strength. May her soul rest in peace. You are a hero
Precious Emmanuel: Don't mind them, they think its a everyone or eyes that sees them is geniuelly happy with them, let them continue.
Kingsley Asuquo: Like seriously Pregnancy no need stress, this lady used to dance very hard with her condition but she doesn't deserve to die
RIP💔💔
God'time Iyayi: You right ma,cause some people live their entire life on social media.
From admission to graduation to birthday to engagement to wedding is all on their social media accounts, which is not always good.
Peter Filapao: Some people accusing her, she gave her own advice, you may not accept it is fine,when u pregnant take your picture and send to the world.
If u like take it or be a learner,some learn with their experience and some use other experience to navigate dangers is all depends on you,
We came from different families,have different friends and people around us,
You can't compare your with other because you don't know they involve with done be deceived, just be safe and do sensible and reasonable things,
Wise lady's will take the picture and share it after their delivery which I don't find it necessary,
What also annoys me is that some ladys using it to share their nude on social media,how could u be half naked because you want to share your pregnancy bump picture on social media…..it really funny and crazy,
She gave her own advice and if u like take it or leave.
Emmanuella Eyetsemitan: So what about people who hide and still die during childbirth?
Simi and thousands of other celebrities bared it all, and lasted checked, she's doing well. So what about people who are private losing their babies and lives? It just happened. Sometimes, bad things happen
Jennifer Simon: Lots of foreign celebrities show there pregnancy journey online am not saying dis lady ain't right but it's a choice if u want to do it
Just dat we are in a country where everybody eye dey redMost celebrities have been doing it and gave birth safely sometimes it's not always a spiritual tin
Complications happens in pregnancy which leads to death
God forbid that be anyone's portion
Mma Jully: In as much as putting everything about you on social media is not right, but who go die go die, she is not the only one that posted about her pregnancy, alot of pregnant women out of social media dies every day, may God help us all🙏
Inya Oluchi Arua: Why exposing ur body on social media all in the name of u want to proof to the whole world that ur pregnant. My sister the world is evil save yourselves some stress.
Atim Awak: Honestly. This their new trend of exposing body and pregnancy to the world is really disturbing to me. I dey fear for them.
Phebe Achunike: Abeg make we hear word. All these women that exposes theirs and still have safe delivery nko??? Mercy Johnson, Regina Daniels nko of recent???
One thing you should you know is that you can hide inside your toilet and if evil wants to come,it will come.
Odey J Onah: So many marriages today don't have privacy anymore, what ever they do they bring it to social media not knowing that their village witches n wizard are now using internet to monitor them
Azom Tochi: At least make this woman talk sensible thing for once. I support her. Showing off on social media is just shooting yourself on the leg and asking what happened.
Amarachi Basil: In as much as we ain't supposed to do all the exposing things it still dsnt mean dat there death has a link with posting of pics is true we live in a wicked world now.
We ought to be alert every now and den posting of pics dsnt 100% prove u are inviting evil coz they are alot of celebrities who kept posting pregnancy pics online and gave birth successful without stress.
They kept dancing to all songs online Regina posted her pics online b4 giving birth Simi did same and lots of others dey are gave birth without complication while dey are pple who kept hiding there pregnancy every now and den yet the unfortunate befell them is just the matter of been prayerful and been alert spiritually.
All thoes demons who might b after u alrdy know u are pregnant even b4 u start posting ur pics they see b4 y and dey start working b4 u so is left for u to resume work spiritually to protect ur child.
Whether u post or not u gat to b prayerful coz sm villa pple no dey social media so dey DNT even know weather u posted any pics or not.
Be prayerful and alert if u DNT want to post pics den too hold ur mouth cos from telling ur friends the goodnews the evil ones will still hear it if u go out pple will still see u and pass the info around and the evil one will still hear it so is about been prayerful nothing more.
Content created and supplied by: Golden_Hero_Media (via Opera News )
Opera News is a free to use platform and the views and opinions expressed herein are solely those of the author and do not represent, reflect or express the views of Opera News. Any/all written content and images displayed are provided by the blogger/author, appear herein as submitted by the blogger/author and are unedited by Opera News. Opera News does not consent to nor does it condone the posting of any content that violates the rights (including the copyrights) of any third party, nor content that may malign, inter alia, any religion, ethnic group, organization, gender, company, or individual. Opera News furthermore does not condone the use of our platform for the purposes encouraging/endorsing hate speech, violation of human rights and/or utterances of a defamatory nature. If the content contained herein violates any of your rights, including those of copyright, and/or violates any the above mentioned factors, you are requested to immediately notify us using via the following email address operanews-external(at)opera.com and/or report the article using the available reporting functionality built into our Platform See More