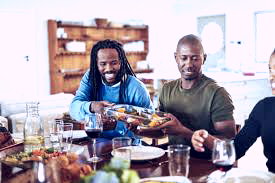 Why do visitors often pretend to be watching TV or reading, when food is being brought?
Is it packaging, Home training, to show they are not longer throat,pure format or not to appear too eager to devour the food? I have actually pondered over this myself. I guess I am a culprit as well.
I remember the day I regretted applying this format when I was a boy. My childhood friend Chibuzo and I had gone to house of our mutual friend to watch an African cup of Nations match between Nigeria and Tunisia in 2004.
We practically raced from school in an empty stomach to their house for match. Reaching there, the aroma of the vegetable soup our friend's mother was preparing saturated the whole place. It was very pleasant that I can perceive it now.
The food was ready as the match was going on and our mutual friend brought his share to their seating room where we were. As he was coming in, Chibuzo and I pretended to be grossed with the march so much that we didn't notice his entrance.
And when he invited us, Chibuzo joined him on a second call while I pretended to be more interested in the Match to show that I am not a longer throat.
Omo, by the time I said " Let me just eat small so that you would not say that I don't feel free with you" as a format to join, I couldn't eat upto 13 balls of eba and the food finished.
What hunger did to me that day before I reached my house 3 no go fit divide am.
Share the time you regretted applying the format in the comments. Over forming is a dangerous disease.
Content created and supplied by: IPoliticus (via Opera News )