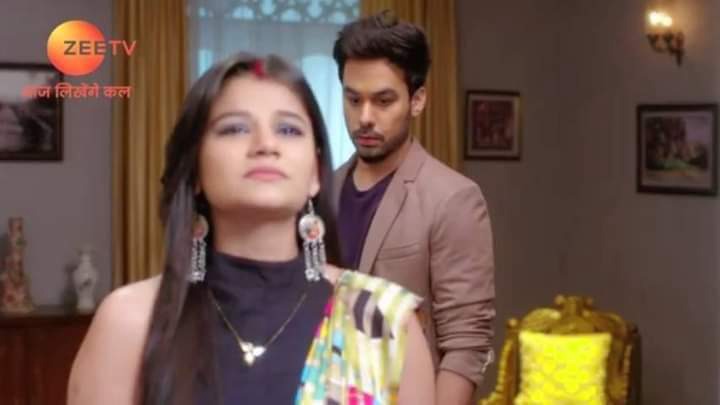 Aarya stops them, removes the veil to see Vaidika under it. She regrets for having parents like them, one is a murderer and other a thief. Shirtij says initially, Guddu's murder, then lie about separation, and now Vaidika came over to rob for the necklace. How she even thought Aarya could forget Sahil is murderer of Aarya's husband.
Sahil grabs Shirtij's collar, then tells Aarya he is still the same Sahil who could lose his life for her. She united them, but parted because of her. They want to show Aarya they can do anything to win her trust again.
She is their life. He invited Vaidika because she is happy to see Vaidika, her mother is his life, his love, his soul mate and everything. If he was wrong in inviting her, what Aarya and Shirtij is doing isn't right as well.
Aarya didn't want to hear anything else. She says they have only shown off motherhood, and love. Sahil questions Aarya if she says so, she is life to Vaidika. Parents are badly hurt when kids leave them, and kills them inside out when their children hate them.
Aarya was still stubborn, and calls Sahil a liar. She points towards the main door and tells Vaidika to leave her house forever. Vaidika leaves the house. Sahil tearfully says this was wrong.
Vaidika walks to her old house with a heavy heart. A man nearby drops an envelope of photos near Vaidika. Vaidika was shocked to see the pack and thinks this isn't possible, it will bring much disgrace to them. She wonders what to do, and calls on Sahil's number.
Deepak receives the call on Sahil's mobile. Deepak says Sahil left his cell phone. Vaidika tells the whole problem to Deepak. Deepak was left in shock while hearing this. She says she is coming back.
Shruti cries hugging Sahil and says she is innocent. The relatives blame Shruti's character as her history has never been clear. Prachi smirks at the disgrace as the relatives were out of control and attacks Shruti to teach her a good lesson. They decide to get her hair removed.
Vaidika comes from behind and protects Shruti by pushing everyone away. She wasn't ready to let anyone disgrace or insult her sister in law. She regrets Bari Amma was silent for her own daughter, but she (Vaidika) will not let them hurt Shruti.
The ladies weren't afraid of Vaidika and attack Shruti once again. Deepak thinks Vaidika wished him to save Shruti, else her life might get ruined. Deepak comes in between, he holds Shruti's hand and fills her hairline, to everyone's shock. Shruti walks inside.
Prachi spots the prints of photographs on the floor. She remembers the photographer had only brought the soft copy but not the prints of the photos. She wonders where Vaidika got all these, what if she realizes these were made through computer.
She goes to pick the envelope and wonders how Shruti and Deepak's photos were found by Vaidika. She blames it must be Vaidika's trap to disgrace Shruti. She blames Vaidika is used to living a lustful life now.
Vaidika says she found these photos on the road, the man had already left. She spoke to Deepak on the phone. Deepak agrees. But Bari Amma wasn't ready to believe them, and blames Vaidika did this only because of lust for money she is used to now.
The relatives, Puneesh and everyone else blame Vaidika. Vaidika clarifies that she only wanted the wellbeing of this family. Sahil stops everyone, he says he fought his family and tried to live this strange love story with Vaidika; it now seems Vaidika must leave this house, for the peace of this house.
Vaidika was shocked to hear. Sahil says Vaidika can't live in this house anymore. It feels they must live away from each other and live happily. He tells her to leave forever. He didn't want any arguments, and says he has only seen troubles, pains and problems in life since marriage.
He can't tolerate anything else now. He takes Vaidika by arm and takes her outside the house, shutting the door behind. Vaidika was in a state of shock and recollects the past they had together. Sahil was badly hurt.
Sahil shuts the door over Vaidika's face, then comes inside and asks the family if they are now happy. Sahil and Vaidika have finally parted. Sahil comes to the room. He thinks there is always some problem in the family.
He wish Vaidika lives a peaceful life, without all these tension and worries. He punishes his hands as from these he had pushed Vaidika outside.
There, Vaidika returns home while in tears. She thinks Sahil was really angry, he did a lot and must be extremely hurt now. She touches the name plates of their names, then holds the name plate close to her heart. She thinks she must now chose the single remaining way.
Deepak comes to Shruti's room. She questions how dare you. Deepak says he helped her, and now she blames him. Shruti questions if filling her hairline with his blood was a help. Deepak says he isn't fond of any such act. Shruti cries that people already calls her unlucky, and today she turned to be her brother in law's wife.
The next morning, Sahil comes downstairs in complete shave. The door of the house opens. Sahil turns around and was shocked to see Vaidika standing there. Bari Amma comes there and questions why she came over. Vaidika replies she is the daughter in law of this family, at least till now; she isn't divorced yet. She calls Ved inside who was excited.
Vaidika now calls her mother, who walks inside in funky clothes with Virat in her arms. Everyone eye them closely. Sahil asks what Vaidika is doing here. Vaidika says my darling husband, he can't take all the decisions by himself. She has decided they will live under a single roof, till they aren't divorced. Bari Amma tells her to leave the house right away, she will push her out today like Sahil did yesterday.
Vaidika instead clutches, then jerks Bari Amma's house. Vaidika questions what right she has. 49% of this property belongs to her husband, and the rest of 51% is named after her useless son. Not she, but Bari Amma has no right to live her; instead she will have to go to jail straight away.
Prachi was offensive, but Vaidika says if Sahil speaks a single word against her then she will call police and human right activists both. She then goes to touch Aarya's feet, greeting her as a sister in law. She will now show Aarya what the true colors of a daughter in law is.
She says she has learnt one has to fight to himself, she is now going to take some rest and calls Ram Prasad to send tea to her room. Prachi wonders what happened to Vaidika.
Content created and supplied by: Gangara2 (via Opera News )
Opera News is a free to use platform and the views and opinions expressed herein are solely those of the author and do not represent, reflect or express the views of Opera News. Any/all written content and images displayed are provided by the blogger/author, appear herein as submitted by the blogger/author and are unedited by Opera News. Opera News does not consent to nor does it condone the posting of any content that violates the rights (including the copyrights) of any third party, nor content that may malign, inter alia, any religion, ethnic group, organization, gender, company, or individual. Opera News furthermore does not condone the use of our platform for the purposes encouraging/endorsing hate speech, violation of human rights and/or utterances of a defamatory nature. If the content contained herein violates any of your rights, including those of copyright, and/or violates any the above mentioned factors, you are requested to immediately notify us using via the following email address operanews-external(at)opera.com and/or report the article using the available reporting functionality built into our Platform See More