A Nigerian man identified as Babangida Sodiq Adamu and his beautiful polygamous family has been granted interview with BBC News Africa Pidgin and he has explained why he decided to marry two beautiful women in the same day and also the benefits he gets from marrying two women that men with only one wife don't benefit.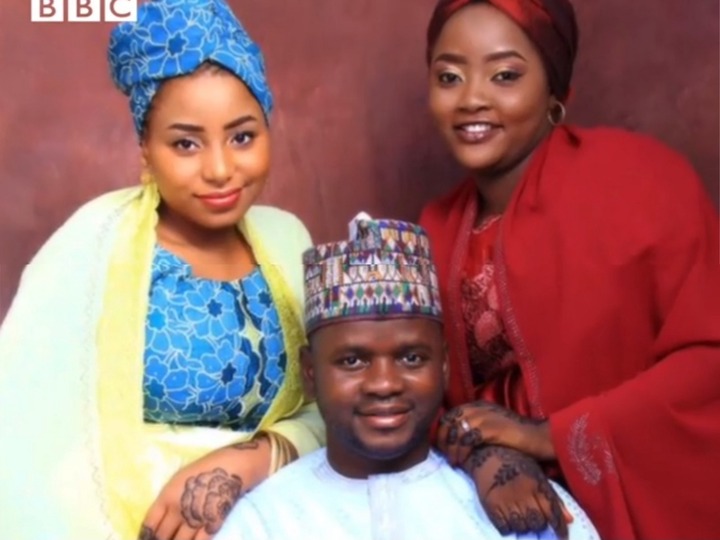 In the video of the interview shared of BBC News Pidgin on Instagram, Mr Babangida Adamu said that he is currently 37 years old. According to him, the benefits and what he enjoys by marrying two wives that men with one wife don't enjoy is that when he wakes up in the morning, he realizes that he have two beautiful women that love him, care for him and also cook for him so everything he receives from his marriage comes in double unlike men with only one wife.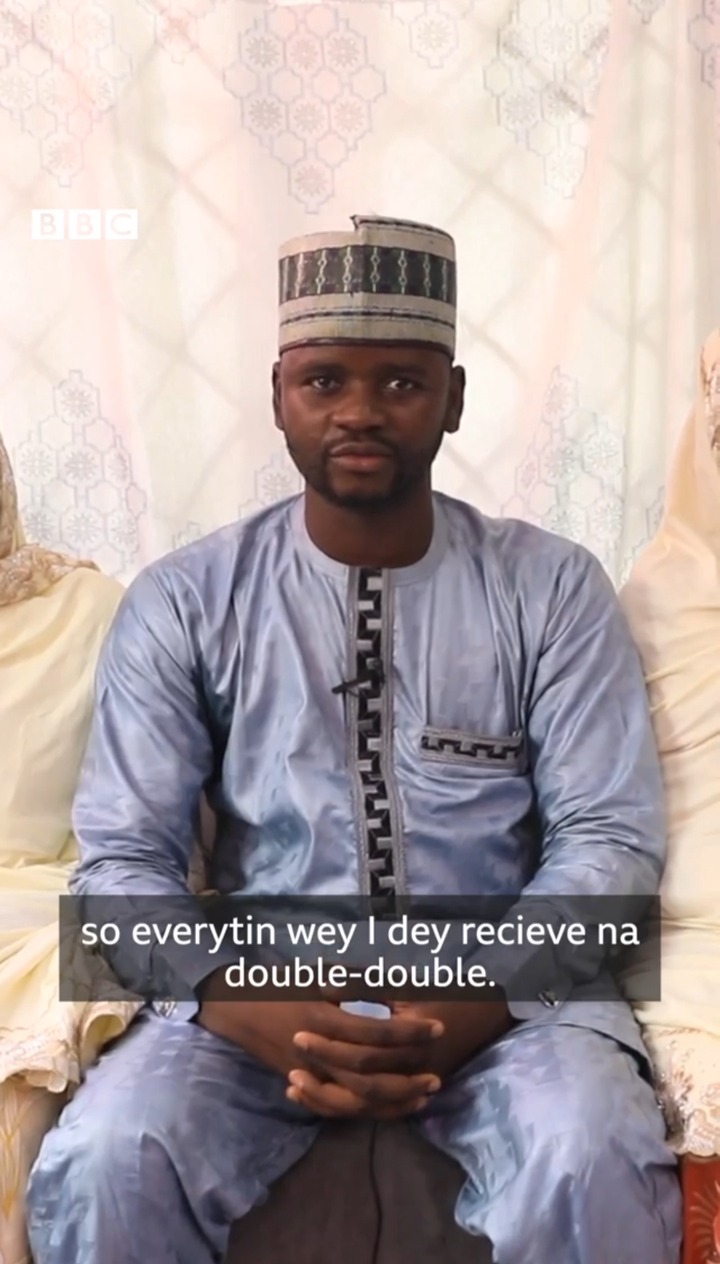 Speaking further, Mr Babangida Sodiq Adamu revealed that what made him marry two wives is the chapter in the holy Quran that encourages a Muslim to start with 2, 3 or 4 wives as long as he has the money and finance to maintain them and also treat them all equally.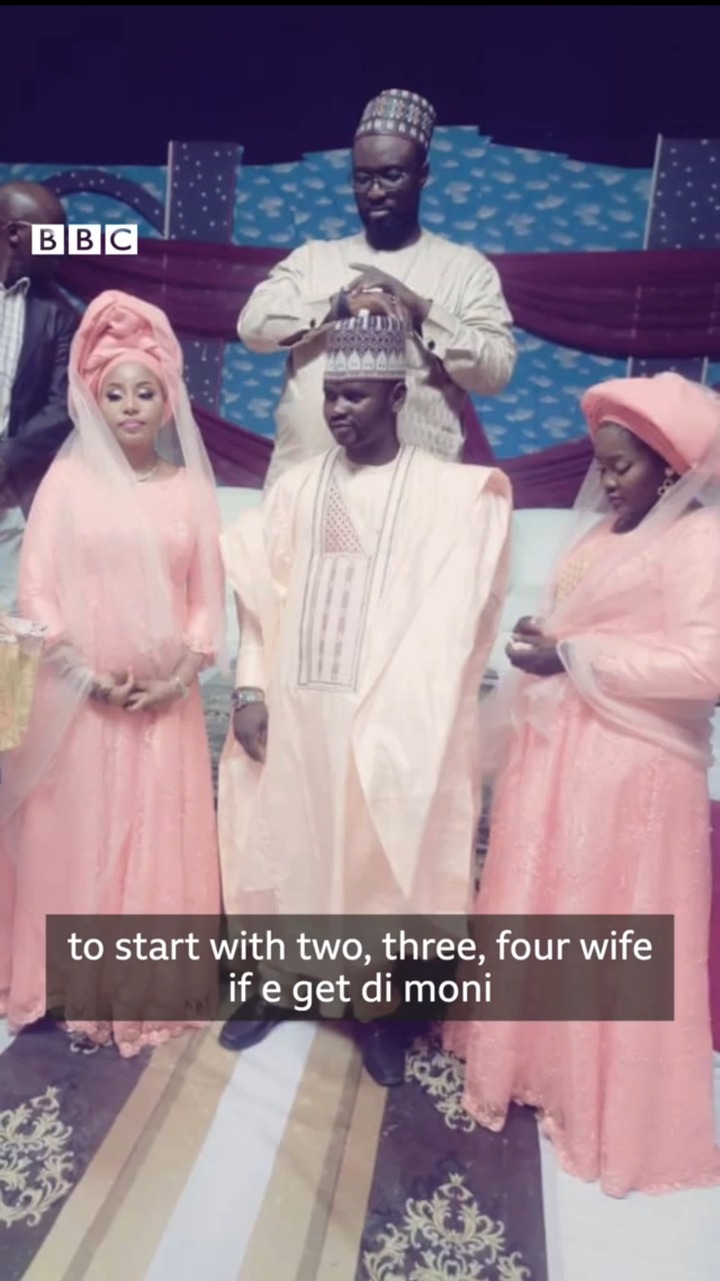 Mr Babangida Sodiq Adamu also revealed that one of the reason is that there is more blessing inside both spiritually and physically in the side of the almighty God.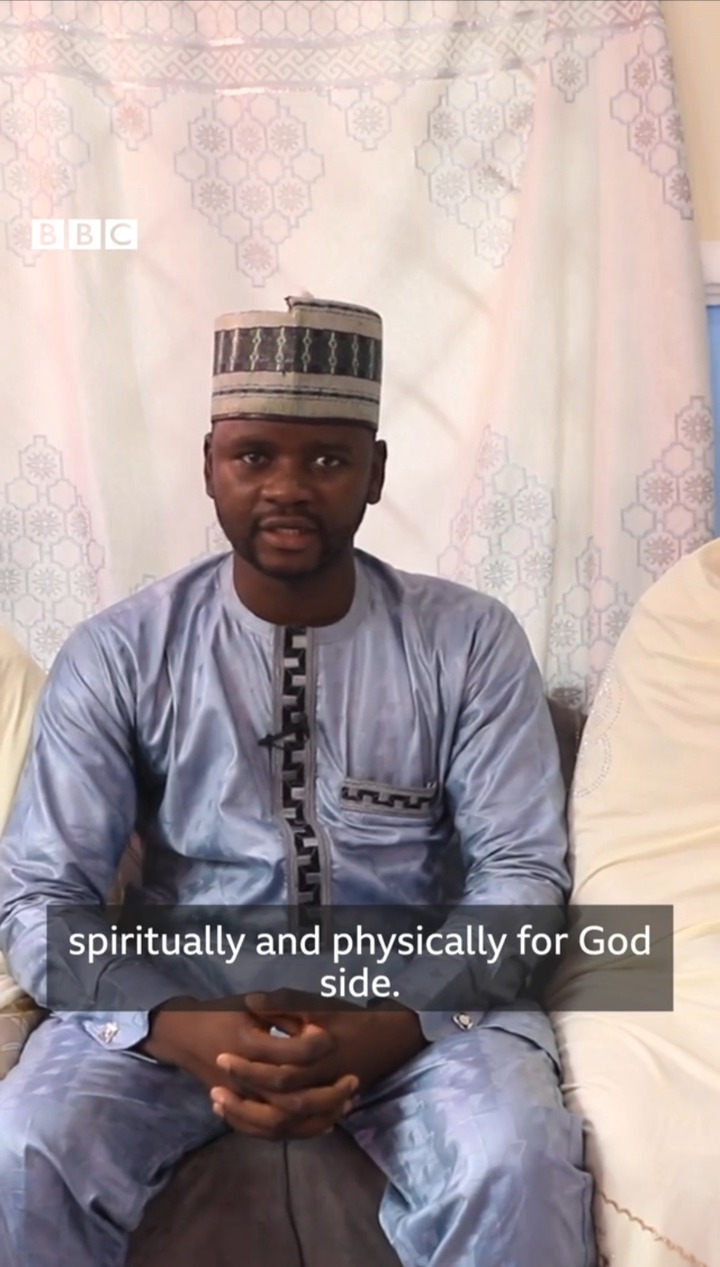 The interview progressed to the side of his beautiful wives and the first lady he proposed to, Mariam Muhammed was the first to be interviewed. According to Miriam, she is 28 years old and a graduate of business administration.
Miriam revealed she is the first one her husband proposed to but later he told her he want to add one more person to the marriage, at first she felt somehow thinking that maybe she wasn't good enough but he explained things to him and since she loves him, she agreed with him to add one more.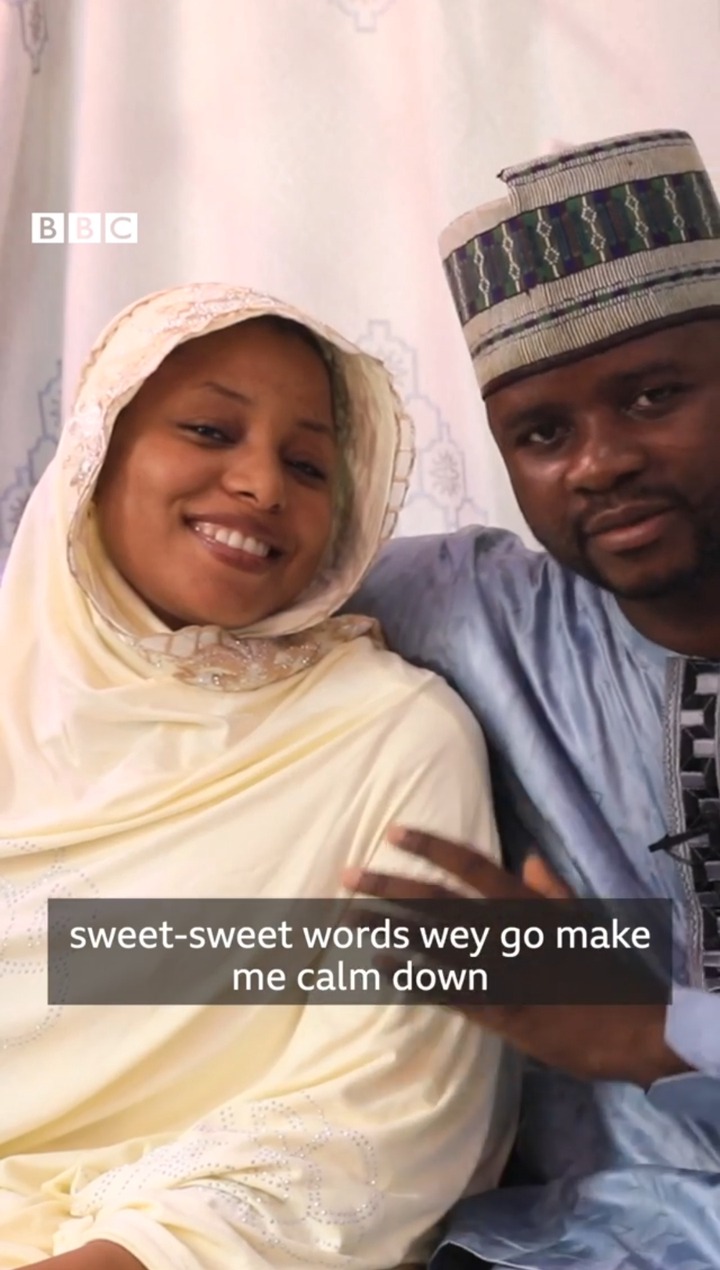 Miriam mentioned that what she likes about her husband is that he is caring and a very understanding person.
The interviewer moved to the second lady in the marriage, Memuna Mohmoud and she is 26 years old and a graduate of economics.
According to her, when her husband told her he will be marrying her the same day with Miriam, she felt somehow but then she agreed since it's allowed in Islam and he is someone he loves.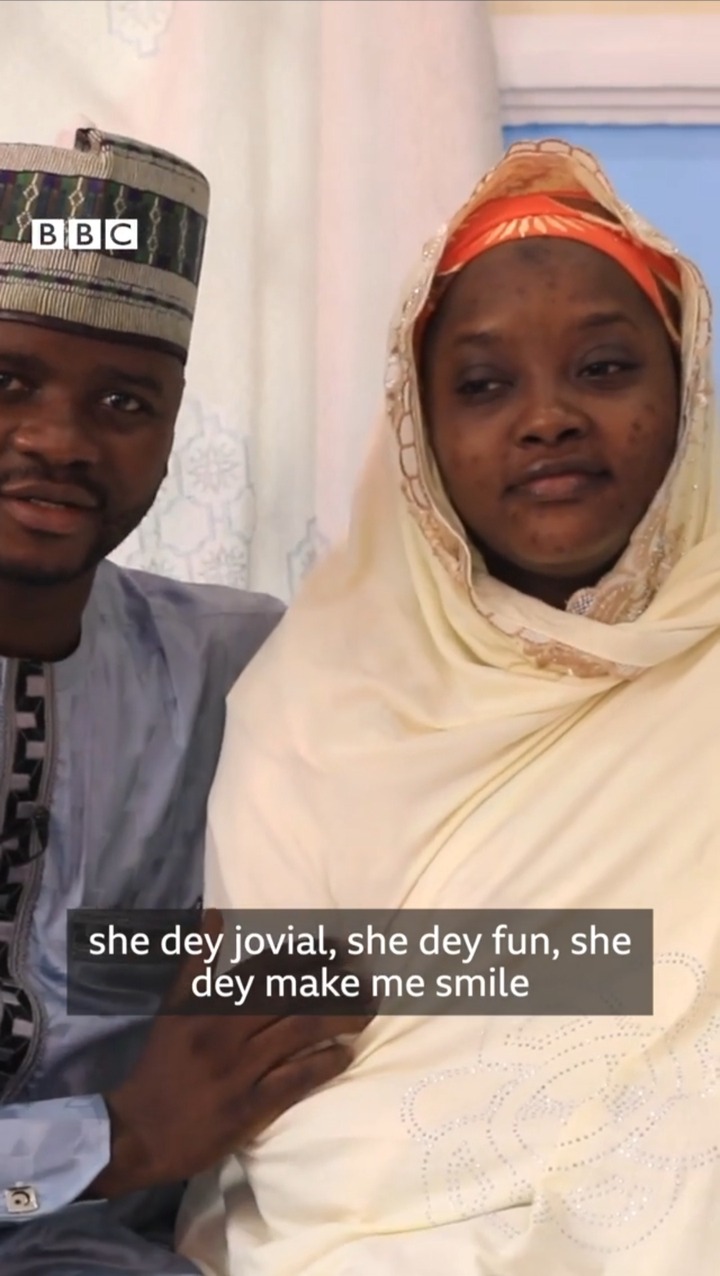 She continued to praise her husband as a caring not biased person with good behaviour.
The video switched back to the man, Mr Babangida Sodiq Adamu and he explained what he likes about his wife Miriam Muhammad. He said that when he is vexed, she knows how to calm him down and with some sweet words.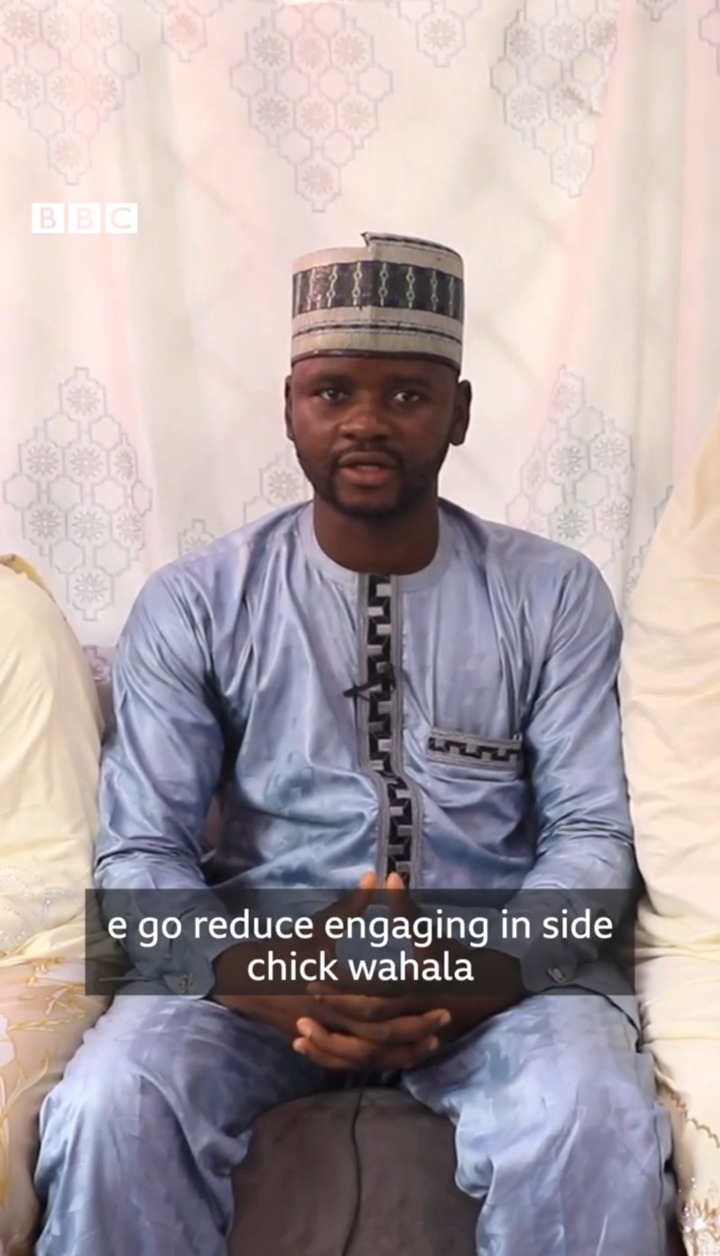 On the other hand, what he like about Memuna Mohmoud is that she's fun, jovial and knows how to make him smile.
Ending the interview, he revealed that the two wives have understanding between them, he never say them down to share responsibility between them as they have shared everything between them and most times, they do it together.
Leaving advice for men that is yet to marry, Mr Babangida Sodiq Adamu said he will advice men to marry two wives instead of 1 wife as it will reduce engaging in anything that has to do with side chick.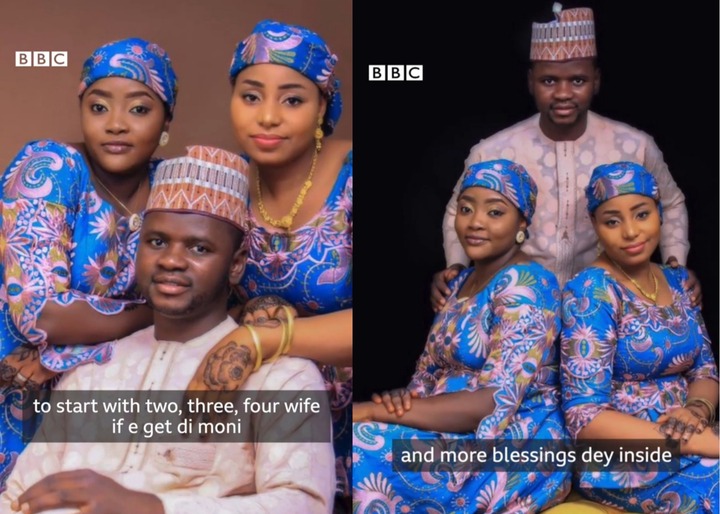 Click Here To Watch The Full 5 Minutes Video On BBC News Pidgin Instagram Page.
Special Credits To BBC News Pidgin For Conducting The Interview And Making It Available For Everyone.
Content created and supplied by: BlessedInks (via Opera News )