Popular Nollywood actress, Adesua Etomi is someone I admire so much, not just because she is beautiful but also the fact that she is talented and good at what she does.
Since she joined Nollywood, she has starred in movies that are blockbusters. Here are some of the best of her movies;
1. The Wedding Party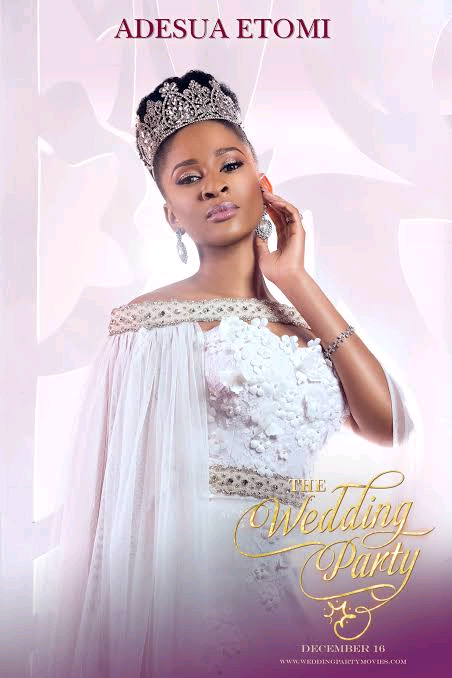 The movie is about two young lovers from different tribes about to get married. The groom's mother didn't like the fact that her son was marrying a girl she feels is below his status which made her look down on the bride's family.
The bride on her part was still a virgin and wanted to remain chaste until her wedding night, to which her partner agreed to but he has a record of being a womanizer. His ex-girlfriend told his wife-to-be that they were intimate.
She was hurt and ran away but he found her where she went to cool off and told her he was not cheating on her and he was able to convince her. 
During the wedding reception, the mothers were at war about the food, the groom's mother brought continental dishes while the bride's mother brought Yoruba delicacies which everyone wanted. At last, they had their beautiful wedding and became husband and wife.
2. Memoirs of 4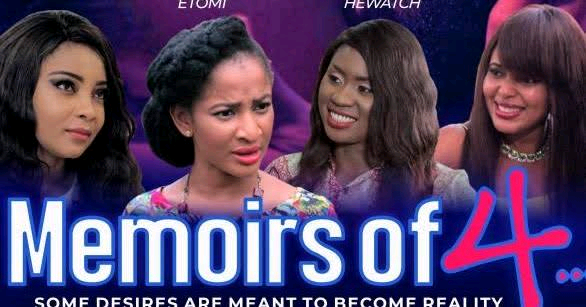 The story is about four friends and how they relate to one another and life.
Adesua Etomi played the role of the alpha female who loves her job and has no room for love. Keira Hewatch on her part was almost clocking 40 and was desperate for a life partner, the best option she could come up with was to tell a friend of hers to pretend to be her fiance.
Linda Ejiofor is the married one among the four friends, she is married to a wealthy man who travels a lot and leaves her with the kids. To an outsider, it is a perfect marriage but looks can be deceiving. Christine Godfrey is the last of the ladies, they ran into her and wanted to do catch up with her.
The climax of the story was when they all went to a party only to see their friend's fiance frolicking with another woman. They wanted to embarrass him on her behalf but she told them not to do anything when they asked her why? She had to confess that he is married and the woman is his wife, she only told him to act the part to save face from them.
They were all angry, she had to call them out too on their lifestyles, they should stop pretending as if everything was okay with them when it wasn't. Somehow, they all had to make some changes in the end. They realized they have made mistakes and had to find a way to work on their friendship.
3. Muna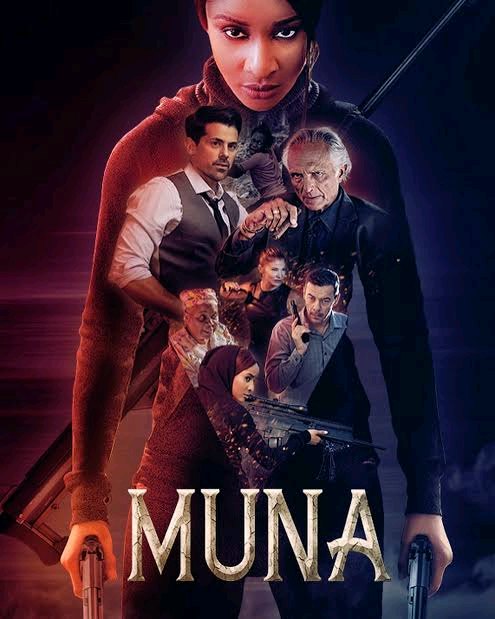 It is about a little girl who grew up with her grandmother, she wanted a good life for them, so she jumped on an opportunity to travel abroad with the help of a man whom her grandmother had told her to stay away from.
Without the knowledge of her granny, she left with him only to realize he was selling her into slavery. She managed to escape from the gang with the help of a man. She ended up in America and decided to revenge for what was done to her.
She got trained as an assassin with the intent of bringing down the cartel responsible for snatching little girls from their families and sending them into prostitution. Amid her plans, she fell in love with the head of the cartel's son. She had to let love lead the way in the end.
In this movie, she showed how she can adapt to any role other than a romantic comedy.
4. Sugar Rush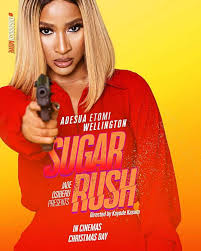 The movie centers on three sisters who were having a rough Time and a sick mother to care for. When one of them found a bag of money in the house of a corrupt chief, she decided to keep it.
She showed her sisters, together they started spending the money. They bought a house and moved in with their mother but it wasn't long, the authorities came after them.
Unfortunately, the boyfriend of one of the sisters saw where they hid the bag of money in the ceiling and ran away with it.
When they traced him and asked him to return the money, he started running from them but got killed in the process by a car, while someone else left with the money.
They had no option but to work with the authorities, they got the money back but were faced with a notorious man who is the owner, there was a shoot out and one of the EFCC officials who were also corrupt died.
The man collected his money and asked his men to kill the eldest (Adesua) of the Sugar sisters by burning her.
Her sisters came to her rescue. They had to fly out of the country with their mother. The notorious man realized too late that the money he had was fake.
5. Brave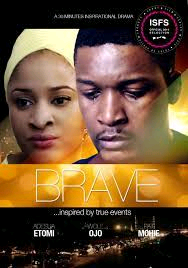 It is a short film about a couple who were so deeply in love but their world came crashing when the husband was involved in an accident and became paralyzed.
The wife had to take care of him for four years but the whole thing weighed her down and she told him she gave up everything for him, she wants to live her life again. She Dropped her ring and went back home, her mother persuaded her to go back and take care of her husband but she refused.
In her absence, his sister took over caring for him. On one occasion she called his wife to talk to her about the situation of her husband. That same night, his wife went to a club, on her return, she had a fight with her mother who asked her how she would feel if she was the one in the wheelchair and her husband walks out on her.
That made her rethink her action, she confided her fears to her pastor who encouraged her to hold unto God to be able to love her husband unconditionally.
She went back to him and apologized. Her husband accepted her back, he also started doing therapy to help him walk again.
6. 10 Days In Sun City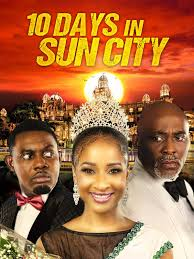 After a young lady won a beauty pageant, her boyfriend became her manager but one of the contributors of the pageantry had his eyes on her. He wanted to take her as one of his mistresses.
To achieve that, he offered the guy money to leave the lady for him but he refused. The girl on her part thought her boyfriend sold her off, so she cut ties with him and started staying with the man.
Little did she know she was about to enter a life of slavery. Her boyfriend refused to leave her, he tried his best to get to her but couldn't. One lady that was the man's old mistress had to tell her that he will leave her when he sees another person who is more beautiful than her. 
Her boyfriend eventually got to her and showed her the video where the man was trying to pay him to leave her but when he refused, the man tried to shoot him, so he gave in to his demand.
He later partnered with someone that had a score to settle with the man who wants his girlfriend, together they were able to defeat the man and take back his girl.  
7. In Line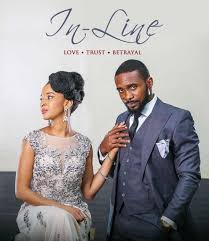 The story revolves around a couple who have their differences. The man who happens to be an ex-con gets another chance to be a better partner to his wife who loves him dearly, but his violent nature won't let him keep battering her at every given chance.
She decided to leave him but his lawyer who is also her friend told her she will get nothing from him due to how he wrote his testament.
She pleaded with him to find a way around it because she couldn't stand the fact that after she has worked so hard for their company to get to where it is, he would push her away and take over.
The lawyer on his part was in love with his client and best friend's wife, so he helped her to get an account offshore where they can transfer some of the company's money with the help of the account manager at the bank.
Little did she know that he had ulterior motives, he wanted to swindle her and run away with another lady to get married.
She overheard his conversation with the lady on the phone and went back to the bank manager, did another negotiation with him, and got all the cash. She sent a letter to her husband and his lawyer before she left Nigeria. They were both angry that she played a fast one on them, but she was gone already.
Content created and supplied by: Hergrace (via Opera News )
Opera News is a free to use platform and the views and opinions expressed herein are solely those of the author and do not represent, reflect or express the views of Opera News. Any/all written content and images displayed are provided by the blogger/author, appear herein as submitted by the blogger/author and are unedited by Opera News. Opera News does not consent to nor does it condone the posting of any content that violates the rights (including the copyrights) of any third party, nor content that may malign, inter alia, any religion, ethnic group, organization, gender, company, or individual. Opera News furthermore does not condone the use of our platform for the purposes encouraging/endorsing hate speech, violation of human rights and/or utterances of a defamatory nature. If the content contained herein violates any of your rights, including those of copyright, and/or violates any the above mentioned factors, you are requested to immediately notify us using via the following email address operanews-external(at)opera.com and/or report the article using the available reporting functionality built into our Platform See More