There are a lot of things that you don't know about Nickelodeon's longest running series, SpongeBob SquarePants.
Spongebob Squarepants
As Nickelodeon's longest running series, practically everyone in the world knows about SpongeBob SquarePants. The show, following the exploits of the sponge living in a pineapple under the sea and his friends, is wildly popular all over the world, and practically everyone has seen at least one episode (while many people have seen all more than 250 series, an impressive feat).
Still, while you think you may know all there is to know about SpongeBob, a show that has been on television for that long racks up quite the history, and you might be surprised to hear this facts about the popular show you have never actually heard. There are the obvious ones that everyone knows, like how the show was embroiled in controversy after Christian groups called it gay propaganda, or how series star Tom Kenny injured his voice while recording SpongeBob's signature laugh, but there's even more to this show's under the sea history. Here are 15 Spongebob-tastic Facts About SpongeBob That You Didn't Know.
Spongebob Was An 80s Kid, And Mr. Krabs Is Way Older Than You Think.(According to the series)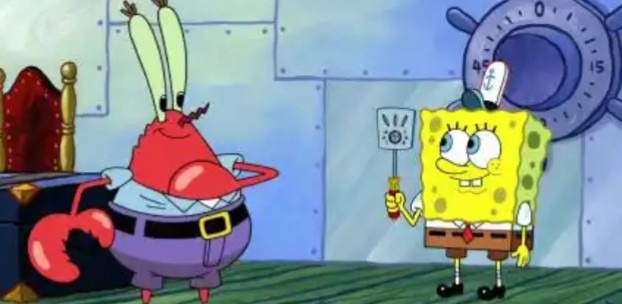 Although it may seem like a squishy yellow sponge would be of indeterminate age, SpongeBob's age actually has been revealed on the series through a picture of his hard earned license. According to the document, SpongeBob was born on July 14th, 1986, making everyone's favorite character an 80s kid. Do you think he liked Bill and Ted's Excellent Adventure? Was he into John Hughes movies?
His boss Mr. Krabs, meanwhile, was born on November 30, 1942, making the crab almost 75 years old and yet still kicking at the Krusty Krab as one of the toughest bosses on TV. Happy three quarters of a century Mr. Krabs; never change.
The "My Leg" Guy Actually Has A Pretty Storied History On The Show.

If you've ever watched an episode of SpongeBob, you've probably heard someone screaming "my leg!" in the background of one the chaotic scenes. This "my leg" fish has come to be known by many due to his signature catch phrase, but most people don't realize that he not only has a name, he has a full backstory for his perpetual injury as well. Fred, as his friends call him, has had a few jobs. He worked as a janitor for Shady Shoals, where Mermaid Man and Barnacle Boy reside, and has also worked as a camera man for the Bikini Bottom News Station. He is married with kids and is even a flag twirler in a band. In addition to his signature "my leg" quote, the very prolific Fred is also responsible for popular Spongebob catch phrases "arghhhh" and "rev up those fryers." The most interesting fact about Fred, though, is that he is voiced by Doug Lawrence, who is also responsible for the voice of the power hungry Plankton.
The Creator Of The Show Was A Marine Biologist.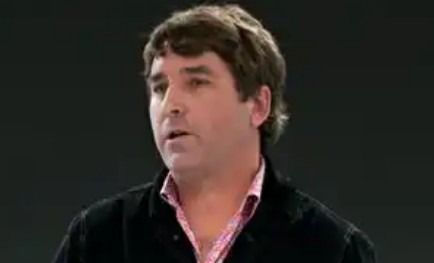 Stephen Hillenburg, who started developing SpongeBob in 1996, originally started his career pursuing marine biology. Hillenburg graduated from Humboldt State University with his bachelor's degree in marine resource planning and interpretation in 1984 and then took his knowledge to teaching marine biology at the Ocean Institute in Dana Point, California. However, in 1992, he decided to change his career path and enrolled in the California Institute of the Arts looking to learn more about animation. After graduating, he joined the writing, producing and art staff of Rocko's Modern Life, the popular Nickelodeon series. In 1996, he came up with the idea for SpongeBob in collaboration with some of his coworkers and started working on a pilot, which he successfully pitched to Nickelodeon in 1999. Apparently, they immediately knew they had a hit on their hands when he presented the finished episode "Help Wanted" since two of the executives had to leave the room from laughing so hard.
SpongeBob Was Originally Named SpongeBoy.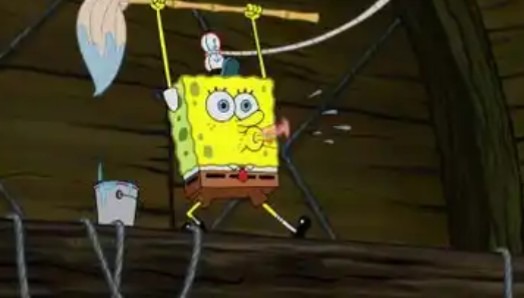 When creator Stephen Hillenburg initially came up with the idea of SpongeBob, he was a bit different. First off, the first version SpongeBob was actually an amorphous shape, like a real sponge, but Hillenburg was inspired by looking at a kitchen sponge to give the character his signature square shape. The squarer version of SpongeBob still wasn't exactly like the character's final iteration though; initially, Hillenburg was calling him SpongeBoy. SpongeBoy was quite similar to the SpongeBob that we have all come to know and love, although he accessorized a bit more, wearing a green baseball cap, which Hillenburg eventually decided to toss before the series started filming. However, Hillenburg was forced to also ditch the original name when he found out that it was copyrighted by a mop company, which seems to have since gone defunct since there isn't a trace of it on the Internet. Something tells us Hillenburg isn't looking to change back the ultra-recognizable name now, though.
The Krusty Krab Is Actually Modeled After A Lobster Trap.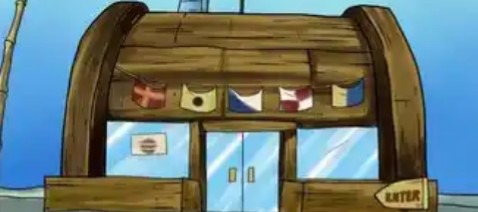 Everyone's favorite fast food restaurant may not be a real thing, but it is modeled after one. Like many of the objects in Bikini Bottom, the Krusty Krab is modeled after a real-world counterpart that can frequently be found in the ocean due to human pollution—in this case, a lobster trap. The signature shape becomes pretty obvious when you compare the two when you look at pictures of the two side by side; take out the lobster trap netting and replace it with the Krusty Krab's glass sidings and you can totally see the resemblance between the restaurant and the device used to trap Mr. Krab's lobster cousins. Another fun fact about SpongeBob's place of employment? It was originally named the Crusty Crab, but, like the Kardashians, Hillenburg eventually decided to go with all K's for the name. Now, if only the real world had something anywhere near as delicious as the Krabby Patty seems to be…
Tom Kenny Is A Multi-Talented Voice Actor Who Also Voices Gary And The Narrator Of The Show, Among Other Characters.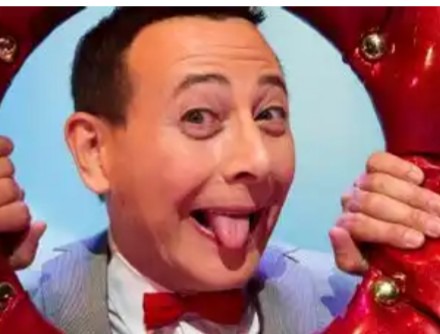 Tom Kenny is best known for lending his voice to SpongeBob SquarePants, but the actor has some other pretty impressive credits to his name, including a few other characters on the hit show. Kenny started his career in stand-up comedy, performing in clubs all across the country for eight years. After some experience acting in shows and movies like How I Got Into College and sketch comedy The Edge with a young Jennifer Aniston, he decided to get into voice acting, voicing Weenie on the Dumb and Dumber TV series and Heffer Wolfe and other characters on Rocko's Modern Life, his first collaboration with SpongeBob creator Stephen Hillenburg. When he was cast on SpongeBob in 1999, Kenny still didn't slow down, lending his voice not only to the title character but to his pet snail Gary and the French narrator as well. Kenny has also notably voiced the narrator and the mayor on Powerpuff Girls and Dog on CatDog.
Spongebob And Karen Are Married IRL.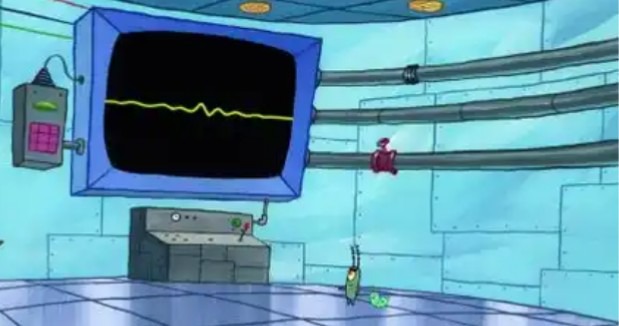 Yet another reason for Plankton to hate SpongeBob— in real life, Tom Kenny, who voices the yellow sponge, is married to Jill Talley, who voices Plankton's computer wife Karen. Kenny and Talley both have sketch comedy roots, with Talley performing improv at the Improv Institute and the famed Second City troupe in Chicago before getting cast on The Edge, the FOX sketch show that spawned the careers of Jennifer Aniston, Paul Feig and Alan Ruck, as well as the decades long relationship between Kenny and Talley. Although the sketch show only lasted for one season, the relationship lasted longer, with the two getting married in 1995. They then went on to collaborate on Mr. Show with Bob and David, with both appearing as main cast members alongside David Cross and Bob Odenkirk. Like her husband, Talley has also had a successful voice acting career in addition to SpongeBob, appearing on American Dad and Camp Lazlo. The two have two children: Mark, born in 1997, and Nora, born in 2003.
Barack Obama Once Said That SpongeBob Is His Favorite TV Character.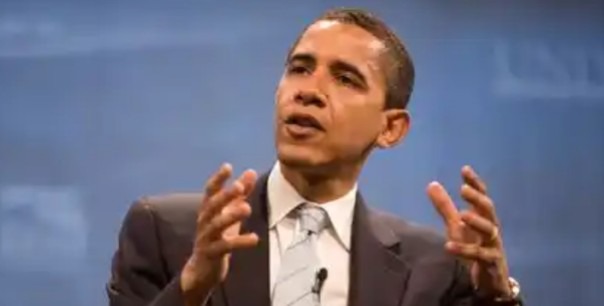 Two-term president of the United States, father of two and… huge SpongeBob fan? That's right, current president Barack Obama told TV Guide in 2008 that the optimistic yellow sponge is his favorite TV character who he loves to watch with his daughters Sasha and Malia. In fact, the president loves it so much that he's talked about it numerous times, mentioning it to a few different outlets during his 2008 campaign, during the heyday of his daughters' love of the show. Although his favorite TV shows that he has discussed at points are a little more high class (M*A*S*H and The Wire), the president still said that SpongeBob had earned a spot high up on his list, later telling Entertainment Weekly, "I have to say, SpongeBob is pretty funny." Pretty funny, POTUS? You don't have to play down your love for us, we all know that SpongeBob is the best show on television.
Don't forget to follow for more updates.
Content created and supplied by: Estyblog (via Opera News )
Opera News is a free to use platform and the views and opinions expressed herein are solely those of the author and do not represent, reflect or express the views of Opera News. Any/all written content and images displayed are provided by the blogger/author, appear herein as submitted by the blogger/author and are unedited by Opera News. Opera News does not consent to nor does it condone the posting of any content that violates the rights (including the copyrights) of any third party, nor content that may malign, inter alia, any religion, ethnic group, organization, gender, company, or individual. Opera News furthermore does not condone the use of our platform for the purposes encouraging/endorsing hate speech, violation of human rights and/or utterances of a defamatory nature. If the content contained herein violates any of your rights, including those of copyright, and/or violates any the above mentioned factors, you are requested to immediately notify us using via the following email address operanews-external(at)opera.com and/or report the article using the available reporting functionality built into our Platform See More