The Senior Pastor of Omega Fire Ministries International, Apostle Johnson Suleman has caused a wide array of mixed reactions following his question as regards a marital issue between a newly wedded wife and her husband.
Apostle Suleman took to his social media handle to seek people's opinion as regards a particular issue. According to Pastor Suleman, he asked Nigerians to advice a woman who found out on her wedding night that her husband is impotent.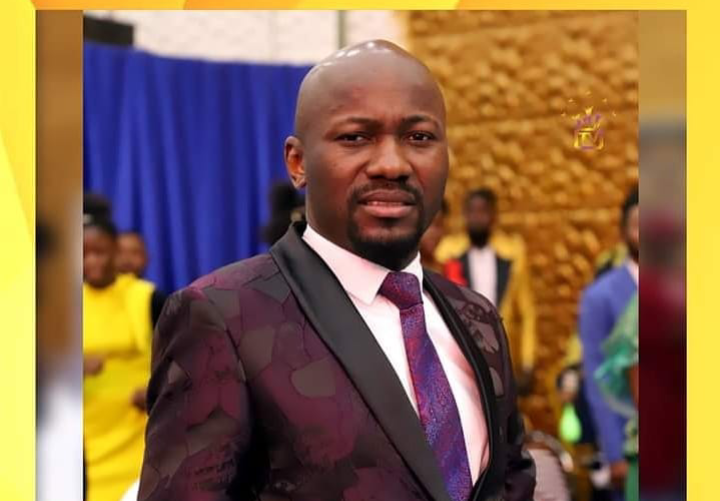 He wrote "What advice would you give to a lady that found out on her wedding night that her husband is impotent?.."

While reacting to the question from the man of God, some individuals disclose that it doesn't really mean as long as there is love between them.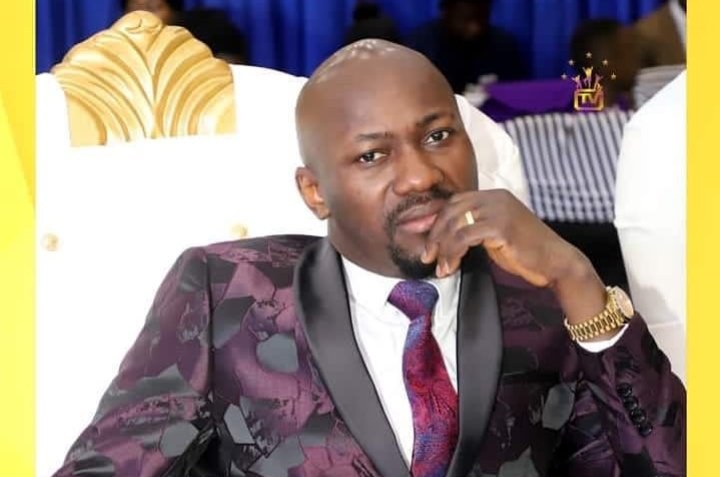 For others, they advised the lady to file a divorce and get out of the marriage because it was initially built on lies. For these set of people, it was actually wrong to have lied to the woman in the first place.
Here are some of the reactions
realviva_ "Some Erectile dysfunction can be cured, being impotent doesn't mean you can't produce sperm. It is his love that is important not his faults"
AOshiomohie "She should look into God for a miracle. No situation God can't turn around. If Abraham can impregnated Sarah at over 85 years, their case is less of a problem with God. Omnipotent has recreated & replaced a removed womb before. So with God solutions are possible. All about mercy"
KwameLesley "Hmmm...I believe in miracles , Mary was pregnant without a man touching her !! God is still in the miracle business"
Olaniyi_Temmy "If am the lady the only thing I will do is TO STAND ON GOD NECK WITH DANGEROUS PRAYER DANGEROUS THANKSGIVING ALONE WITH SACRIFICE and am sure I will see the of God"
Christabel60 "The marriage should be annulled. He knew he was impotent and kept it away from her, that's deceit."
Obadare Olusegun "Sir ! The wedding was built on a lie and the best decision can be made by the wife herself notwithstanding the kind of advice given to her"
JessicaChisom_ "It depends if he hid it from her or found out later. Though I wouldn't say call it off. God is too faithful to fail and if she truly loves him, love NEVER fails (1 Corin 13:8). Doctor says he is impotent but we serve a POTENT GOD, his current state is not his final conclusion !"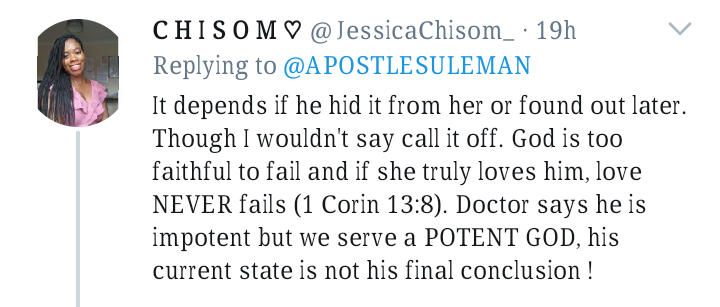 Content created and supplied by: ViralTrendsNaija (via Opera News )