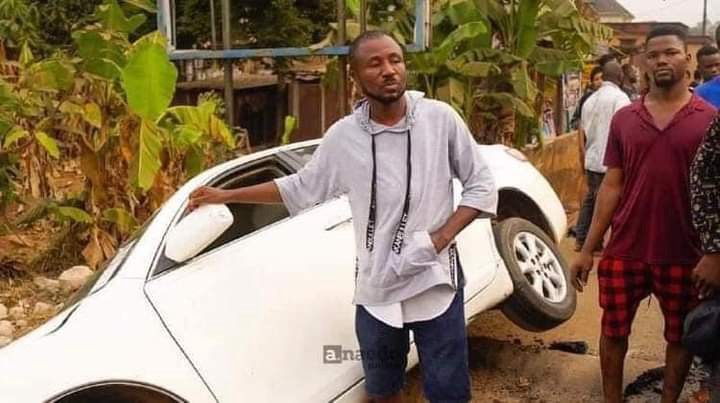 Popular Nigerian gospel singer, Gozie Okeke, survived an auto crash unscratched, as can be seen in the picture, as you can see as well the car got stuck. This happened at Nnewi - Nnobi Road in Anambra State where the gospel singer hails from, this can only be God showing his divine act and grace on the life of the singer.
For many who do not know Gozie Okeke, let's have a look at a brief profile. Popularly known as Prince Gozie Okeke he hails from Anambra State, he is well known and celebrated for his best selling album titled "Akanchawa" which was released in 2005, the album took over the country like a storm as it was greatly received nationwide.
He is married to a gospel singer and also an actress, Princess Njideka Okeke. Prince Gozie Okeke was the one who introduced his wife to singing and nurtured her to become a singer let himself. Among Prince Gozie Okeke's albums includes; Battle is Over, Ministration Hymns, Mountain of Praise.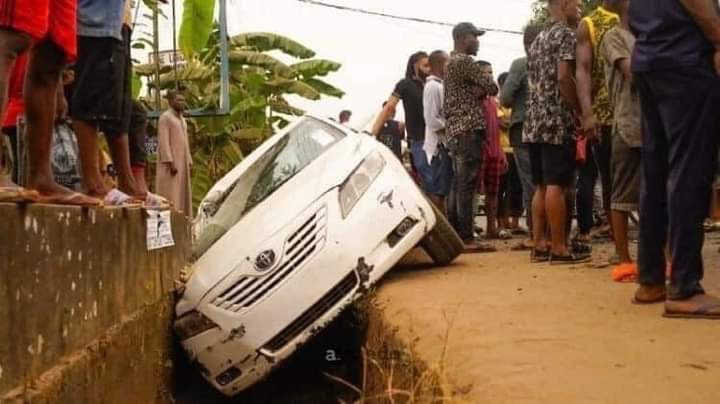 Seeing that the gospel artist survived an accident like this, which could have led to the death of some people or serious injury leading to them being hospitalized. But you can see Gozie Okeke unscratched it only makes me think about the grace of God. What's the grace of God, "it is an unmerited favour". It sets you apart in all you do. Just a little thing, you will see that some people are already dead, people will try to put logic to it, just that small accident, it is small in your eyes but don't pray you witness it.
As Christians there is a need to continuously pray for the grace of God, because with his grace you become exceptional. You become a different human being due to the favour that will surround you, like this accident, it could have been worst than it look, this accident could have occurred on the highway or where there would have been much impact but for the grace of God. When you are surrounded by the grace of God you enjoy the following;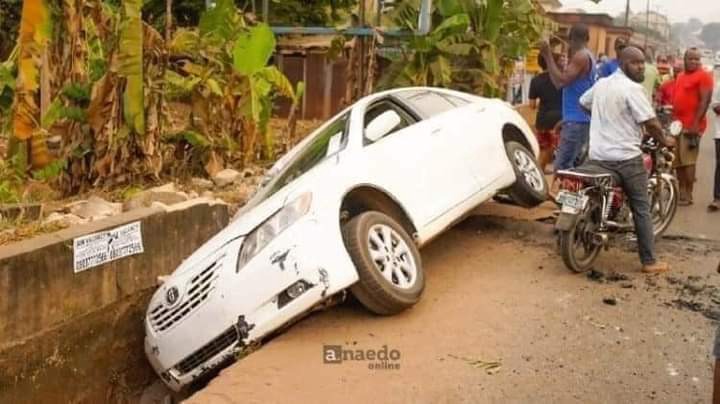 1.) God will bring his word to pass in your life, the grace of God ensures that every decree of protection the bible has promised comes to pass in your life and family.
2.) By his grace you find favour with all men. When the grace of God radiate in your life, people will not have any choice but just to like and admire you greatly. People will go out of their way to favour you, you get things done with little effort.
3.) When you have God's grace he will give his angels charge over you, to make your paths right and connect your heart to God.
4.) Where your qualification, connection, wealth or fame cannot get you to, someone that have the grace of God will get there.
5.) The grace of God brings true happiness, joy, fulfilment and reward, when you do his will diligently God provides you with grace to win every of life's battles.
His grace is sufficient for all, may we continue to find right standing with God.
Content created and supplied by: Correctbloger (via Opera News )