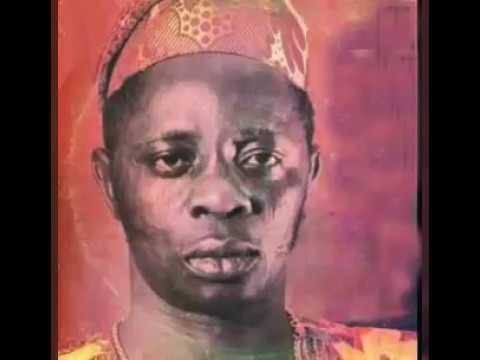 Nothing prepared the fans of Apala musician, Ayinla Omowura, for his death. The news of his death spread like a wildfire on Mày 6, 1980. The great legend of Apala genre of music was killed in a beer parlor brawl in Itoko, Abeokuta, with a glass beer mug by a former associate of his.
Noone could believe that Ayinla Omowura, had been snatched away by death. For months, many waited for him; expecting him to deliver another album full of his great songs but it was an endless wait that never happened because the great Ayinla Omowura, had gone on a journey of no return. His ends from a tragic incident.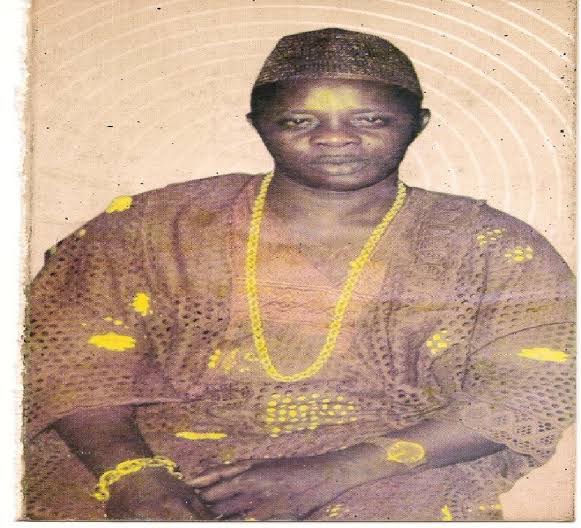 Anyone who grew up listening to Apala music back in the 70s and 80s would attest to the fact that among the Apala musicians of the time, Ayinla Omowura, was in a class of his own.
Every of the 20 albums released by Omowura for his record label, EMI Record during his reign were successful. He had back to back hits and on the first day of released of a new album, it would be a sell out, with him selling more than 50,000 copies.
His first album titled HNLX 5068, was a huge 1 and it sold more than 50,000 copies when it was released, putting him in the limelight. His first album for EMI's Record 'Aja to fo'ju de Jo' was equally a sold out.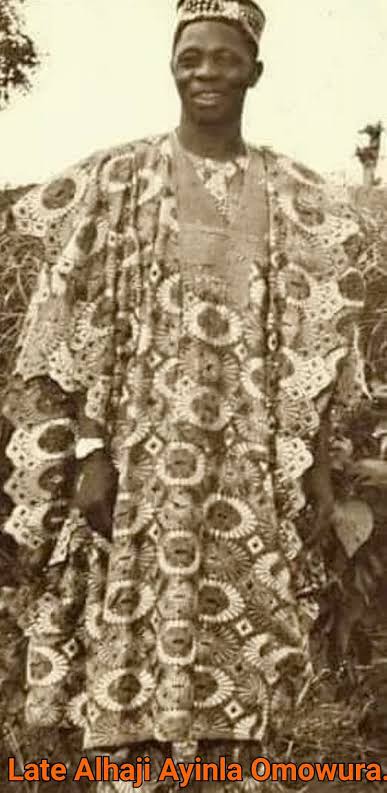 He was beloved by the masses, mostly by commercial transport drivers and traders but soon, his song was to grow on the educated elites of the society. Including the young and old ones, who saw that his songs were infused with issues affecting the society.
Known as the Eegunmogaji or Anigilaje, Omowura was born in 1933 in Itoko, Abeokuta, as Ayinla Waidi to Yusuff Gbogbolowo a blacksmith and Wuramotula Morenike. He grew up, has an apprentice in his father's blacksmith shop and according to an unconfirmed rumoured, he also worked as a political thug for politicians at that period and also as a driver.
His journey into the music world started in the 50s with his own brand of music known as Olalomi, but soon he veered into Apala genre of music which was started by Haruna Isola.
One of the names that makes up is stage name 'Omowura' was coined from his mother's name, Wuramotulai. He called himself, the son of Wura.
An illiterate, who never had any form of formal education held many spellbound with his easy analysis of current affairs in the country at that time. He talks of the ills affecting the state of the nation and never fails to praise the government when they did well. He praised Brigadier Mobolaji Johnson over the tenement rate law, urging Lagos citizens to support him and also called on private company to pay private company workers the newly approved salary increment by the government in one of his track titled "e je ka san'wo Udoji, fun awon private companies na" meaning " Lets pay Udoji money to private companies too."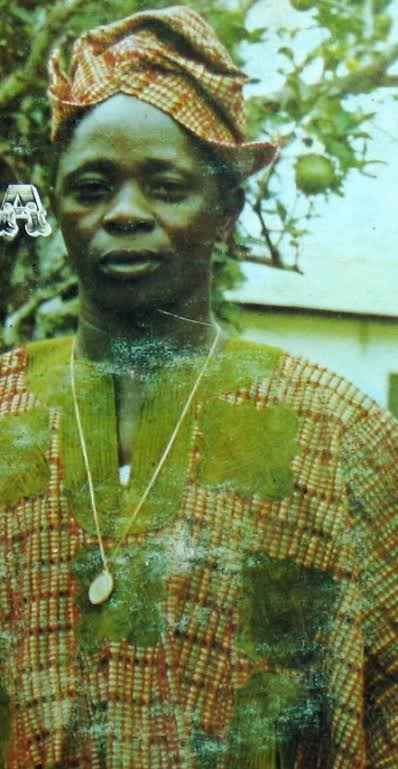 His caustic tongue was also legendary. And one of his favourite pastime then was criticising women at every point he gets. His songs infused with his Egba dialect, was used to abuse women, especially women that moves from one husband house to the other and women who bleaches their skin. In one of his album ' Oro kan je mi lo gun, ti mo fe so' he advises women who bleaches to first have a set of twins before embarking on skin bleaching journey.
His critics, claimed that, Omowura, never sees anything good in women, except of course as asset he must have in his possession.
Ironically, he courted many women even to the extent he had to fight with the husbands of the women, both physically and spiritually (he was believed to be fetish, as it was common with musicians during that period) as it was something popular with musicians back then. He was to marry many women and have children by many of them.
His acidic tongue wasn't limited to women alone, has he engaged in abuses with his contemporaries. He would insult, rained curses and incite incantations on his competitors in Apala music.
His competitors like, Yusuf Olatunji (Baba l'egba) Haruna Ishola, Fatai Ayilara, Epo Akara, S.K.B Ajao Oru, Ojubanire Ajape Saka Tewogbade, Ligali Mukaiba, S. Olowonyo all felt his caustic tongue in his songs he directed at them. Even, the late, Ayinde Barrister, wasn't spare of his caustic tongue.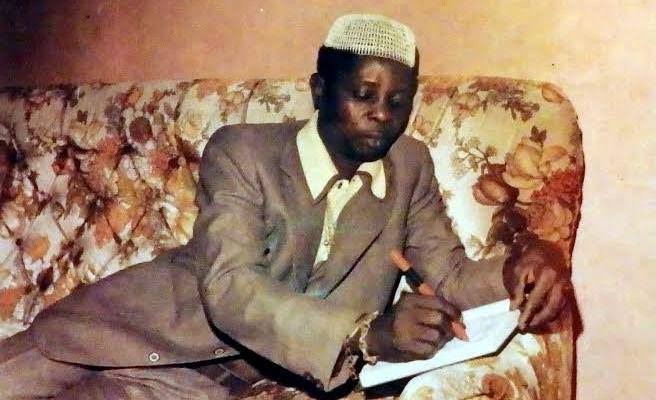 Omowura knew he was a favourite of the people among his competitors and he never fails to let them know about it. He tells his fellow Apala musicians not to ever compare themselves to him. In one of his tracks, he arrogantly told them (fellow Apala musicians) to always fear him, because if they do there wouldn't be any trouble between them and him.
Omowura was also known as an avid worshipper of the Ogun, the god of iron and he constantly uses his song to praise the god and its worshippers.
He was believed to have been responsible for the downfall of many of his contemporaries then due to his practice of idols worshipping.
An uncomfirmed rumour, has it that, he was responsible for the downfall of one of his competitor, Olowonyo, with whom, he had a long battle over supremacy with. They both took each others to the gutters in tracks after tracks in their Albums.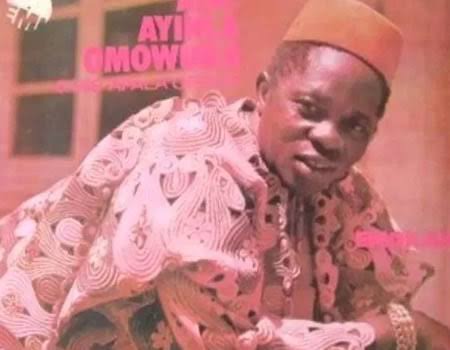 Olowonyo, in one of the tracks in his album titled 'E le ewure wole' he literary took Omowura to the gutter. He claimed that the, new Toyota car bought by Omowura, was from the proceed of theft of a neighbour's sheep and goats. Omowura in his reply to, Olowonyo, insult, first introduced his lead drummer to drum abusing beats directed at Olowonyo, before Omowura then sang. He told, Olowonyo, 'E wo man to so pe mo gbe ewure' (look at this man that said I stole goats) he urges his fans to cultivate an arena for himself and Olowonyo to fight whenever they meet.
Due to the fact that, Olowonyo, wouldn't stopped attacking him in his songs, because he among other apala musicians, has become a torn in his flesh, it was believed that, Omowura, went diabolical on him because in one of his album, he sang "A ti fi ikoko de won mole" meaning that 'I have covered his destiny in a pot".
And truly, Omowura fetishism might have worked on, Olowonyo, because till date, he never released another album. Even, after they ended their feud.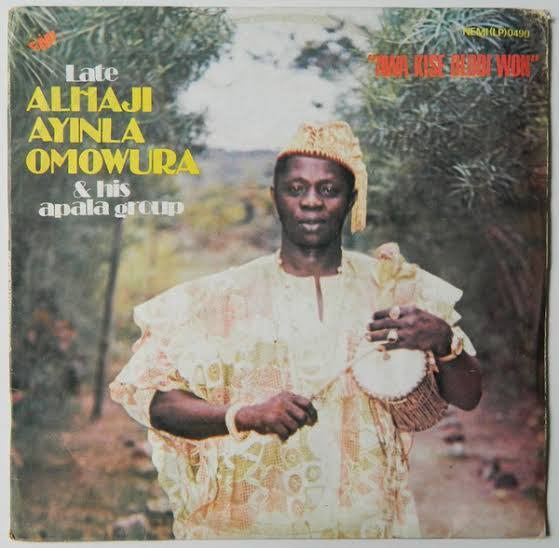 Omowura, was a man who loves fashion. At that time, Omowura, wears what is in vogue among which was the lace fabric, popularly called wonyos at that time. Even when it was reported at the time that the 'Wonyosi' lace fabric attracts arm robbers, Omowura, would be seen in Wonyosi, lace fabric, with long dangling gold necklace, favoured by men at that time on his neck. For his high fashion sense he earned an alias as, Haji Costly.
Ayinla Omowura, was a man who lived a life of violence and also enjoyed his life to the fullest even though, his death was untimely.
Before his death, it was said that, he must have had premonition of his death, because he sang about death extensively in two of his album, and also derided death. It was also gathered, he had been warned by one of his spiritual father, called, Agbejapa oba, that he most not performed at any engagement at that time and it was said he never did. But, Agbejapa oba, never told him not to go out to socialise. And, if he had been warned about that, maybe, he wouldn't have stepped out from his house that day that he met his untimely death.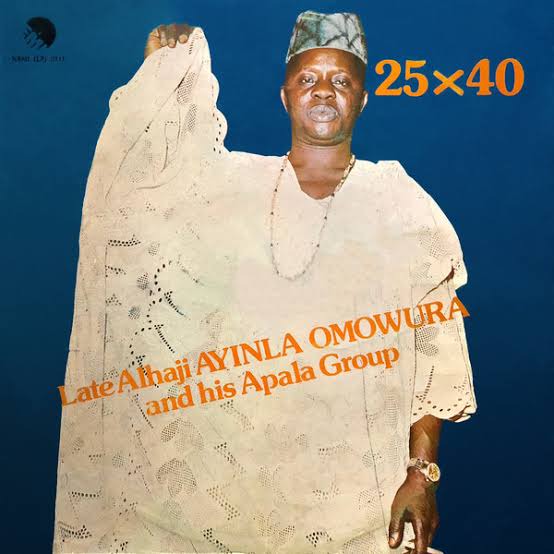 On that day, it was gathered, that had gone with a friend to the beer parlor to have a good time as usual. But on that very day, he was hinted that his former manager, Baiyewu, was in another joint close to the place he was. He jumped into his new Mercedes Benz to confront, Baiyewu, to retrieve, the motorbike, he brought for him (Baiyewu) before the former resigned from his group.
No one knew what actually happened but in the process of the altercation, Baiyewu, hit the bottom of the glass mug on, Omowura's head and he died before he could be rushed to Ijaiye General Hospital, Abeokuta.
Ordinarily, he might not have died because those who witnessed the fight, claimed that, Baiyewu, didn't hit the mug hard on his head. And maybe, the fortification on him failed that day.
Baiyewu was later to be hanged for Ayinla Omowura's death.
But 40 years on after his death his memory lives on and his songs are still evergreen.
Content created and supplied by: Thewriter01 (via Opera News )
Opera News is a free to use platform and the views and opinions expressed herein are solely those of the author and do not represent, reflect or express the views of Opera News. Any/all written content and images displayed are provided by the blogger/author, appear herein as submitted by the blogger/author and are unedited by Opera News. Opera News does not consent to nor does it condone the posting of any content that violates the rights (including the copyrights) of any third party, nor content that may malign, inter alia, any religion, ethnic group, organization, gender, company, or individual. Opera News furthermore does not condone the use of our platform for the purposes encouraging/endorsing hate speech, violation of human rights and/or utterances of a defamatory nature. If the content contained herein violates any of your rights, including those of copyright, and/or violates any the above mentioned factors, you are requested to immediately notify us using via the following email address operanews-external(at)opera.com and/or report the article using the available reporting functionality built into our Platform See More