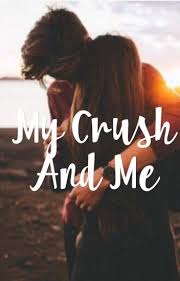 Tina POV
I know Roy would feel bad because I chose Jasmine over him, I know he wasn't expecting that, He looked shock when I agreed with tena's Idea.
But am doing this for our good.
For the past few days have been asking myself if am I love with Roy, but I couldn't get clear answer, then I asked mom. what does it mean to be in love.
Mom said, loving someone is more than what we think.
When you love someone , you will do anything to have that person, You wouldn't want such person to get hurt and also you wouldn't Want hurt people who matters to the person.
In everything you do, it seems as if the person is right there.
The one thing you wouldn't want to miss a day is the person smile, and you will always get jealous when you see the person around other gender like u, but you will pretend you are OK, just not to hurt the person feeling, mom said that's is what we call love and also she said most a times the ones we truly love are close to us but we fail to realize it because we just view them as friends but its when we are far from them and we see them with other people, that we will realize our love for them.
That's what is called love.
So agreeing to tena's idea and going out with Jasmine is my only way of realizing my true feelings because I don't want to get hurt and also I want to know how Roy feels about me.
Does he love me the way I do to him??
Or he only sees me as his Bestie, who he never want to loose, because mom also said we have one sided love, which is hurtful, And i don't want mine to be like that, I want to know if Roy loves me too, I don't want one sided love.
I hope my plan will work and nothing goes wrong.
Roy POV
I finally got home
And my mind went straight to Tina, have been trying all day to talk to her but she always uses one topic or the other to cover up and also with tena unstoppable discussion, I did not have my way.
Seriously that girl now pissed me off, she talk so much that I wonder if her mouth never pains her.
But how would Tina agree to tena's idea, why will she agree to go with Jasmine to the prom night, I am her Bestie,she can't go with other guy..she always say I am her half part so why would she leave her half part alone.
I can't just bare to see her with another guy.
I was still nursing my pain, when my cousin came in.
Hi Roy, she said
Hi, I replied with a cold voice.
Hey, what's the problem, Bianca asked.
Bianca is my cousin and she is older than me, she graduated few years ago from the university and she works in a radio station where she talks about relationship, she came to visit my mom.
Are u OK, she asked again and I turned to looked at her, something in tells me to tell her about Tina and l.
Speak lil bro, you know you can trust me, she said and her smile ..she always call me lil bro.
OK you know that my Bestie, Tina, I said to her
Yes, what about her, Bianca said.
Look, she decided to go on a date with another guy on our prom night and is bothering me, I said
Hahaha Bianca laughed.
Why are u laughing, I asked
Am laughing because my lil bro is now grown up and in love,she said.
In love?? i said
Yes Roy you are in love, look dear just go to her and express your feelings to her, she said
But am not sure of my feelings, I said.
Look lil bro, sometimes when you are in love , you become confused, when i mean confused, It means that you beginning to see somethings different about that person.
Anything you are doing, you see that person in it, it as if she is in your head but trust me, she is in your heart.
Look at it this way, I want you to close your eyes and remember those moment you spend with her and you can see they are the best moment ever, love gat you crazy sometimes and it makes u want to see the person all the time, my dear it love and nothing else and another reason you are confused is because you have just been seeing her as your Bestie.
From now see her in another way as someone you wouldn't want to loose, then you will realize you are in love, Bianca said.
When she finished saying all this, I began to see Tina in front of me, she lives in my imagination even in my heart, then I realize am in love with her.
Wow!!, thanks sis, I said and hug her.
You are welcome lil bro, just go and express your love to her, She said and left.
Right inside of me, I know the perfect day to express my love to her, its on prom night, which is August 27 and its also Tina birthday, On this day I will tell her my feelings.
Tena and Jasmine POV
Do u know kissing Tina today was my greatest achievement so far, Jasmine said
Common bro, stop exaggerating, tena said.
No its true, and after that, I began to have a change of mind, I think I want to let go of this revenge stuff, Jasmine said.
No bro, please don't ruin my plan, tena said.
Your plan, what are you up to, tena, Jasmine asked.
(Tena said within herself that she won't tell her brother, because she knows he won't agree)
Its nothing bro..just wait for the prom night, tena said.
OK, but please let's forget about the revenge, on prom night I will tell Tina whom I am and what she and Roy did to me seven years ago.
I know she might have forgotten, but I will remind her , in order to let this whole drama died off..am tired of playing hide and seek and I don't want to hurt anyone again.
Tina is so kind to be hurt, even though she offended me I could still remember when we are young, that day I did not bring food to school, she share her lunch with me together with Roy, please let's just forget it, Jasmine said.
OK bro, no problem.
Tena POV only
My poor bro, he think all this while have been fighting for him, he never knew I was doing it for my self.
Roy is mine and no one else.
Tina just wait and see what I have in stall for you on prom night.
TBC
Content created and supplied by: Pace (via Opera News )
Opera News is a free to use platform and the views and opinions expressed herein are solely those of the author and do not represent, reflect or express the views of Opera News. Any/all written content and images displayed are provided by the blogger/author, appear herein as submitted by the blogger/author and are unedited by Opera News. Opera News does not consent to nor does it condone the posting of any content that violates the rights (including the copyrights) of any third party, nor content that may malign, inter alia, any religion, ethnic group, organization, gender, company, or individual. Opera News furthermore does not condone the use of our platform for the purposes encouraging/endorsing hate speech, violation of human rights and/or utterances of a defamatory nature. If the content contained herein violates any of your rights, including those of copyright, and/or violates any the above mentioned factors, you are requested to immediately notify us using via the following email address operanews-external(at)opera.com and/or report the article using the available reporting functionality built into our Platform See More