A forgiven Heart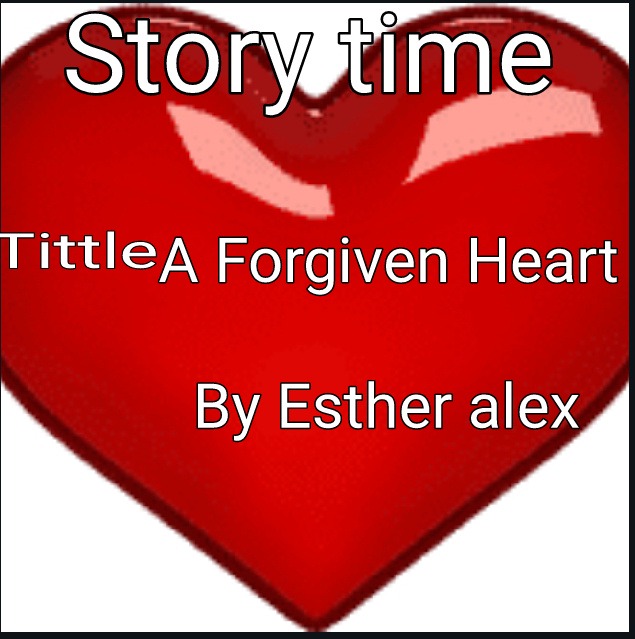 A Forgiven Heart
Episode 1
Love is beautiful especially when you love the right person, or been loved by the right person. In the life of these two lovely couple, Doris, and Charles it was so beautiful that you would think nothing could ever go wrong. Charles, and Doris has been married for six years, and was blessed with two lovely daughters, Amy is six years old, while princess is three years old. Doris works as a fashion designer, while Charles is a very successful businessman, and was always away from home, but he never stops loving his girls, and most especially his wife, Charles really loves Doris more than the way she loves him. 
One month later, one morning Charles travelled out for a business trip, the girls left for school, and Doris has also left for her work. Doris was in her office when her long time friend came to visit her. Hello! Christabel greeted, Oh! Dear, how have you been! it's been long, Doris asked, yes it's been long, but am good, and besides you are getting fat, Christabel said as she sat down, yes I am, Charles has been taking good care of me, Doris replied as she smiled, How is the family, Christabel asked, they are fine, my girls went to school, and Charles travelled, Doris replied, Christabel let out a laugh, I know you might have given birth to another, that's why you added some weight, Christabel said, No, I still have two kids, and besides I checked my weight I only added little, Doris said, so when are you planning on having another kid? Christabel asked, Charles said he is okay with just Amy, and princess, and am fine with it, Doris replied, Why? Christabel asked, Nothing, he is just OK with our girls, Doris said, My dear, you need another child, or are you sure that's what you really want? Two kids is just too small, Do you know if he has another child outside, Christabel said, No, not Charles, Doris replied, Doris why will a rich young man like Charles be okay with just two kids, Christabel said, Doris smiled, and changed the topic. That night, Doris ended up thinking about what Christabel said to her. I want another baby, but What if she is right, maybe that's why he always travels out, he has another child elsewhere, Doris thought to herself, No, I trust Charles, he can't do something like that, he really loves me, Doris said, as she console herself. 
Two months later, Charles arrived back home from his business trip. That night, they were having dinner in a loving way as usual when Doris asked the kids if they wanted another sibling, Charles was surprised when he heard what his wife said to the kid. Amy was so glad, yes mom, I want a little brother, she replied, OK, my lovely girl, Doris replied, Honey, we are on the dinning, Charles said to his wife. When they were done, they retired to their room. Honey! What was the meaning of that thing you did at the dinning? Charles asked, Love, can't you see, our girls want a little brother, and I also want to have another child, she said as she caressed her husband, No, am okay with our girls, Charles said, Please Love, she pleaded. Doris was so persistent that Charles finally gave in, Alright, but please be careful with the things you say to our kids, and after this child no more children, he said as he smiled, I promised, Doris replied, and planted a kiss on his lips, Honey you are getting fat, Charles teased is wife, Really? Doris asked, I was only messing with you, and am also tired from journey, I promise you tomorrow night, he said. 
The next day, Christabel came to visit Doris in her office. Christabel, where have you been? You came, and you disappeared, Doris said, Yes, but am back fully, Christabel replied, Madam Doris, this one you are getting fat, are you already pregnant? Christabel asked, No Christy, am not pregnant oh, Doris replied, Is Charles not back yet? Christabel asked, He came back yesterday, and he agreed to having another kid, Doris replied, So, did you? Christabel asked, No we didn't he said he was tired, Doris said, But am I really getting fat? Doris asked, Christabel let out a loud laugh, why do you ask? Christabel asked, my dear, Charles said I was getting fat, but he later told me he was just messing with me, Doris replied, Hmmm, maybe that's the reason he felt tired to make love to you, Christabel said, Do you think so? Doris asked, yes if not, why will a man who just came back from journey be too tired to make love to his wife, Christabel said, That's true, Charles has never done that before, or even called me fat, Doris said, You see my friend, that's why you need to get pregnant, but First, you have to loss some weight so, you can be attracted to him, Christabel adviced, what has getting pregnant got to do with this? Doris asked, He feels you are fat, that's why he don't want you to have his kids, Christabel said, But he already agreed to have another child, Doris replied, Yes he agreed, but did he make love to you, No! Christabel said, Alright, what should I do then, Doris asked in seriousness, OK, register for fitness class, Christabel said, No, I don't think Charles will love the idea, Doris said, Try my friend, just try, Christabel said to Doris, OK, thank you, Doris replied. 
That evening, after having dinner, the kids were already asleep, while Doris, and Charles was watching a movie. The two couple was having a good time enjoying the movie when Doris called Charles attention, Love! She called out, Yes, honey, are you feeling sleepy already? Let me off the TV, so we can go inside, Charles said as he stood up to off the TV, Doris stopped him, No Love, Can I register for fitness class? Doris asked with Fear...........
   By Esther alex 
See you all tomorrow at 6pm😘
stay tuned for next episode 
kindly like and follow the facebook page below @Esther alex, and on facebook @Eneada Esther Ogaba. 
Content created and supplied by: Eneadaalex (via Opera News )
Opera News is a free to use platform and the views and opinions expressed herein are solely those of the author and do not represent, reflect or express the views of Opera News. Any/all written content and images displayed are provided by the blogger/author, appear herein as submitted by the blogger/author and are unedited by Opera News. Opera News does not consent to nor does it condone the posting of any content that violates the rights (including the copyrights) of any third party, nor content that may malign, inter alia, any religion, ethnic group, organization, gender, company, or individual. Opera News furthermore does not condone the use of our platform for the purposes encouraging/endorsing hate speech, violation of human rights and/or utterances of a defamatory nature. If the content contained herein violates any of your rights, including those of copyright, and/or violates any the above mentioned factors, you are requested to immediately notify us using via the following email address operanews-external(at)opera.com and/or report the article using the available reporting functionality built into our Platform See More