Uche Maduagwu who recently revealed he was gay, has stunned his fans and followers with a handful of snaps on Instagram.
The Nollywood actor on Monday shared new month images of himself rocking a red bra while calling on people to showcase "Jesus kind of love".
"Happy new #beautiful month to all my great fans in #naija and #africa especially #uk and #america," he wrote, adding "always share jesus kind of love."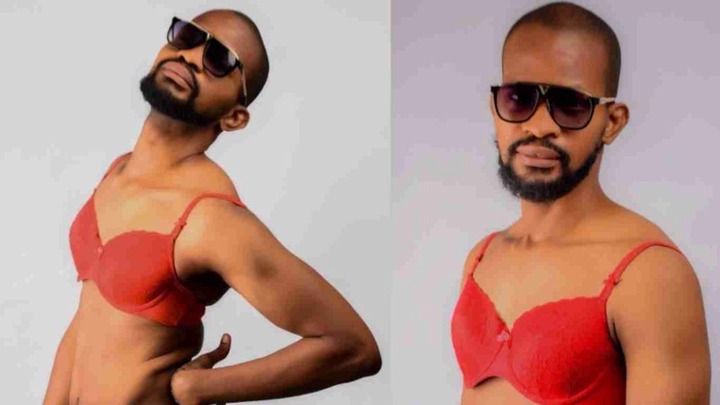 Uche Maduagwu
Fans and followers have reacted to the photos.
One particular Instagram user, wey_inmi, said in a lengthy message: "What is this? I wouldn't want to insult anyone as it is called mere human decency and trust me I know you have no knowledge about that.
"We should start with this picture, on a normal circumstance I did look pass this post and see the expressions but coming from someone who tends to diss people just for acknowledgement becomes hard to ignore.
"Remember when you said shit about QUEEN TIWA SAVAGE when she posted nudes on her story, you went ahead ranting about how old, immoral and unprofessional that picture was, severely stepping on her name with your hateful words but heaven's be bless she is a QUEEN WHO DOESN'T NOTICE HATE and coming from you it is considered invalid.
"Growing up I thought men with fragile ego tends to wear their glamour till the end but you actually made an exception, normality and discrimination shouldn't be a thing but you as an adult has become a shameful act to both genders, men are held by their words and even virtuous women keep to their statements but you can't be classified based on this even if we take gender as a social construct, you did be left in the wind to atone for your sin
"Own your narrative as this clownery is disgusting."
Other users also had what to say:
nnediorazu_"Uche seek help now before it is too late."
icethedj "Haha this guy fit do anything for fame
stan_kachi "Are you clout chasing or being serious. This is not what being gay is all about. Please do not dent the image."
vicdams "Bross what is this naa… it pays bob n brown no mean say you go try am.
Meanwhile, on the last day of January, the controvrsial actor had called on the new US President Joe Biden to place sanctions on the Nigerian government over laws forbiding homosexual relationships.
The actor claimed that more than 40 percent of "current legislatures" and over "twelve governors" in Nigeria are homosexuals.
He wrote: "Dear President, Joe Biden i am proudly gay and i beg you to place sanctions on Nigerian government for its inhuman laws against law abiding homosexuals, yet this same government pampers wicked fulani herdsmen who kidnap and cause trouble in southern part of Nigeria, we are tired and scared despite the fact that more than 40% of current legislatures and over twelve governors are homosexuals in naija why the hypocrisy."
Content created and supplied by: Ibikunle246 (via Opera News )