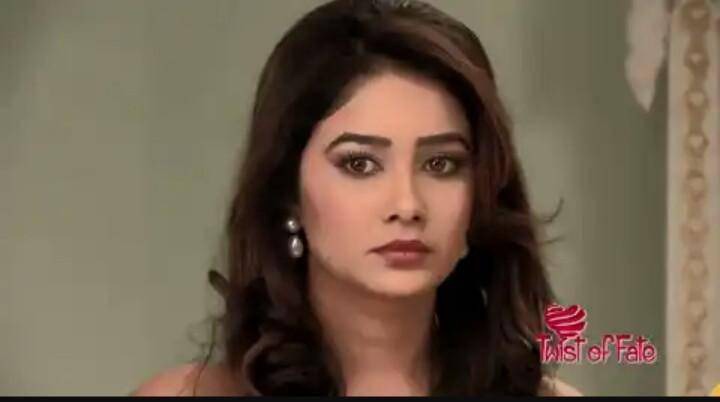 Sarla helps Bulbul get ready for her engagement and arguing with her how to wear the dress. Pragya comes there and says she will help now. Sarla leaves. Bulbul asks if she proposed jiju. She says no and nervously tells what happened in restaurant and how old couple tried to help them, etc. She says she held Abhi's hand.
Bulbul acts as getting excited and then asks she is very primitive and think like a new generation woman and propose Abhi soon. Corporator shows Pragya and Bulbul's pic and asks his henchman to kidnap the most beautiful girl. Henchman says both are beautiful. He points at Bulbul and asks him not to make any mistake. 
Abhi is with Tanu. She starts her emotional atyachar and says her parents are questioning her a lot and wants their marriage happened soon. She asks him to meet her parents at least today. Corporator's goons reach outside Pragya's house and wait near the car. Pragya on the other side hurriedly takes Bulbul out, but Sarla stops them and asks Bulbul to wear black thread to protect from evil eyes. She asks Purbi to bring thread soon. Purbi says they don't have.
Pragya says she has brought and it is in car. Aaliya and her puppets are tensed thinking if they will succeed in their plan or not. She calls Sarla and asks if Bulbul left house. Sarla says she is about to leave. Aaliya informs corporator who in turn informs his henchmen. Pragya comes out of house and is walks near car.
Henchmen take out chloroform to make her unconscious and are about to succeed, when constables come there and they stop. Bulbul and Sarla come out of house and leave in car. Henchmen inform corporator who in turn informs Aaliya. Aaliya yells at him that he made a mistake of believing him. Corporator asks her not to yell at her and tells his plan. Purab comes to Abhi's room and sees him tensed. He asks why is he tensed. Abhi says it is because of his ill fate.
Purab asks from when he started believing fate and says his solution is always with him and points at Pragya. Bulbul reaches Abhi's house with Pragya for engagement and meets Daadi. Bulbu tells Pragya that they made her drink daadi's cough syrup/alcohol during antakshari game and she was acting weird after that. Pragya nervously (overacting) asks what did she do. Bulbul says she proposed Abhi, so he let her hold his hand. Daadi calls Bulbul and she leaves. Aaliya and her puppet look at Bulbul and get jealous. 
Pragya nervously in her room reminisces Abhi asking her to meet in restaurant and Abhi holding her hand. She thinks Bulbul should not have told about this at this time, how will she face Abhi now. Abhi enters just then calling her Fuggi. She hides behind sofa. He searches her and thinks why is she hiding there. He sits on sofa and calls Fuggi. She responds. He asks if he is hiding from her. She says no and says she called Fuggi. Then why will Pragya reply. He asks her to sit and says he wants to talk to her. She says she has to attend daadi and will come back. He asks her to sit. 
Corporator calls Aaliya and asks her to send Bulbul out soon. She asks him to wait for sometime. She sees Bulbul smiling and thinks she will snatch it. Purab takes Bulbul to a room and asks if she knows Tanu asked Abhi to marry her. She asks him not to worry as she has done something. He asks what. She says she told didi what she did after getting inebriated.
He asks what about Abhi. He says didi does not I know if Abhi proposed her or not and will propose him again. He asks if her plan will work. She says yes. Abhi asks Pragya to speak. She nervously blubbers. He asks her to stop and says he is tensed with his problem and asks her to listen first. He asks her to remember lohri night and after pheras, she came to hall and met 2 clients, they are not clients but Tanu's.
Just then, Daadi comes there and takes her from there. Purab gets romantic with Bulbul and asks her to give him a kiss. She says no. He says now their mission is working well and Pragya and Abhi uniting. She asks him to wait and walks out smiling. Pragya catches her and nervously tells she doe snot know what Abhi told after she proposed her. Bulbul says jiju was also inebriated and did not tell anything.
She asks why is she doing this, people move ahead after marriage, but she is way behind and asks what will she tell about their kids to Sarla and Daadi. She says if she is happy like this, she will not push her, she will have to sacrifice Abhi if she does not move ahead. She asks her to propose Abhi before it is too late. Pragya says there is only one solution for that. Bulbul asks what? 
Pragya telling Bulbul that she gets nervous when she goes in front of Abhi to propose him. Bulbul suggests to write a letter then. Pragya says she is right and starts writing letter. Aaliya with her puppet Tanu comes back home and angrily tells that her plan fails always and says if she does not kidnap Bulbul, Purab will not hers in life again. Corporator calls her and asks if she planned anything to kidnap Bulbul.
She says no as people are all around. He says he will himself come there and kidnap her and thinks Aaliya is waste for him. Pragya gets down with letter and thinks of giving letter to Abhi. She stares at Abhi. He comes and asks why is she staring at him. She gives him letter and asks to read it.
Abhi thinks what if she has given Bulbul's dowry list, opens letter and is about to read it when Tanu comes and takes him from there to parking lot. Corporator enters parking lot hiding and dashes with dustbin. Abhi hears sound and goes to check. Tanu stops him and to divert his attention starts complaining that does not pay attention to him, etc. 
Mitali sees Taiji and says Abhi is spending a lot on Bulbul's engagement. Taiji asks her to mind her own business. Mitali thinks they have money to waste on unnecessary things but not to bail out her husband Raj. Akash gives Taiji 2 lakhs envelope and says it is caterer's payment and to give it when he asks. Mitali tries to peep in. Taji asks her to stop staring at money and warns dare not to think of stealing it.
Aaliya goes with Tanu to parking lot and scolds corporator to come there. He asks her why did not they bring Bulbul out and says he himself will kidnap her now. Purab gets ready and comes for engagement. Abhi says Daadi someone is looking more dashing than him for the first time (true, actually Purab is more dashing than Abhi). Purab gets shy and Daadi smiles. 
Pragys nervously tells Bulbul that Abhi did not read her letter yet. Abhi comes there with letter in his pocket and asks them to come out for ring exchange. Pragya tries to pick letter from his pocket, but stops when he looks at her. He takes them out for the engagement ceremony. Daasi sees Bulbul, Abhi and Pragya coming to the venue and jokes that Bulbul and Purab's are No. 2 jodi. Aaliya asks who is No. 1 then. Daasi says Abhi and Pragya. Aaliya says she is right and warns Purab not to betray Bulbul like he betrayed her, else she will not spare him. Abhi tells Aaliya personally took care of decoration. 
Tanu sees corporator inside home and tells Aaliya. Corporator disguised as waiter wearing mask come to them and says since they could not do anything , he himself will kidnap Bulbul. He starts dancing with the dancing troupe and asks Bulbul to dance with him. Bulbul looks at Purab and Purab signals her to go ahead.
She starts dancing with him and feels embarrassed seeing him touch her inappropriately. Purab comes and starts dancing with her next. Corporator then applies chloroform on cloth. Bulbul and Punrab engagement completes with ring exchange. Lights go off. Daasi ask Abhi to check it. Power comes back and everyone gets tensed seeing Bulbul missing. Purbi says it is her plan to make the event more memorable. Purab has to find out Bulbul and prove how much he loves her. Purab agrees. 
Pragya goes and meets Bulbul in store room. Bulbul hides under shawl and asks how was everyone's reaction. Pragya says Purab was shocked to see her missing. Seh asks her to continue hiding there for some time and gets out. Aaliya tells coproator that Pragya has hidden Bulbul in store room. Corpoator asks his henchman to kidnap her silently. 
Thanks for reading. Kindly share to other Zee World lovers. Don't forget to follow my page for more daily updates.
Content created and supplied by: Insta_News (via Opera News )
Opera News is a free to use platform and the views and opinions expressed herein are solely those of the author and do not represent, reflect or express the views of Opera News. Any/all written content and images displayed are provided by the blogger/author, appear herein as submitted by the blogger/author and are unedited by Opera News. Opera News does not consent to nor does it condone the posting of any content that violates the rights (including the copyrights) of any third party, nor content that may malign, inter alia, any religion, ethnic group, organization, gender, company, or individual. Opera News furthermore does not condone the use of our platform for the purposes encouraging/endorsing hate speech, violation of human rights and/or utterances of a defamatory nature. If the content contained herein violates any of your rights, including those of copyright, and/or violates any the above mentioned factors, you are requested to immediately notify us using via the following email address operanews-external(at)opera.com and/or report the article using the available reporting functionality built into our Platform See More