A man who has helped her girlfriend in school when her result was very poor, has taken to a Facebook group today to share his pains because of what the lady told him after he has assisted her to achieve her academic goal.
More often than not, some people get close to others not because they love the personality of the persons in question but because they want something from them. Put simply, some relationships are parasitic in nature. For some of us who have passed through one higher institution of learning or the other, such relationships may not be totally strange to us. Most times, those relationships end after the completion of the programme(s).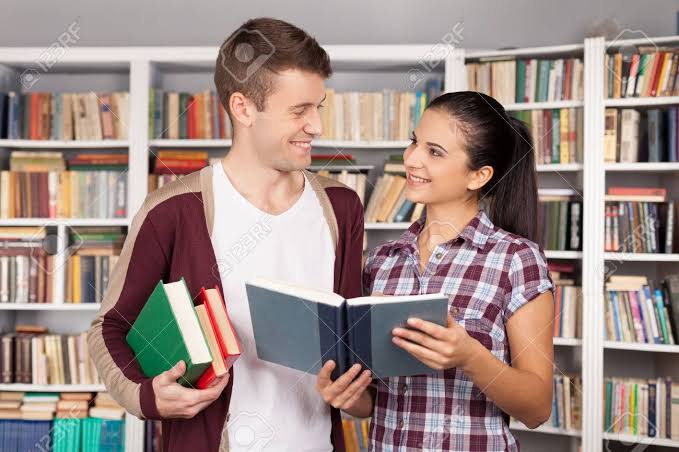 (Photo credit: google. Note: Image is strictly used for illustration purpose.)
Sentiments aside, some ladies are fond of making friends with men in Campus just to gain something from them academically. When a man is intelligent and academically sound, most ladies flock around him either to he helped in the area of assignments, tests or examination. In this regard, men seem to be very understanding and sacrificial.
Though not all the time, most ladies live their lives on the premise of dependency. It is common to find ladies who depend on men for one or more of their needs than otherwise. That is why the fight for equality between men and women cannot be fully achieved (not in places like Nigeria).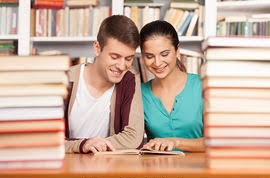 (Photo credit: google. Note: Image is strictly used for illustration purpose.)
Meanwhile, according to the story he shared under the ground of Anonymous, he met a particular lady in school when he was running his Higher National Diploma(HND) programme. When he met the lady in his first year, her result was nothing to write home about. One thing led to another, they became friends.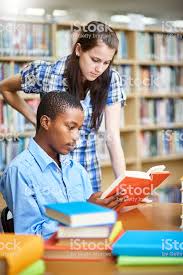 (Photo credit: google. Note: Image is stritcly used for illustration purpose.)
While piloting the affairs of their friendship, he willingly helped her academically, which ended up boosting her result. According to him, they were living together as at that time. Nature had a grip on him. Eventually, he ended up falling in love with her. Interestingly, when he was having the hope of them having a relationship, she confronted him and told him that, the relationship they had is over, that she has gotten what she wanted.
"The problem now is that she opened up to me that, she have gotten what she want that the relationship is over. " - The man revealed.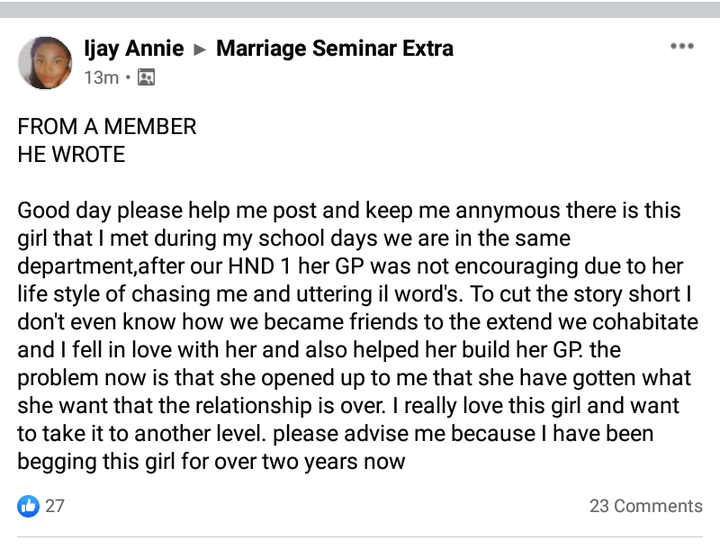 Apparently, the lady only used her to achieve her academic goal. As demanded by him, the post succeeded in attracting some advice from the members of the group.
See the screenshots below for some of the advice they gave to him: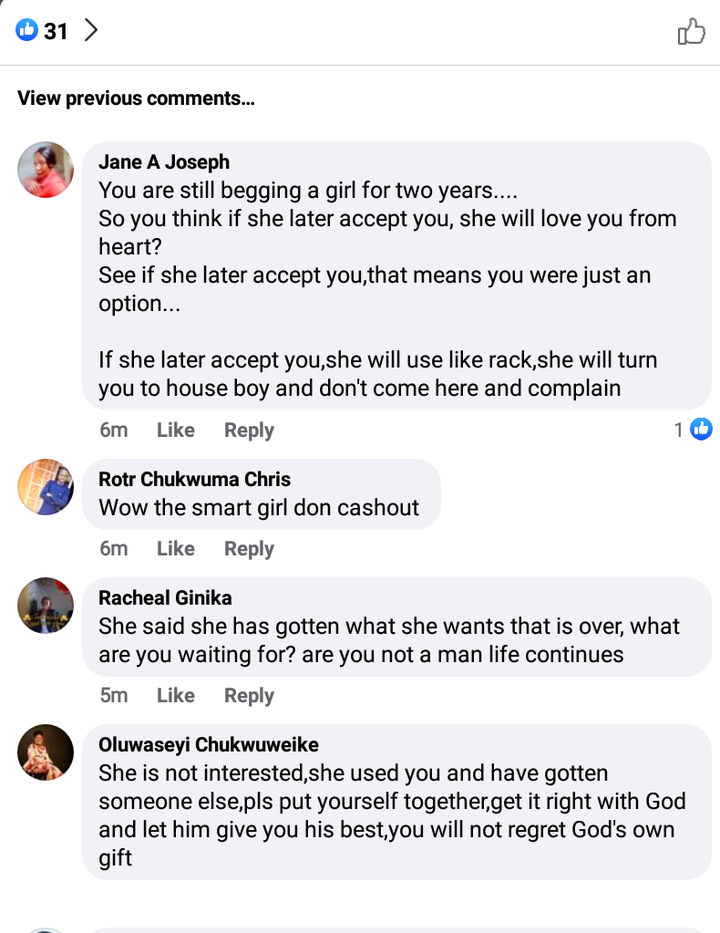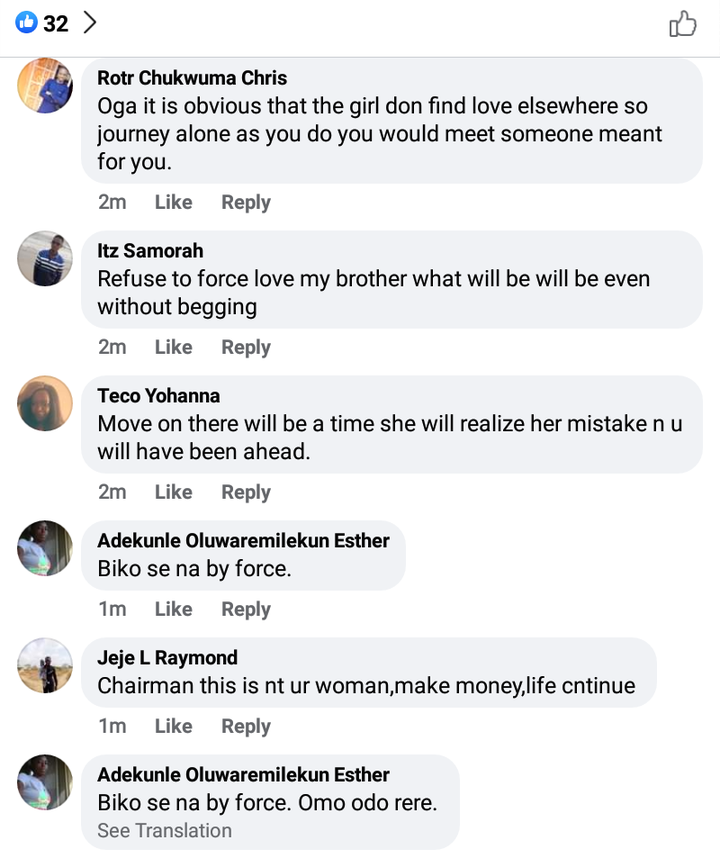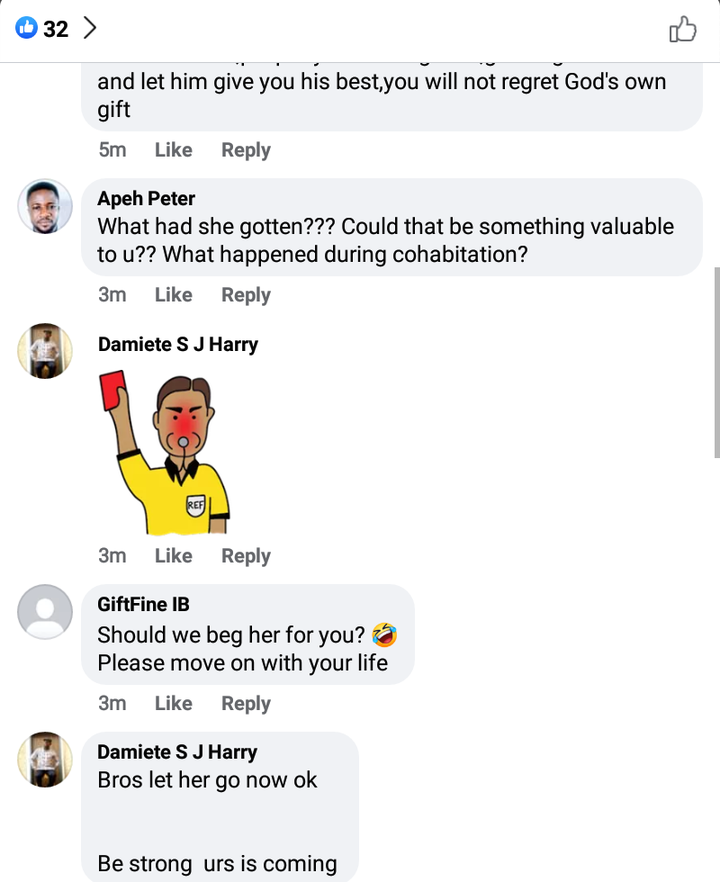 Most people have always blamed men in the aspect of dating relationship with statements like, "men are wicked/heartless". In this case, how can we describe what the lady did? Should we say that she is smart to have used the man and left him after he has fallen deeply in love with her?
Content created and supplied by: ExcellentWriter (via Opera News )