'SHE' IS UNDESERVING 
There has been so much brouhaha and hullabaloo on the social media space as regards the just concluded EKO STAR FILM AND TV AWARDS. 
According to the organisers, the special recognition award was initiated to reward excellence amongst women in film, media and the creative industry as a whole . 
These women amongst many others in my opinion were selected for the award based on their contributions to the development of the Nigerian film, media and the creative industry. 
It is very funny how we find some women engaging in the pull Down syndrome since the awards took place.  
This awakened some questions in me and i ask who is deserving of an award? The Eko star award from my understanding was simply designed by the organisers to applaud and celebrate the female gender in an industry that is presumably Male dominated.
It is therefore a niche award that is crafted to celebrate women doing well in our profession.
I find it therefore nauseating and very disgusting reading some of these disingenuous comments from our fellow women who should be the ones celebrating their colleagues. 
I have never believed in that saying that women are their own enemies, as often opined by many women and even the other gender, rather we must complement and support each other in a competitive industry like ours. 
Quick flashback to the America film industry awards "The Oscars" it took a woman (Kathryn Bigelow), 81 years after the award system was created to win an award for best directing.
This was on March 7, 2010 when Kathryn Bigelow became the first woman to win an Academy Award for directing, for her movie "The Hurt Locker," about an American bomb squad that disables explosives in Iraq in 2004.
Is it not surprising it took 81 years to recognise a female director yet the men have been winning continuously.
So its disheartening to see fellow women faulting the EKO STAR AWARDS over flimsy reasons.  
Another interesting scenario begging for answer was the 2002 Academy Award, where Halle Berry became the first Black woman to win the Best Actress at the Oscars for her role in Monster's Ball. 
Another question here again begging to be answered is, was she deserving? was she the only black woman giving good delivery and interpretation of roles? 
Since her victory, a total of 12 Black female actors have since been nominated for the same award but none have triumphed.
Does this mean that there are no good enough black women to win the coveted award.
No I dare say rather, it is the prerogative of the organisers based on set standards and criteria to decide who wins.
Moreover what is the big deal if the awards is laced with sentiments and politicised.
Awards are like sports , where skill, facts and other avenues can be explored or exploited to get result.
For the naysayers, life itself is politics. I speak from experience as an organiser of a reward system, and also sitting on the Jury of an award and having fully participated in the running of a number of awards over the years.
I know how contentious it can be making selection of awardees. 
Back to the reason for my intervention, some will wonder why I have decided to write on this issue.
I have followed the controversies trailing the Eko star award and for me it is a welcome development.
It is an award every woman in the sector should embrace, its the first all women reward system that seeks to encourage us as women to push the limits and boundaries, and realize that it is time to celebrate one and another. Nothing more, nothing less.
Interesting enough when I got the mail from the organizers, intimating people of the creation and in anticipation of the award, and seeing that for a maiden edition that it had government support and funding, and the aim to recognise 100 female practitioners.
I was very excited and quickly my mind swung into a time machine to X-ray if I was deserving of the award, and I said to myself YES having put in over 24years into the business traversing Radio, Television, film and film festival circuit .
However i quickly came back to reality and followed as the names were unveiled weekly.
Week in week out I couldn't fault the selection of these amazing Nigerian women who have either glazed the screen or behind the screen. 
You see I have read and heard people say all sorts about the award, on how someone just decided to celebrate or recognize her friends or cronies, one of the most shocking and nauseating of the post, was the one of an actress who referred to the organisers and winners as a bunch of prostitutes.
It is funny how if a woman is referred to as prostitute by the opposite gender, women are quick to go into a frenzy and scream blue murder, yet a woman feels it's okay to refer to her kind in such a distasteful unacceptable maligning word. 
The actress in question unfortunately is unknown to me in quote until that social media article.
I can imagine our male counterparts in their corner laughing at us. 
In an industry that has over thousands of outstanding women both in front and behind the screen, it is therefore very laughable for a reward system that seeks to recognize 100 women to capture every woman doing well or arguably feels an achiever in a maiden edition. 
Moreover it must have been a herculean task for the organizers, to identify the talents who have either worked or invested in an industry that is 62 years, since Anike Agbaje Williams appeared on screen as the first woman.
So how many women can the organisers select in its first edition, and there is always room for improvement and maybe further consultations going forward, but the point I am making here is that there will be errors, and as a woman we must commend and support all the women who put this reward system together.  
Those complaining about the awardees should look at the list again, without prejudice to the organisers and the sincere question will be from the list WHO IS UNDESERVING .
I bet if you are true to yourself, you will find the answer and agree the awardees deserve the recognition including the younger generation
Is it Pat Oghre , Ariyike Oladipo,funke Akindele bello , Taiwo ajai lycette, Kate henshaw, joke Silva, judith Audu , Omowunmi dada, Shola sobowale, Nse ikpe, tope Oshin, ijeoma oyeator, or Emem Isong amongst the array of creative women deserving of the award.
The truth is, everyone of us who have contributed to the growth of this sector is every inch qualified and deserving of recognition but as I said earlier, there is a limited number of 100 the edition can take. 
My dear aggrieved female colleagues, it is just an emerging reward system at his infancy and needs all our supports.
Let us learn to celebrate ourselves . Life is turn by turn it will get to you and even i. 
I think this award should even serve as a launchpad, to organizing more activities that can help in the individual and collective development of women in our industry. 
While reading about the awards, I read Woody Allen say and I quote 
"The whole concept of awards is silly. I cannot abide by the judgment of other people, because if you accept it when they say you deserve an award, then you have to accept it when they say you don't."
The point in the woody Allen comment is that some of those complaining have won awards in the past and felt they deserved it, isn't it funny?
So if those complaining were on the list they would have been singing praises of the event. That's how funny life in itself is for all of us. 
I will advise that in as much as awards are good but award /recognition system should not determine what you have to give or who you are and how good you are with your craft. 
Rather you should continue to improve and sharpen your crafting skill. 
An interesting part which I think some of the aggrieved practitioners should know is that, even one of the conveners/organisers Ijeoma Onah did not reward herself considering her level of contribution to the industry.
I recall my first encounter 13 years ago with her as a marketing representative for an equipment support company cedar Nigeria ltd.
Her commitment was top notch even though heavily pregnant, when she represented the company at the Abuja international film festival, but from that humble beginning she now owns her own business called Nigerian film and television summit, one of the largest networks or convergence of television and film practitioners summit in Africa.
Which in my opinion is a huge contribution and deserving of an award too.
Yet I doubt if her contribution to the industry has been recognized by any reward system .
So women let's stop the crab mentality , 
Let's stop pulling one and another Down .
Let's kill the if it's not me it should be no one.
Let us lift one another.
Let us help each other grow. 
Let us embrace our gender and rule the world.
Let us celebrate one and another.
A Question begs for an answer before I put my pen down .. 
IS SHE UNDESERVING?
Temitope Duker is a Media Practitioner/Festival Director writes from Lagos Nigeria.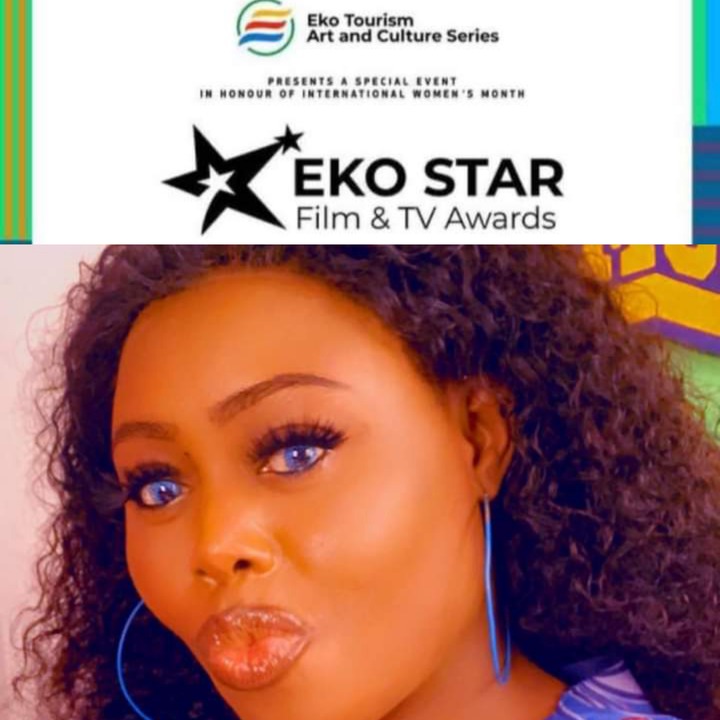 Content created and supplied by: TheBestNewz (via Opera News )
Opera News is a free to use platform and the views and opinions expressed herein are solely those of the author and do not represent, reflect or express the views of Opera News. Any/all written content and images displayed are provided by the blogger/author, appear herein as submitted by the blogger/author and are unedited by Opera News. Opera News does not consent to nor does it condone the posting of any content that violates the rights (including the copyrights) of any third party, nor content that may malign, inter alia, any religion, ethnic group, organization, gender, company, or individual. Opera News furthermore does not condone the use of our platform for the purposes encouraging/endorsing hate speech, violation of human rights and/or utterances of a defamatory nature. If the content contained herein violates any of your rights, including those of copyright, and/or violates any the above mentioned factors, you are requested to immediately notify us using via the following email address operanews-external(at)opera.com and/or report the article using the available reporting functionality built into our Platform See More