Toyin Lawani has shared a message on Instagram, and fans can't seem to stop applauding her.
Posting a close-up shot of her face on February 8, the fashion designer and businessperson wrote on the snap: "Never be afraid to start all over again, it might be your rising point".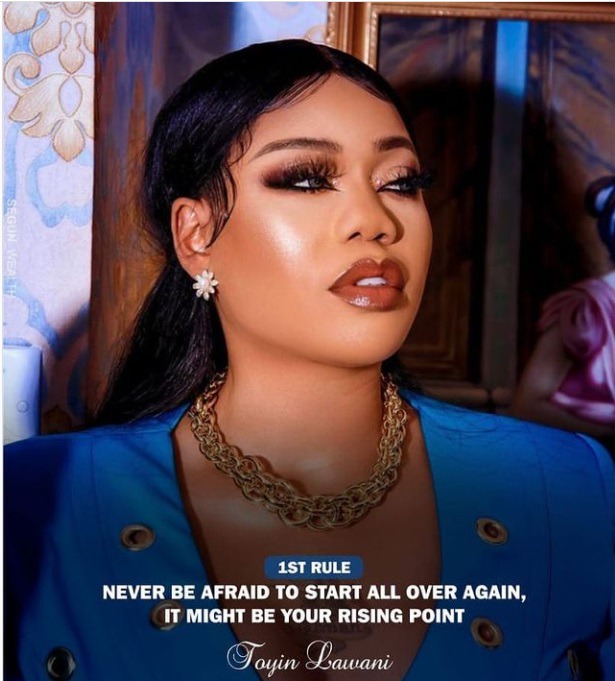 Toyin Lawani. [Instagram]
Explaining, the 38-year-old advised her over 1.3 million followers on the photo-video sharing app never to be afraid to "wrap things up and start all over again".
She pointed out that many people don't usually get to know the pains and struggles of those who are successful.
In her words, "A lot of people don't see the struggles of successful people. Today, they are a shining star but yesterday, they struggled, cried and talk to people they love for hours."
The celebrity stylist went on to say on Monday that "ending one journey you have been on is never a disappointment". "Don't ever be afraid to wrap things up and start all over again."
The mother-of-two said: "Failure is part of progress and today you need to start seeing it this way. Start again if that's what it takes. Your success story might just be around the corner. Love you all 💕💕♥️♥️♥️💞💞❤️ #kingofallQueens 👑"
The CEO of Tiannah's Place Empire added: "Save the date 1st of March, The Launch of The New Tiannahs empire 💣💣💣💣💣💣💣💣💣💣💣💣."
Her post has proved to be inspiring as tons of her fans have expressed thanks to Toyin for the message.
"This is for me oh !!!! Thank you ! My greatest fear for years but now I have overcome my fears and I'm so thankful," one said.
A second remarked: "How can I subscribe to unlimited love for u momma…you always inspire me this is what I need to hear this morning thanks so much momma."
"Word of wisdom, this write up just lifted my spirit ❤️," a third added.
Other Instagram users also gave their thanks and agreed with Toyin's advice.
"True, failing is a part of progress," one said. "So sweet p❤️❤️❤️," another added.
"This is so uplifting mama🙌🙌," one user noted.
Another one added: "I'm putting this rule into work today 🔥🔥🔥."
Content created and supplied by: Ibikunle246 (via Opera News )