For those who are fan of Superman,
Well this is the story about Superman and how it was created.
Superman is a fictional superhero. The character was created by writer (Jerry Siegel) and artist (Joe Shuster), and first appeared in (Action Comics 1#), a comic book published on April 18, 1938. The character regularly appears in comics books published by (DC Comics), and has been adapted to a number of radio serials, movies, and revision shows.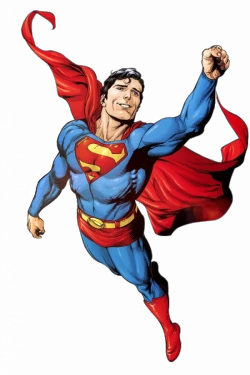 Superman was born on the the (Krypton) and was given the name (Ka-El) at birth. As a baby, his parents sent him to Earth in a small spaceship moments before Krypton was destroyed in a natural cataclysm. His ship landed in the American countryside, near the fictional town of (Smallville).
He was found and adopted by a farmers (Jonathan and Martha Kent), who named him Clark Kent. Clark developed various superhuman abilities, such as incredible strength and impervious skin. His foster parents advised him to use his abilities for the benefit of humanity, and he decided to fight crime as a vigilante. To protect his privacy, he changes into a colourful costume and uses the alias (Superman) when fighting crime.
Clark Kent resides in the fictional American city (Metropolis), where he works as a journalist for the (Daily Plant). Superman's supporting characters include his love interest and fellow journalist (Lois Lane), Daily planet photographer (Jimmy Olsen) and editor-in-chief (Perry White). His most well-known villain is (Lex Luthor). Superman I part of the (DC Universe), and such often appears in stories alongside other DC Universe heroes such as (Batman) and (Wonder WOMAN).
Although Superman was not the first superhero character, he popularized the superhero archetype and defined it's conventions. Superheroes are usually judged by how closely they resemble the standard established by Superman. He was the best-selling superhero character in American comic books up until the 1980s.
Clark keeps his powers secret in order to protect his family and friends, who might be endangered by his criminal enemies. In order to use his powers to help humanity, Clark creates the alter ego of Superman. A number of elements are added to each identity to keep them distinct enough to prevent the casual observer from matching them. Superman wears a characteristic red and blue costume with a letter "S" emblem and a cape. Clark Kent takes to wearing glasses, styling his hair differently, changing his body language, significantly altering his voice, and wearing looser clothing and suits that hide his physique.
Superman has different abilities, they are:
Super Strength: Superman's strength was increased to the point where he could move entire planets.
Flight: The character gained the power of true flight.
Super Speed: Superman's speed increased to the point where he could travel faster than light. Several stories depict him traversing great distances through space to other solar systems and distant galaxies and even other universes. He could cross our own solar system in minutes. He could also use this power to travel through time, as shown in his boyhood visits to the 30th century as a member of the Legion of Superheroes. Superman can also swim at speeds approaching Aquaman's speed as well as run at speeds similar to that of the Flash. Superman is unable to beat Flash in a race.
Invulnerability: By the 1970s, Superman became able to withstand an atomic explosion and even fly through the core of a star. He was also immune to non-Kryptonian diseases and all radiation except for that of a red sun or Kryptonite.
Vision: In addition to X-ray vision and heat vision, Superman was also given telescopic and microscopic vision. The character could see across interstellar distances and observe events that occurred on a microscopic and even atomic level. He could also see across the full electromagnetic spectrum, including infra-red and ultraviolet light.
Hearing: Superman could hear sound at almost any wavelength and at great distances. His hearing is use for people calling him for his help as for distress calls.
Super Breath: Superman's breath was capable of freezing objects and generating hurricane-force winds. His super breath can extinguish fires or freeze things. He could also hold his breath indefinitely, allowing him to travel underwater or in space without breathing apparatus.
Mental Powers: Superman possessed genius-level intelligence and an eidetic memory. These enhanced mental capabilities were a direct result of his exposure to a yellow sun, as evidenced by the depiction of Superman's dog, Krypto. While under a yellow sun, Krypto's intelligence was boosted to that of a typical human. Superman also possessed the mental ability to screen out the enormous amount of information received by his enhanced senses, and to focus on a single detail, such as a particular voice or location. As well, his speed reading abilities were much like that of the Flash. He was able to absorb large amounts of information quickly; whether it entered his short term or long term memory is hazy. Under a yellow sun, a Kryptonian gains the ability to speak and understand all languages.
Super Ventriloquism: Superman could throw his voice across great distances. This power was used to confuse enemies or protect his secret identity by tricking others into believing that he (or Clark Kent) was in a different location.
Super Hypnotism: This power enabled Superman to hypnotize anyone. He could make people forget incidents or obey his commands. This power was often used to safeguard his identity.
Stamina: Superman could survive indefinitely without food, water, or rest due to the yellow sun's radiation sustaining him.
Healing factor: Superman could regenerate physical damage to his body at an accelerated rate. He was able to regenerate when Wonder Woman slit his throat with her tiara in Wonder Woman #219. In the series Batman: The Dark Knight Returns, Superman regenerates his body after being reduced to near a skeleton by a special nuke that was designed to blot out sun light and disrupt energy. Superman's healing rate has been inconsistently portrayed, however. In the first issue of the "Superman/Batman" comic, Alfred is able to remove a Kryptonite bullet from Superman's body without fear of the wound closing (probably because the Kryptonite was affecting his ability to heal).
Memory-wipe kiss: Superman could wipe people's memories by simply kissing them. This ability was first demonstrated in Action Comics #306.
Other Powers: Writers of Superman would occasionally experiment with new powers for the character. In general, the abilities that proved popular and useful became part of his regular repertoire, while others would be discarded after a single use. In addition to his other super senses, Superman was occasionally shown as having highly-enhanced senses of touch and smell.
Every Superhore must have it's energy source.
Superman Emphasis was placed on yellow sun energy as a source for the character's powers. Superman's origin story was altered so that his powers developed gradually as his body absorbed yellow sunlight, and stories such as the Final Nightseries depicted the character gradually losing his powers when deprived of the sun's energy. When Superman's reserves of solar energy were depleted, as in Infinite Crisis or the Death of Superman story arcs, he required an extended period of time under a yellow sun, or some type of artificial solar enhancement in order to recharge.
Power Reduction Superman's strength was reduced to the point where he could still move tremendous amounts, but the character no longer had the ability to move planets. His speed was also reduced so that he could not exceed the speed of light. While still capable of surviving a nuclear explosion, such events would severely weaken him. Superman's sight, stamina and breath powers were also similarly reduced, and the character was also shown as requiring an oxygen mask for prolonged travel in space or underwater. His mental abilities were also curtailed to the point where intelligent humans, like geniuses Lex Luthor or Batman, could possibly outsmart him. The powers of super-ventriloquism and super-hypnosis were not generally used during this period, although it was never stated whether they had been eliminated or not.
Content created and supplied by: TC.Net (via Opera News )
Opera News is a free to use platform and the views and opinions expressed herein are solely those of the author and do not represent, reflect or express the views of Opera News. Any/all written content and images displayed are provided by the blogger/author, appear herein as submitted by the blogger/author and are unedited by Opera News. Opera News does not consent to nor does it condone the posting of any content that violates the rights (including the copyrights) of any third party, nor content that may malign, inter alia, any religion, ethnic group, organization, gender, company, or individual. Opera News furthermore does not condone the use of our platform for the purposes encouraging/endorsing hate speech, violation of human rights and/or utterances of a defamatory nature. If the content contained herein violates any of your rights, including those of copyright, and/or violates any the above mentioned factors, you are requested to immediately notify us using via the following email address operanews-external(at)opera.com and/or report the article using the available reporting functionality built into our Platform See More