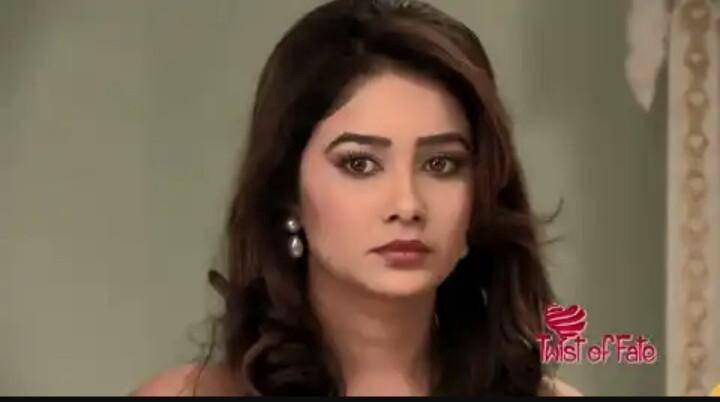 On Twist of Fate 21 July 2020 Zee World update, the episode starts with Abhi telling Tani that Pragya is his responsibility and he will rescue her at any cost.
Previous Episode: Click here for Twist of Fate Monday, July 20, 2020 update
She says if he goes, he will lose her and she will go far away from him. He says it is her life and she has right to take her own decisions and walks out, leaving her annoyed. While driving car, he thinks of text messaging the kidnapper that he will be at the venue in 15 min. Corporator gets the SMS and his goon gives phone to him. He gets happy seeing Bulbuľ's message and asks his goons to take Pragya to the venue and once Bulbul comes to inform him. Aaliya sees servant taking coffee to Abhi's room and follows him. She is surprised to see Purab there and asks why did not he go with Abhi. She also sees Bulbul sleeping.
Purab tells her about Bulbul getting kidnapper's call and the incident thereafter, Abhi going to rescue Pragya instead. She thinks of informing corporator. Abhi makes a lady call corporator's goons and tells them the address, shows a girl with blue jacket and jeans and to tell he is wearing blue. Goons come to the spot and follow the girl. Abhi identifies them. Meanwhile, Aaliya calls corporator and informs him that Abhi is coming to rescue Pragya instead of Bulbul and asks him to bring back his goons.
Corporator calls his goons and asks them to bring Abhi to their den. Goons surround Abhi. Abhi starts running and goons following him. Usual Bollywood type comedy continues with Abhi beating goons with his brains. Goons then surround Abhi think he escaped and reach back their den to inform their boss Corporator. Abhi follows them and thinks of informing goons. Goon informs corporator about Abhi's escape Corporator thinks Abhi loves his wife and he will try to rescue her, but he will make sure he does not get his wife.
Bulbul wakes up and asks Purab about Abhi. Purab tells her how Abhi tricked her, gave sleeping pills and himself went to rescue Pragya alone. Bulbul asks why did he let Abhi go alone. Purab says this day is best day of our life as Abhi has started developing feelings for Pragya. Aaliya gets tensed thinking Abhi must have rescued Pragya and what if Corporator would have revealed her name to Abhi, she calls Corporator. He gets irked but picks call thinking she may want to inform him about Abhi.
She yells at him. He asks her to stop her rubbish and tell if she has any info about Abhi. She asks him to come and meet her right now, else she will inform police that he is the kidnapper. Corporator thinks he should close Aaliya's chapter before Pragya and informs his goons to keep an eye on Pragya until he comes back. Pragya does not hear goon's sounds and thinks Bulbul must have come.
Tani telling Aaliya how Abhi rejected her valentine's day celebrations and left to rescue Pragya. Aaliya says he did right as she did not use her brains and thought of valentine day celebrations. Abhi on the other side is outside kidnapper's den. He sees goons busy playing cards around Pragya and thinks of entering silently in. Aaliya gets corporator's call and walks out silently. She meets corporator outside house who yells at her and says if he is caught, even she will be also be caught. Their fight continues and he walks out. Bulbul who is sitting with Purab and Daadi sees Aaliya walking out and also reminisces Tanu's challenge that she will take Abhi from her Pragya and even will stop her and Purab's marriage.
She follows Aaliya thinking of telling her about Tanu's challenge. Abhi enters kidnappers den, throws smoke inside it. Goons panic and run out to check. Abhi goes an stands infront of Pragya and she gets happy. He says he will torture her more than goons at home. She smiles and hugs him. He says he is not her valentine to hug her and says they have 2 hours to reach home and can fight ont he way. He continues his brainless talks and asks if she knows short cut. She says she does not know. He says he will message driver, takes out letter and tries to tear it. She asks him to keep it back, he takes out her bangle.
She asks why is he having her bangle. He jokes that it is GPS gadget and then makes her wear it. He then asks if she wants to eat and feeds her cake. Tere haath me mera haath ho song- plays in the background. Pragya thinks this is the best valentine day of her life. She gives him water. He says she needs water more to run, feeds her water and wipes her tears. Bulbul sees Tani and asks her to stop playing her game. Tani thinks she must have come to know that she is also involved in Pragya's kidnap.
Bulbul says she know she is behind Pragya's kidnap and to tell where she has kept her. Bulbul says she does not have time for Schemes and kidnapping her worthless sister and says she is very tensed as Abhi rejected her valentine's day celebrations and went to rescue Pragya. Bulbul is Surprised to hear that. Tanu walks out yelling. Bulbul goes to Purab and asks him to do something. Abhi and Pragya's jokergiri starts again. They start searching way out and hides under boxes seeing kidnappers coming in. Abhi says they cannot go out till morning.
Tuesday episode on Twist of Fate ends when Purab goes to commissioner's office and informs him about the whole incident. Commissioner asks why did he delay so much in taking his help and asks if abhi called him. He says not yet. Commissioner calls an urgent meeting with his officers. Goons try to provoke Abhi to come out with their witty words, but Abhi Continues hiding. He thinks of rescuing Pragya at any cost.
Thanks for reading. Kindly share to other Zee World lovers using the share button beside you. Don't forget to follow my page for daily update on Twist of Fate.
Did you miss Saturday's episode too? Click here to read Saturday July 18 update on Twist of Fate
Content created and supplied by: Insta_News (via Opera News )
Opera News is a free to use platform and the views and opinions expressed herein are solely those of the author and do not represent, reflect or express the views of Opera News. Any/all written content and images displayed are provided by the blogger/author, appear herein as submitted by the blogger/author and are unedited by Opera News. Opera News does not consent to nor does it condone the posting of any content that violates the rights (including the copyrights) of any third party, nor content that may malign, inter alia, any religion, ethnic group, organization, gender, company, or individual. Opera News furthermore does not condone the use of our platform for the purposes encouraging/endorsing hate speech, violation of human rights and/or utterances of a defamatory nature. If the content contained herein violates any of your rights, including those of copyright, and/or violates any the above mentioned factors, you are requested to immediately notify us using via the following email address operanews-external(at)opera.com and/or report the article using the available reporting functionality built into our Platform See More