15. Billy Lynn's Long Halftime Walk (2016)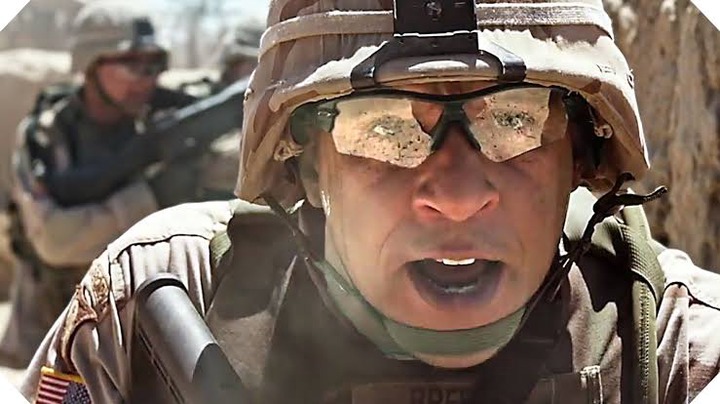 The film is a war drama based on Ben Fountain's best-selling novel about a 19-year-old soldier named Billy Lynn, played by Joe Alwyn, who is lauded as a war hero after returning from a torturous battle in Iraq alongside his friends. The film then moves on to a series of flashbacks depicting what truly transpired, which contradicts America's fabricated portrayals of bravery.
Babylon A.D. is a sci-fi film based on Maurice Georges Dantec's 1999 novel Babylon Babies. It depicts a hardcore mercenary named Toorop, played by Vin Diesel, who lives by his own rules in a desolated, wrecked dystopian future.
Toroop accepts a task that needs him to safely transport Aurora, a young woman from Kazakhstan, and her guardian, Sister Rebeka, to New York. Toorop runs into lethal barriers at every turn, and it gradually dawns on him that Aurora is humanity's only hope for survival.
13. The Pacifier (2005)
Vin Diesel plays an Elite Navy Seal named Shane Wolfe who is sent on a mission to save a scientist named Howard Plummer, played by Tate Donovan, who is working on a top-secret government project. Howard is assassinated by the opposition team after Shane fails to save him. Due to unforeseen circumstances, Shane is tasked with caring for Plummet's four children and a pet duck, all of whom have individual personalities. Shane goes insane trying to manage and protect his family in this flick.
12. A Man Apart (2003)
A Man Apart is an American action film starring Vin Diesel and Larenz Tate in the key roles of DEA Agents Vetter and Hicks. They are fighting the drug cartel to put an end to drug trafficking along the US-Mexico border.
The plot twists when the Cartel assassinates Vetter's wife in retaliation for the DEA's apprehension of cartel kingpin Memo Lucreco. To track down the new Cartel chief, Vetter and his associate Hicks hook up with the captured Cartel boss.
11. The Last Witch Hunter (2015)
Vin Diesel plays Kaulder, an immortal witch hunter, in the American fantasy action thriller The Last Witch Hunter. When Klaude killed a great Witch queen years ago, he was cursed with immortality. As Kaulder, the last of his kind, is met with her spiteful indignation, the human race is once again presented with an unthinkable magnitude of danger.
The film received mostly negative reviews and was described as uninteresting by critics. Its digital effects were also sharply chastised for being shoddy and unsatisfactory. According to a CinemaScore poll, viewers gave the picture a B- on a scale of A+ to F.
10. Knockaround Guys (2001)
The story follows four sons, played by Barry Pepper, John Malkovich, Dennis Hopper, Vin Diesel, and Seth Green, whose fathers are well-known Brooklyn criminals. The four lads band together to find a bag of cash that has gone missing from an airport.
The boys get in trouble when the money somehow lands in the hands of some corrupt cops of Montana Town. Now, the boys must do everything to retrieve the bag which is desperately wanted by some important mafia members in Chicago. The film brought together several renowned figures and was well received in terms of acting.
9. Bloodshot (2020)
 Bloodshot is an American superhero film starring Vin Diesel as a US Marine called Ray Garrison, based on the Valiant Comics character. Ray and his wife are kidnapped and murdered by a man named Martin Axe as the tale progresses.
Ray is brought back to life by a team of scientists utilizing nanotechnology, which, in addition to his rebirth, grants him superhuman skills, transforming him into the biotech killing machine Bloodshot. Ray loses all of his memories after his resurrection, but when they begin to return, he sets out to seek vengeance on the man who murdered him and his wife. As he embarks on his journey, he reveals some dark secrets that create the film's narrative.
8. Strays (1997)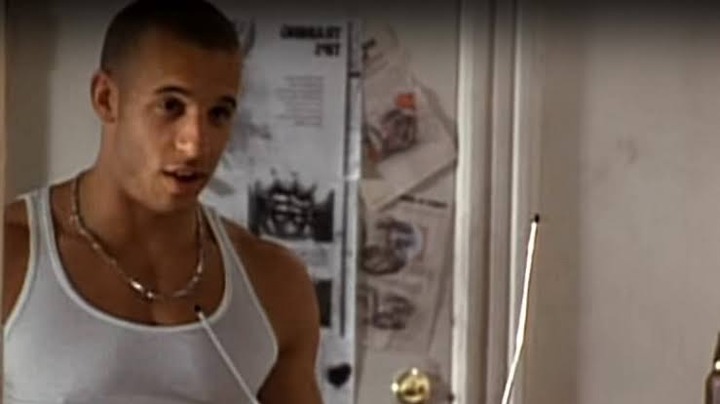 Vin Diesel plays a criminal in the American drama film Strays who wants to change his life and find meaning in it. He meets and falls in love with Heather, a girl who lives next door, as the story progresses.
Vin Diesel made his feature film directorial debut with the film, which focuses on his youth and upbringing in New York. It was panned for being slow and having insufficient dialogue, but the acting was praised and added to the film's engagement factor.
7. Pitch Black (2000)
Vin Diesel, Radha Mitchell, Cole Hauser, and Keith David star in Pitch Black, an American science fiction action horror film. Richard B Riddick, played by Vin Diesel, is a criminal who is being brought to prison in a spacecraft when it has an accident and crashes lands on a deserted planet. Faced with threats and hostile conditions, Riddick teams up with the rest of the crew in order to escape the horrors of the desolated planet.
The movie had a production budget of 23 million dollars and earned a total of 53.2 million worldwide. The film was appreciated for its engaging story element and became a cult classic among sci-fi fans.
6. Triple x (2002)
The American action film is the first in the triple x film franchise. Vin Diesel plays Xander Cage, an extreme athlete turned spy for the National Security Agency, in the film. When he is dispatched on a critical mission in Central Europe, all of his skills are put to the test.
It grossed 277.4 million dollars globally on an 88.3 million dollar production budget. It was praised for its action sequences but criticized for its jagged writing.
5. Fast Five (2011)
The fifth part of the Fast & Furious franchise is Fast Five. The film picks off where Fast & Furious (2009) left off, with former detective Brian O'Conner and Mia Toretto (Jordana Brewster) breaking Dom out of jail. By continually evading the authorities, they reunite the entire team in Rio, where they embark on a quest to carry off a $100 million robbery that could be the key to their permanent freedom.
The film grossed roughly 626.1 million dollars worldwide on a production budget of 125 million dollars, making it the franchise's highest-grossing picture. The film received a lot of positive feedback from critics, who complimented it for its excellent balance of action and comedy.
4. Find Me Guilty (2006)
The American drama is based on the real-life events of the country's longest mafia trial. Vin Diesel plays Jack DiNorscio, a mobster who is imprisoned on a drug accusation in the film. Jack is a loyal man who stands trial after refusing to bring charges against his former Lucchesi criminal family associates. The film chronicles a sequence of hilarious and serious incidents in which Jackie fights his case to defend himself, despite his lack of legal expertise and his inability to influence the trial's outcome.
The film earned positive reviews from critics and has a Rotten Tomatoes approval rating of 62 percent. Vin Diesel's acting has received a lot of attention, therefore he's a strong fit for the part.
3. Boiler Room (2000)
Giovanni Ribisi, Vin Diesel, and Ben Affleck star in the American crime drama Boiler Room. Scott Caan, Nia Long, and Nicky Katt The story follows Seth, played by Giovani Ribisi, a college dropout who is determined to prove his worth to his father, a federal judge who is dissatisfied with his son. Seth works as a stockbroker in a firm in order to achieve his goal of making a lot of money and earning his father's pride. When he discovers some dark facts about the firm, the story takes a tragic turn.
2. Riddick (2013)
In the film, Vin Diesel plays the primary role of Riddick. Riddick is stranded on a sun-bleached planet, fighting for survival against alien creatures. As the plot develops, Riddick embarks on a journey to activate a beacon that will aid in his escape. As a result, he is confronted with fresh grave dangers, making his fight for survival more difficult than ever.
The film received mixed reviews from reviewers and grossed 98.3 million dollars worldwide on a 38 million dollar production budget.
1. Furious 7 (2015)
Furious 7 is the seventh part in the Fast & Furious franchise and the final film starring Paul Walker, who died in a vehicle accident while the film was still in production on November 30, 2013. Following his death, the script was changed, and his brothers, Caleb and Cody, were tasked with finishing his scenes.
Following the events of Fast and Furious 6, the team is living a free life in the United States when they are met by Deckard Shaw (Jason Statham), who has come to avenge his brother Owen Shaw's death. The film depicts a series of events in which the crew is pitted against a rogue assassin from the professional troops. The gang also works with the government to save a computer hacker who has created a program that is extremely valuable to the government.
The film garnered overwhelmingly great reviews from both audiences and critics, with the film being acclaimed for its excellent action sequences, acting performances, and moving memorial to Paul Walker. The film was a commercial success, collecting a whooping 1.515 billion dollars worldwide, making it the franchise's highest-grossing picture.
Content created and supplied by: Entertainmentupdates1 (via Opera News )
Opera News is a free to use platform and the views and opinions expressed herein are solely those of the author and do not represent, reflect or express the views of Opera News. Any/all written content and images displayed are provided by the blogger/author, appear herein as submitted by the blogger/author and are unedited by Opera News. Opera News does not consent to nor does it condone the posting of any content that violates the rights (including the copyrights) of any third party, nor content that may malign, inter alia, any religion, ethnic group, organization, gender, company, or individual. Opera News furthermore does not condone the use of our platform for the purposes encouraging/endorsing hate speech, violation of human rights and/or utterances of a defamatory nature. If the content contained herein violates any of your rights, including those of copyright, and/or violates any the above mentioned factors, you are requested to immediately notify us using via the following email address operanews-external(at)opera.com and/or report the article using the available reporting functionality built into our Platform See More