On Zara's Nikah 19 July 2020, the episode starts with Zara winking at Ruksar as she enters home. All are concerned about Aisha's illness. Zeenat and Kabir are over concerned. Zara winks Ruksar over her victory of getting Kabir away from Ruksar, Ruksar is furious.
Previous Episode: Click here for Zara's Nikah 18 July 2020 update
Zara is disappointed as Kabir gives cash of 2000 to Ruku instead of her for nazar utarna Ruksar goes to a baba and gives him the money and seeks blessings that she would get whet she desired. Baba blesses her thatv. Zara arrives and gives another 2000 to baba Ji and seeks blessings that who so ever cast evil eyes on her shohar should get destroyed. Baba blesses her that. Zara and Ruksar have confrontation, Zara advises her not be after Kabir or she will meet defeat every time just like this time. Ruku taunts not to gloat over one victory, this is just the beginning of the game. Zaraa retorts this is only game for Ruku but for her Kabir was her life.
Kabir assures his maa how he would never neglect her Aisha asks him to be good shohar and keep Zara happy. Zara is dressed as a bride is sitting on the bedKabir is.surprised to see her dressed this way. He asks her what was all this. Their shaadi ki raat was over long back.Zara says they should now unite as Biwi shohar in true sense.
Kabir thinks that the girl sitting on the bed was his biwi and she had haq over her shohar. Zara beacons at Kabir, kabor moves closer and zara hugs him tightly. Romantic BG song plays as Zabir are consumed by their passions. Next morning Zara wakes up but is still in her dream land of the previous romantic night. She drools at shirtless Kabir she hugs him but she is surprised as he pushes her away.
She offers to help him put on his kurta but he declines her offer, she hugs him again. He says the night was over, she should wake up now. Zara says night was over but not their love Kabir says he did not want to commit sin by denying his biwi's haq. He would rather die than sin. Asks Zara to fulfill her duties tooas Biwi Kabir reminds the circumstances of their marriage and how he would fulfill all his duties.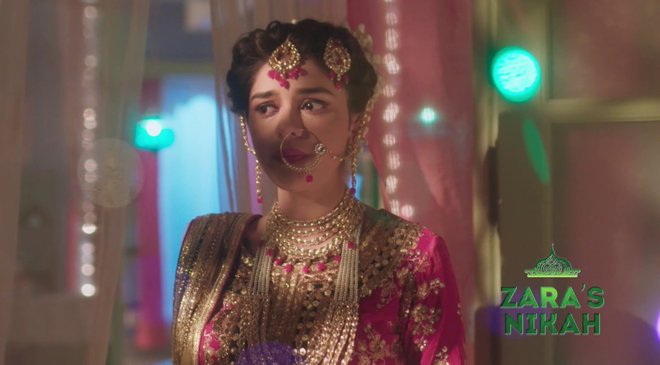 Zara is heart broken. She thinks she was lost in her love for Kabir but he was all the time only doing his duties? Where will her love go? She assures herself her love would surely find a way Next scene shows Kabir discussing his project with Ruksar. Zara is disapointed Ruksar excitedly rushes off to welcome her school friend and investor.
Kabir taunts Zara that she was Namehram for the guest. She could do pardah if she wished Zara feels angered by his taunt. As Ruksar welcomes her friend, she does the introductions, Miraj Ali. Kabir is surprised as Miraj comes with numerous gifts for Kabir. He says this was just for the upcoming roza. Kabir and Miraj were excited and Zara watches as he agrees to finance his project. Zara watches from balcony and wonders why did this guy seem so familiar?
Zara finds the guy having uncanny resemblance to Shiraj. She starts having doubts if Ruksar was still in connection with Shiraj Ruksaar says to Kabir and Miraj that I will bring refreshments. Kabir thanks her for serving their guests. Kabir thinks Hamdan is so lucky to get a fiance like Ruksaar. Ruksaar comes to Zara in kitchen and says give me some place, I have to make tea. Zara moves away. Ruksaar says investor is coming from my side so tea will be from me too, I just hope investor signs the deal, she says you said Kabir is your husband but Kabir is my obsession and will be mine.
Zara says Kabir is my husband and love and he is nothing for you. Ruksaar says he might be your love but you are not his love and I can bet on it. Zara glares at him. Ruksaar brings tea for Miraj and Kabir. Zara sees them from balcony and thinks God save Kabir and his project from Ruksaar. I want his project to complete but not with bad people, God show me a way. Miraj says to Kabir that am impressed with your project and I want to invest in that project, we will finalize the deal in a day or two. Kabir thanks him and gives him the project file.
Miraj turns to leave but Kabir asks servant to take his gifts back. Kabir says l am sorry but we don't take gifts from guests coming here for first time. I hope this deal is finalized then we can exchange gifts but till then I am sorry. Zara hears it and smiles and says great my priest thank God. Miraj says we have one ritual too, we don't take back the gifts already given. If you want, I can keep these gifts in my car and when we have our deal finalized after a day or two then you can't say no to them. Kabir says okay I agree. Ruksaar says tell Nilofar if she comes here next time then bring her here to meet us. He says sure, he says I should leave now. Kabir hugs him, he smirks at Ruksaar and looks at Zara standing on balcony and glaring at him, she leaves from there. Zara calls Reema and says meet me in half an hour and bring Imran too.
Reema and Imran meets Zara. Reema says how can you do that? Zara says Ruksaar have brought an investor and says his Miraj Ali and I didnt find him right, Imran asked why? Zara thinks I cant tell them about Kashmir. Zara says he was acting weird, he was not much interested in project. Imran searches him on internet. Reema says he is hot, Imran glares at her. Imran says he is mayor of Meerat, he seems rich and good person. Imran says I am coming to meet Kabir, they all leave.
Reema, Imran and Zara comes to house. Imran comes to meet Kabir, Kabir asks how far is Merat from here? Imran says not far away, Kabir says you are going there today, says this file has his information, he is Ruksaar's friend's brother. I want you to find out if everything is right as written in this file, you have only two days because then we will finalize the deal. Imran recalls how Zara said Miraj seems fishy, they leave from there.
Ruksaar comes there and takes her phone from there which had been recording Kabir and Miraj's talk. She calls Miraj and sends him Kabir's audio, he says I will handle everything, she says how? I want to meet you. Ayaan comes there and hears her. Miraj says meet me at Good luck cafe, she leaves. Zara was hiding behind her. She asks Ayaan where did Ruksaar? he says to Good luck cafe, she thanks him and leaves.
Scene 2
Ruksaar comes to meet Miraj at cafe. They sit down. Zara is sitting there in burqa. Miraj orders lemonade. Ruksaar says I am sorry that Kabir returned your gifts, he recalls looking at Zara and says when mission is bigger than small things dont matter. Ruksaar says Kabir is like that, he has clean heart. He says I have started knowing him, Ruksaar says I want to ask if the money you are investing is yours or someone else?
He says you are talking like my old lover, she used to investigate that much, dont worry about money, your work will be done. Ruksaar says Kabir will be asking all those questions, I dont care about anything, just my work should be done. Goodbye, he greets her, she leaves. Zara hears everything. Miraj calls someone and says money is arranged? Okay get it transferred from Kashmir, yes bird is near cage now. Zara is shocked to hear it and recalls Siraj's incident, she thinks what his connection with Kashmir?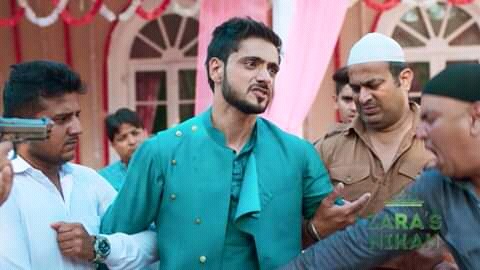 Zara follows Miraj's car, she sees him going to a society. He gets down from car and starts walking. Zara follows him. Some men starts following Zara and gathers around her, they ask where are you going? Do you want our help? He harass her, Miraj is already gone from there. Zara looks around. Zara tries to leave but men keep stopping her. Zara runs from there and gets in car.
She says it's not a good place to be alone. Kabir is calling Zara but sees her phone in room. Zara comes there. Kabir says where are you coming from at this time? You didnt even take your phone. Zara says you don't know what I saw, that investor. Kabir says no l have told you we will not talk about it, he leaves. Zara thinks I will show him proof that Ruksaar is cheating him.
Thanks for reading. Kindly share to other Zee Word lovers using the share button below. Don't forget to follow my page for daily updates on Zara's Nikah.
Did you miss Friday Episode too? Click here for Zara's Nikah July 17, 2020
Content created and supplied by: Insta_News (via Opera News )
Opera News is a free to use platform and the views and opinions expressed herein are solely those of the author and do not represent, reflect or express the views of Opera News. Any/all written content and images displayed are provided by the blogger/author, appear herein as submitted by the blogger/author and are unedited by Opera News. Opera News does not consent to nor does it condone the posting of any content that violates the rights (including the copyrights) of any third party, nor content that may malign, inter alia, any religion, ethnic group, organization, gender, company, or individual. Opera News furthermore does not condone the use of our platform for the purposes encouraging/endorsing hate speech, violation of human rights and/or utterances of a defamatory nature. If the content contained herein violates any of your rights, including those of copyright, and/or violates any the above mentioned factors, you are requested to immediately notify us using via the following email address operanews-external(at)opera.com and/or report the article using the available reporting functionality built into our Platform See More