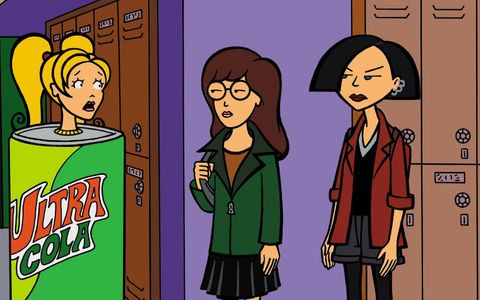 Everyone knows Spongebob and the Powerpuff Girls, but these nostalgic '90s cartoons are ones only people who grew up in that era will recognize.
Daria and her friend Jane in MT'Vs Daria
Everyone has nostalgia for the shows they grew up with, and as 90s kids are the latest generation to reach adulthood, we've all probably heard our fair share about what was popular on Nickelodeon and Cartoon Network back in the day. Yes, many of us still remember Rocko's Modern Life, Dexter's Laboratory, and Hey Arnold! as well as the many other shows you remember so fondly. A few shows that debuted in the decade of the millennials are either still going today, like Spongebob Squarepants, or have even been rebooted for a new generation, like the new Powerpuff Girls.
Time hasn't been so kind to all the shows of a 90s kid's childhood. Whether they just didn't click with kids, had too short of a series run, or were simply overshadowed by better shows, some 90s cartoons will even leave people born in that era with a blank stare. Your parents probably haven't even heard of most of these shows, but for everyone else ready for a flashback to shows you might have forgotten about, here are 15 Cartoons Only 90s Kids Remember.
Taz the Tazmanian Devil on the cover of the Taz-Mania game
15
TAZ-MANIA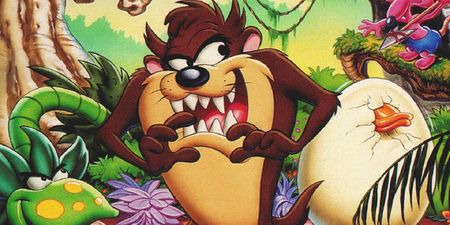 Taz the Tazmanian Devil on the cover of the Taz-Mania game
Of all the Looney Tunes characters to get their own show, Taz certainly sounds like one of the least obvious candidates to give a leading role to. You've got the clever, wise-cracking Bugs Bunny, the scheming, ill-tempered Daffy Duck, and so many others who have demonstrated their popularity in dozens of classic cartoons, but instead Taz got the spotlight this time around.
Anyone who knows the Tazmanian Devil knows he's not the most articulate character, so Taz-Mania loaded up its show with more well-spoken characters for Taz to interact with. Following the formula of most sitcoms, the focus was on Taz's home life with his family, which also introduced us to his surprisingly kind and even-tempered parents. It actually made for kind of a wonder where Taz's wild streak came from when you see how normal the rest of his family was. The show lasted for four seasons, and did more to flesh out his character than his early years of trying to make a meal out of Bugs.
14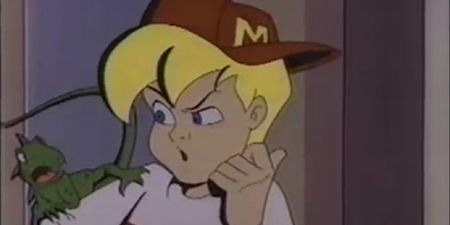 MIGHTY MAX
Max and his pet lizard in Mighty Max
People often make fun of shows like the early Transformers or My Little Pony for being toy advertisements disguised as TV shows. While that was true, those franchises have done a lot to outgrow their status as glorified commercials and have become pretty legitimate franchises. Mighty Max didn't have such good luck, and even today is basically remembered as a way to make Polly Pocket for boys.
While the toys were probably more popular than the cartoon, the show did provide lots of inspiration for kids to enjoy their playsets with. Max, his warrior friend Norman, and the sage-like bird Virgil would travel across the Earth and fight against a variety of monsters that were set on terrorizing people. It was a short-lived show, but it did its job in getting children to beg their parents for the toys, and the cartoon provided a nice Saturday morning diversion for a while.
13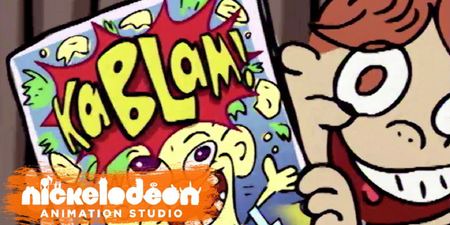 KABLAM!
KaBlam! opening on Nickelodeon
One of the oddest shows on Nicktoons back in the '90s was maybe the world's first literal sketch show. The cartoon featured the animated co-hosts Henry and June who spoke directly to the viewer, like something out of Saturday Night Live. The two would then throw to a variety of other cartoons that were unique to KaBlam!, usually filling out the timeslot by showing a variety of shorts from each of the recurring shows.
In retrospect, the shorts within KaBlam! were actually pretty creative, showing off a Claymation style in the Prometheus and Bob shorts, stop-motion with real action figures in Action League Now, and using puppets for Life with Loopy. It was a pretty inventive way for a cartoon to introduce a large cast of characters in a small time block. It's one of the few '90s Nicktoons that isn't mentioned as fondly these days, but it ran for four seasons and was able to showcase a lot of fun ideas.
12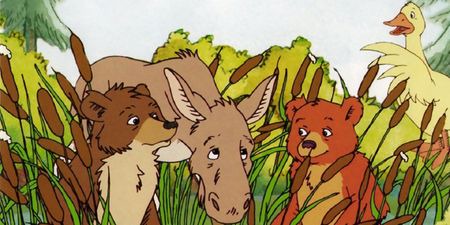 LITTLE BEAR
Little Bear in the 2001 Little Bear movie
Dora the Explorer seems to have pretty much locked up most people's memories of what Nick Jr. was like to the exclusion of all other shows, but a friendly bear and his group of animal friends once also featured prominently on the channel. No, we're not talking about Winnie the Pooh. This particular group of furry pals centered around Little Bear, and his descriptively named friends Cat, Duck, Hen, and Owl. Though like Pooh, Little Bear also had a human friend, a little girl named Emily.
This list might make you think about revisiting some of these shows, but Little Bear is one that probably won't offer much to an adult you. Like most young children's shows, the plots were often very low stakes, though the series did last a number of years and even get a movie. Looking back on Little Bear, the show does have a very peaceful soundtrack to it, but you'll likely be too distracted with questions that sprout up about the show in retrospect. Like, how come Little Bear's parents wore clothes but he was fine going around in just his fur?
11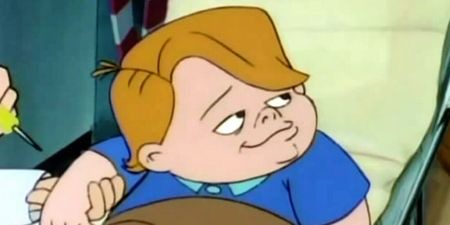 LIFE WITH LOUIE
Louie Anderson as a cartoon in Life with Louie
Remember that cartoon about Louie Anderson? Maybe a better question: do you still remember Louie Anderson? Stand-up comedians getting their own shows isn't unusual at all. The likes of Ray Romano, Drew Carrey, and Tim Allen, just to name a few, all got their own comedy shows in the '90s. So if Louie Anderson had gotten the same thing, no one would have batted an eye. Whereas all those other comics got live-action sitcoms, Anderson got his cartoon.
Unlike something like Jackie Chan Adventures, where the animated format was used to dive into a lot of wild, fictional scenarios, Life with Louie was based around the reality of Anderson's childhood. Episodes usually opened with live-action footage of Anderson setting the scene for what was going to happen in the episode as he reflected on his days as a kid. Animated Louie's wisecracks about the exaggerated struggles of growing up in his family stuck around for less than forty episodes, but had a concept that set it apart from all the other stand-up comics transitioning into TV work.
10
MIGHTY DUCKS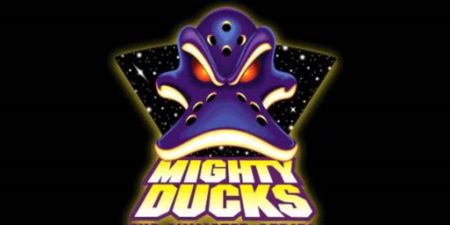 Mighty Ducks cartoon logo based on the Mighty Ducks movies
Probably one of the oddest spin off ideas from a movie you'll ever find was the Mighty Ducks cartoon, based on the movies of the same name. But whereas the movies focused on a children's ice hockey team, the cartoon focused on literal ducks who just happened to be superheroes in addition to hockey players. Oh, and they were also aliens. The creators sure went to town with just a movie title to inspire them, didn't they?
And if you thought duck-ifying everything stopped with the characters, you were mistaken. Duck puns were rampant in the series. The characters had such ridiculous names as Wildwing Flashblade, Mallory McMallard, and Canard Thunderbeak. Oddly enough, their enemies were all reptiles, which doesn't seem bird-related, unless they were going for a pun on drakes and dragons. The series only lasted one season, but with its zany premise, if you saw the Mighty Ducks cartoon even once as a kid, it probably stuck with you.
9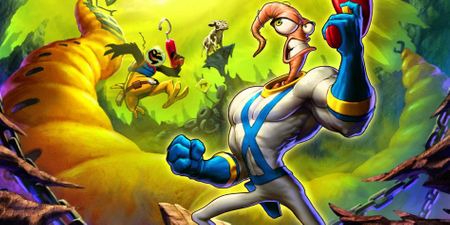 EARTHWORM JIM
Earthworm Jim and Psy-Crow on the Earthworm Jim HD video game cover
In a time when Sonic the Hedgehog and Mario were at their peak influence on the gaming world and getting crossover cartoons, a few other characters were trying to stake their own claim as a mascot. One such wannabe gaming mascot of the '90s was Earthworm Jim, a worm able to control a human-shaped body to combat enemies like a giant insect queen, and an astronaut crow named Psy-Crow. The games Jim got on the Sega Genesis and Super Nintendo were actually both quite good, but suffice it to say, he didn't prove to be an enduring character.
The cartoon gave a fair go of it, even utilizing well-known voice actor Dan Castellaneta who is best recognized as Homer Simpson, and Aladdin's Genie (after Robin Williams left the role). Despite positive reception for the cartoon's humor and originality, it only wound up lasting two seasons. Maybe there just wasn't room for another animated hero, with hedgehogs and plumbers drawing everyone's focus at the time.
8
PEPPER ANN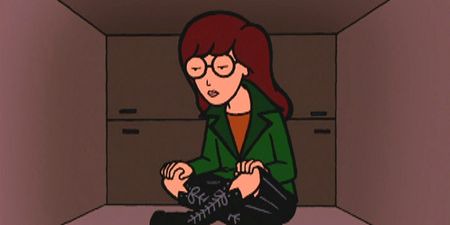 Pepper Ann, Nicky, and Milo walking to school in Pepper Ann
A counterpart to Nickelodeon's Doug, Disney's Pepper Ann is much less remembered today. The show focused on the eponymous preteen, and her best friends: the quiet but overachieving Nicky, and the quirky artist Milo. Also like Doug Funny, Pepper Ann had an overactive imagination and would occasionally imagine her life as a superhero adventure. Though thankfully, she never pictured herself wearing anything as dorky as Doug's Quailman.
Like most shows focusing on the tribulations of adolescence, Pepper Ann's life was filled with the stress of school, and such riveting dramatic situations as whether or not the guy she was interested in was attracted to her as well. That's not to sell ­Pepper Ann short as a show, since it actually could be pretty clever and humorous at times. It's just an unfortunate fact that when talking about Disney cartoons, people's immediate thoughts usually turn to a certain mouse and the dog and duck he was frequently seen with.
7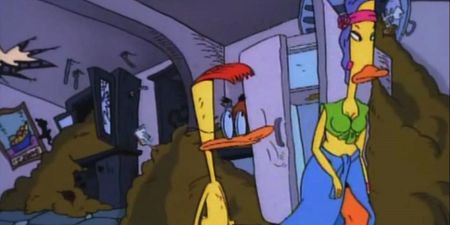 DARIA
Daria hiding in a cardboard box on MTV's Daria
Probably the most well-known cartoon on this list, Daria was a girl who basically epitomized kids from the '90s. She was apathetic, moody, full of snarky comments, and thought everyone around her was stupid (admittedly, a lot of them really were). Basically, she was a teenager.
The show was a spinoff of Beavis and Butt-Head, which was also a very '90s-esque show. But Daria was especially emblematic of the time due to the cynicism she embodied, and the frequent incorporation of music conveying how much life sucks. The mixture of those two was huge in shaping bands like the hugely influential Nirvana, as well as the network that hosted Daria, MTV. Teenage Daria was never as impactful as someone like Kurt Cobain, and today you hardly hear her or her friends mentioned when kids of the '90s talk about their favorite cartoons. But for a while, at least, she was a voice for a generation. A voice that looked upon life and said, "meh."
5 
2 STUPID DOGS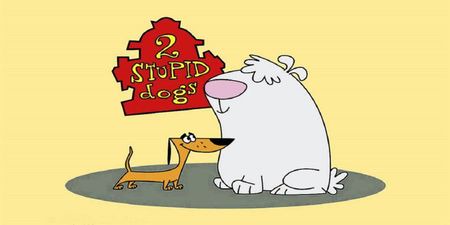 Little Dog and Big Dog on the title card of 2 Stupid Dogs 
After Ren and Stimpy hit the scene, a couple of copycat shows went along to attempt to mirror the equation of a pal pair of creatures pushing the limits of good taste. Animation Network's response to the Nickelodeon show was 2 Stupid Dogs, which quite well typifies its reason in its title regardless of whether you've never observed it. Little Dog was the loquacious conniver, while Big Dog was the more slow yet more grounded associate in a ton of bombed plans. 
Something that made the show stand apart was that it was likewise bundled with a side show that had its own characters and storylines. This was Super Secret Squirrel, concentrating on a spy squirrel and his accomplice in a James Bond kind of reverence. Be that as it may, even with double the shows pressed into one animation timeslot, 2 Stupid Dogs was at last fleeting and obscured by Ren and Stimpy's inheritance of gross-out humor. 
4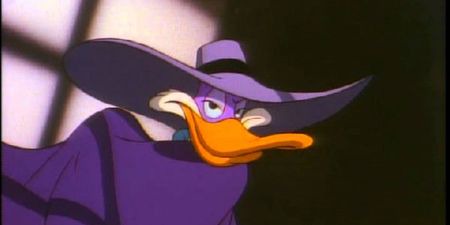 DARKWING DUCK 
Drake Mallard spruced up as his superhuman persona, Darkwing Duck 
Truth is stranger than fiction, another show about ducks, it's as yet not about Daffy or Donald. Darkwing Duck was Disney's endeavor at mocking the superhuman type with a saint who paid attention to himself, however was very frequently maladroit in his capacities. Darkwing had components satirizing different superheroes, however characters like Batman and the Green Hornet are the absolute most clear focuses in the arrangement. 
Furthermore, in the event that you recollect that anything from the Mighty Ducks animation, it ought to be evident that Disney adores their duck plays on words. That is something that totally continued here, as confirm by things like Darkwing's mystery personality being that of Drake Mallard. Despite the fact that that is not very astounding since the show was a side project set in a similar world as Ducktales, in any event, getting Launchpad McQuack as a common character. Tragically, characters like Scrooge McDuck weren't a piece of that hybrid too. 
3 
TALESPIN 
Baloo on the title card of Disney's Talespin 
In the event that Disney ever needs to do a continuation of their true to life Jungle Book film which end up being such a triumph, they have another story highlighting a ton of similar characters all arranged for them. In an odd advancement from his days hanging out in the woodland and singing about the "bear necessities," in TaleSpin, Baloo returns as a plane pilot. He's additionally joined by different individuals from the Jungle Book cast, such as King Louie the orangutan, and even Shere Khan. 
Truly, it's one of the Disney properties that is all the more far-fetched to get a surprisingly realistic adaption essentially on the grounds that it is anything but a show that has anyplace close to the prominence of the Jungle Book. TaleSpin was a pleasant show, and exhibited a ton of innovativeness with the characters it reused, yet it's not one that fans are actually champing at the bit to see a revamp of. 
2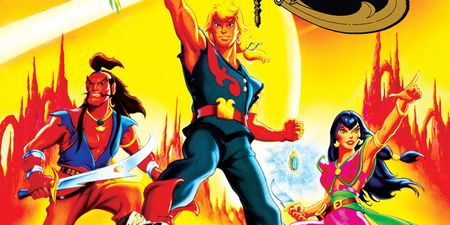 THE PIRATES OF DARK WATER 
The Pirates of Dark Water video spread with Ren, Tula, and Ioz 
Hanna-Barbera Productions is liable for probably the best kid's shows put to a screen, and has turned out various mascots throughout the years. They've given us The Jetsons, The Flintstones, and Scooby Doo as probably the most notables from their work. So you wouldn't expect that one of their kid's shows that came out later in their profession would have gotten so little consideration by correlation. In any case, simply have a go at getting some information about Fred Flintstone contrasted with The Pirates of Dark Water. 
Hanna-Barbera had fiddled with a couple of genuine shows previously, similar to Space Ghost, yet they never got on to the degree their comedic shows did. In any case, Pirates of Dark Water demonstrated a ton of inventiveness and creativity for a more youthful crowd. The space privateer experience show saw a cloth label team setting out on a mission to spare the world from the eponymous Dark Water. Sort of like a less dorky form of Captain Planet, and with some bold tossed in. 
1 
GOOF TROOP 
Max, PJ, Goofy, and Pete in An Extremely Goofy Movie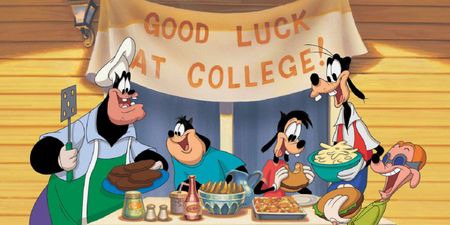 Obviously, everybody knows what goofy's identity is. He's Mickey Mouse's straightforward, yet blundering companion. It's protected to state Goofy is one of the greatest and most perceived symbols Disney has. However, what number of individuals recollect that Goofy additionally had a child named Max? In one more case of a character getting their own show and out of nowhere having a family we never caught wind of, Goof Troop concentrated on the life of Goofy as a father. 
Dissimilar to ­Taz-Mania, which was pressed with side characters, Goof Troop remains truly succinct in its emphasis on Goofy and Max. There isn't so much as a mother in this family, since Goofy was a widow in the show. Be that as it may, he had Pete for a neighbor, alongside Pete's child PJ, who was Max's closest companion. It was a solid match for Goofy, flaunting his mindful side as a father and a neighbor, while additionally giving him a lot of chance to botch things for a couple of giggles. The show even demonstrated mainstream enough to get two spin-off motion pictures, finishing with Goofy managing Max's flight for school in An Extremely Goofy Movie. 
Have we refreshed your memory about some other kid's shows from the '90s? On the off chance that you have one that is underestimated, or that you just never find out about any longer, educate us regarding it in the remarks!
Content created and supplied by: Azamanupdate (via Opera News )
Opera News is a free to use platform and the views and opinions expressed herein are solely those of the author and do not represent, reflect or express the views of Opera News. Any/all written content and images displayed are provided by the blogger/author, appear herein as submitted by the blogger/author and are unedited by Opera News. Opera News does not consent to nor does it condone the posting of any content that violates the rights (including the copyrights) of any third party, nor content that may malign, inter alia, any religion, ethnic group, organization, gender, company, or individual. Opera News furthermore does not condone the use of our platform for the purposes encouraging/endorsing hate speech, violation of human rights and/or utterances of a defamatory nature. If the content contained herein violates any of your rights, including those of copyright, and/or violates any the above mentioned factors, you are requested to immediately notify us using via the following email address operanews-external(at)opera.com and/or report the article using the available reporting functionality built into our Platform See More