Dori Elizabeth Prange better known as Ruby Riott is an American professional wrestler who is currently signed to WWE. She performs on the RAW Brand and is part of the Riott Squad alongside Lib Morgan. She has also been part of Shimmer Women Athletes, Shine Wrestling, Ohio Valley Wrestling (OVW), IWA Mid-South, and World Wonder Ring Stardom, under the ring name Heidi Lovelace. Ruby was never a WWE fan until she started to watch her best friend's brother fight inside the ring. Ruby is a huge tattoo lover which Is quite evident from her beautifully tattoo adorned body. Let us explore the meanings of her body tattoos.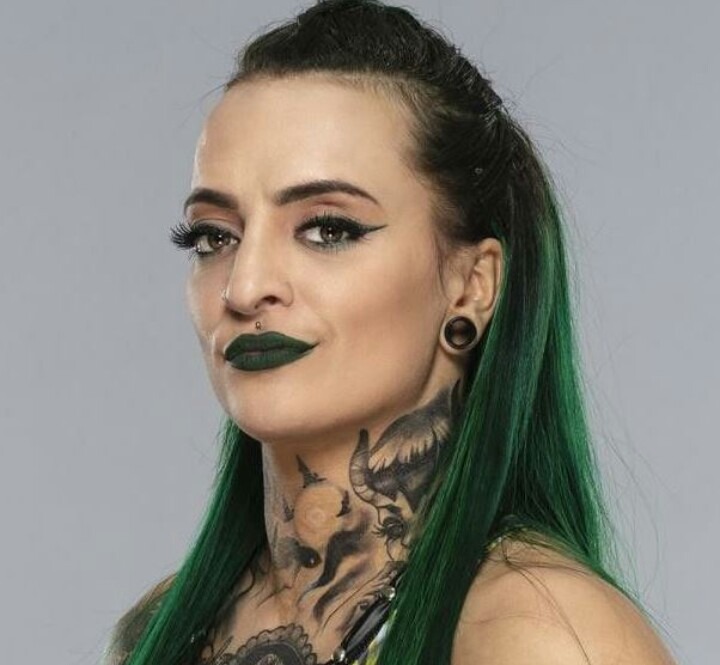 1. Musical notes tattoo
2. Bulldog and Metal fingered hand Tattoo
Ruby's left leg and knee there is a colorful tattoo of a bulldog and a metal fingered hand. The tattoo was done by the tattoo artist @rkamla. She had shared the story on her Instagram id while getting her tattoo done. She said in an interview that she had gone to get a single ink done but ended up getting two on her leg.
3. 'Negative Portrait' on the left arm
Tattoo: On Ruby's left forearm there is a beautiful piece inked which shows us a lady's face. It is actually a negative portrait of a lady. The tattoo was inked by the tattoo artist Amber Olsen of Enamored. Most of the tattoos on Ruby Riott's body have been worked by Amber.
4. 'Medussa' Tattoo
She's even better than I could've ever imagined!!! @sarahloganwwe gave me the idea for this piece and @artbyamberolsen brought it to life, and she's incredible! She'll hate me for saying this, but I'm such a huge fan of @artbyamberolsen, as an artist, as a human and as a friend. Thank you so much, she's perfect!! P.S. Check out my sweet surgery scar in my sunflower!"
Tattoo: On the right side of Ruby's neck there is a huge Medussa tattoo. The ink was done by her favorite tattoo artist, Amber Olsen at Enamored Arts tattoo studio, Mishawaka, Indiana. She got it done to cover up her scar which she received when she got her right shoulder surgery done.
Meaning: Ruby revealed that Sarah Logan, her former squad partner had given her this idea of getting this tattoo done. Medusa is a creature of Ancient Greek myth and known because of her fatal look and the head of snakes. She is also considered to be a feminist symbol. People adopt this tattoo to show their feminist sides and also to terrify the people around them with their hidden powerful personalities and thus, we can now understand Ruby being a female must have been encouraged with this idea too.
5. 'Lotus' on the right shoulder
Tattoo: On her right shoulder we can see a huge lotus ink.
Meaning: Ruby's love for flower tattoos cannot be denied. However, Lotus is the symbol of purity and peace. It also symbolizes internal soul awakening and spiritual awareness.
6. 'Skeleton Cameo' Chest Tattoo
Tattoo: Ruby Riott's chest piece is very famous among her followers. It is an art piece showing the skeleton cameo.
Meaning: Skeleton Cameos are totally individual inspired. A person can have deep-rooted emotional aspects related to the tattoo. Ruby got the tattoo inked from the Tattoo Artist, Rick Kamla. Many times tattoo lovers get this ink done on their neck just to adorn their body with this beautiful necklace sort of design.
7. 'She's gonna break soon' Tattoo
@artbyamberolsen is not only one of the best artists around, she's also one of the most amazing chicks I know. I'm stoked to have had the opportunity to get a piece done by her.She's PERFECT!!!! I've waited for this tattoo for years!!! I can't thank @artbyamberolsen enough. For this rendition of @lessthanjake's song cover art for "She's Gonna Break Soon"
Tattoo: On Riott's outer forearm we can see another pleasing art piece that shows us a female harlequin inked with a single tear tattooed on her face.
Meaning: Ruby got this tattoo done in 2018 from her one and only tattoo artist, Oslen. The tattoo has been inspired by the Less Than Jake, an American punk band from Gainesville, Florida. Ruby shared about how much she like their album songs and thus she decided to get this tattoo done which is actually based on the song cover art for "She's Gonna Break Soon" by Less Than Jake. This is the tattoo for which she had to wait for years and, at last, got it inked in.
8. Date Tattoo
Tattoo: There is a date tattoo that lies on Ruby's body that can be read as, '11/21/17′.
Meaning:  This tattoo is the part of the friendly tattoo pact which she got along with her squad. Liv Morgan, Ruby Riott, and Sarah Logan got a similar date, '11/21/17' tattooed on their bodies as when they made their WWE debut on the episode of SmackDown LIVE which was telecasted on Nov. 21, 2017. The tattoo was first revealed by Liv Mogal on her Instagram followed by Ruby Riott.
9. 'She goes where the wind takes her' Tattoo
Tattoo: On her right bicep we can see colorful tattoo along with a quote that says, 'She goes where the wind takes her'.
Meaning: The quote has been inspired by the famous saying by Pocahontas, 'She goes where the wind takes her'. Pocahontas was a famous Native American woman who used to bring food to the hungry settlers and also for negotiating the release of Powhatan prisoners in 1608 at Jamestown, Virginia. Animated movies and cartoon series have also been made on her. The quote basically tells us about Ruby's personality that she is an independent person and a dreamer and believes in living her life without restrictions.
10. 'Dreamcatcher and Flower' Tattoo
Tattoo: On her right bicep Ruby got the dreamcatcher tattooed. However later she got it reworked with a flower with a beautiful design around it.
Meaning: Dreamcatcher is the symbol of bringing good luck and positivity in an individual to run after and fulfill their dreams.
11. Tattoos on fingers
She has multiple tattoos on her finger.
12. 'Firefly' Tattoo
Tattoo: On her outer right arm there is a very light shaded firefly tattoo inked.
Meaning: Firefly is the symbol of light, illumination. Firefly tattoos are received on the body to enhance creativity and positive in an individual.
13. Flowers on Right Arm
Tattoo: Ruby has multiple flower tattoos adorning her body. The ones on her right arm cover her whole sleeve. Her right forearm is tattooed with blossoming flowers of different kinds.
Thigh Tattoos
14. Skull on Thigh
Tattoo: There is a skull inked on the inner side of her left thigh with a bottled neck top.
Meaning: Skull symbolizes the evil and dark however, they can also depict the person's will and courage to overcome all the negativity and difficulties of life with confidence.
15. 'Hot Air Baloon' Tattoo 
Tattoo: On Ruby's left thigh there is a hot air balloon tattooed in multiple colored inks.
Meaning: Ruby's family was not so financially strong as when she grew up in Edwardsburg, Michigan. She had lots of dreams and wishes which could not be fulfilled. Thus, she decided to get those wishes tattooed on her left thigh. Most of them were the toys that her parents could not afford to buy for her. Thus, Ruby got those inked and this hot air is also one of them. It is a jigsaw puzzle depicting Albuquerque, New Mexico, along with the city's famed hot air balloon that is seen in some sort of hot air balloon festival. This is the reminder of her childhood desire of flying, traveling, and sitting in the air balloon which never got fulfilled when she wanted to experience it. However, she said that she doesn't believe in giving up her dreams and this tattoo is a constant reminder to her for living up to her dreams forever.
16. 'Purple flower and Banner' Tattoos
Tattoo: On her thigh, we can also see a purple shaded five-leafed flower and a banner on the top left that says the phrase, 'everybody should stay'.
17. 'Strawberries and Hourglass Tattoo' on the thigh
Tattoo: Ruby's left thigh is covered with a bunch of strawberries and an hourglass on the top left. Hourglass depicts the passing time of life however, hourglass with roses symbolizes the person appraises for the beauty of time in life. How he or she wishes their lifetime to pass with positivity, love, and happiness.
18. Design on Hand 
Tattoo: Ruby's right hand is tattooed with an intricate tribal design.
19. Inner Bicep Design
Tattoo: On her inner right bicep we can see an eight-pointed star tattooed. It has religious significance.
20. 'Circular Mandala and Skull with Roses' Tattoo
Tattoo: There is a beautiful circular mandala flower inked on Ruby's left kneecap. There is a skull with three red roses tattooed on her left leg. She got the tattoo done from the tattoo artist @rkamla and shared the images through her Instagram stories.
Meaning: Mandala design is the basic symbol of peace and harmony. The collaboration of flower and mandala design symbolizes the person's focus on supporting feminism and blossoming her life effectively. Whereas, the skull with the red roses shows us the link between the good and the evil. Skull is the symbol of death and evil whereas, roses symbolize love and passion, thus, the skull and roses together that the person has been able to overcome the difficulties of life and now wishes to start a new life. Ruby got these two tattoos inked together on her leg.
21. Tattoos on the left Leg
Tattoo: Ruby's left leg is hugely tattooed. We can see flowers, a dagger, a diamond, an insect.
Meaning: Dagger can symbolize multiple meanings, it can depict the person's courage to fight with the world strongly, or it can also represent the betrayal. The diamond tattoo is the symbol of inner beauty and outshining personality.
22. Tattoo on waistline
She has a series of tattoos in her waistline
23. Tribal Owl
Tattoo: There is a tribal owl design inked on the left side of Ruby Riott's stomach.
Meaning: Though the owl is considered to be a bad omen in real-life routine. However, the owl tattoo represents wisdom and intelligence. It is the most common tattoo among tattoo lovers as a dedication to their bond with their late, close, and dear ones. It is considered to be able to communicate with the departed souls.
24. 'Sunflower and quote' Tattoo
Tattoo: There is a big sunflower tattoo inked on her upper right arm along with a quote that says, 'you are my sunshine'.
Meaning: Sunflower symbolizes happiness, good luck, and intelligence.
25. Three Dots Tattoos
Tattoo: There are three black dots inked on Ruby's right thumb.
Meaning: Three black dots is commonly known as the prison tattoo and stand to symbolize the 'crazy life' of an individual more specifically "Mi Vida Loca," or "my crazy life." People who are freedom lovers, believe in a hippie-like lifestyle and set up their own lives belief in getting these tattoos.
Please share and comment. Thanks.
Content created and supplied by: Sweetpepper (via Opera News )
Opera News is a free to use platform and the views and opinions expressed herein are solely those of the author and do not represent, reflect or express the views of Opera News. Any/all written content and images displayed are provided by the blogger/author, appear herein as submitted by the blogger/author and are unedited by Opera News. Opera News does not consent to nor does it condone the posting of any content that violates the rights (including the copyrights) of any third party, nor content that may malign, inter alia, any religion, ethnic group, organization, gender, company, or individual. Opera News furthermore does not condone the use of our platform for the purposes encouraging/endorsing hate speech, violation of human rights and/or utterances of a defamatory nature. If the content contained herein violates any of your rights, including those of copyright, and/or violates any the above mentioned factors, you are requested to immediately notify us using via the following email address operanews-external(at)opera.com and/or report the article using the available reporting functionality built into our Platform See More