After Jnr Pope Shows Gratitude To Okonkwos Family, Read What E-Money Posted About Him On Social Media (photos)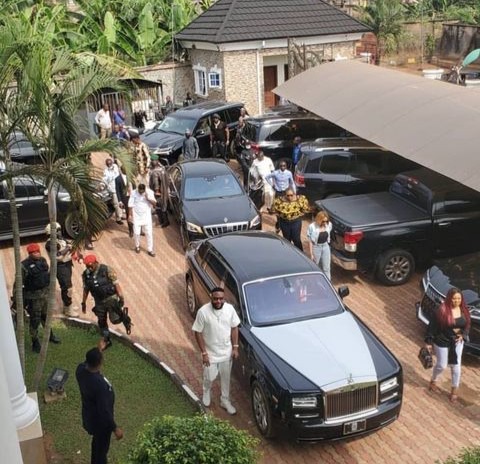 To Whom Much is Given, Much is Expected: Reaction As Jnr Pope Returned With A Heart OF Gratitude To Okonkwo's Family.
The Anambra State Born Billionaire, whose is Biologically Known as Emeka Okonkwo is a native of Uli LGA of Anambra State, Nigeria. He is a popular Nigerian Business mogul.
Emeka Okonkwo who is Also known as E-Money visit his home town Uli Central in Anambra State as Jnr Pope, a Nigerian popular Nollywood Actor visited E-Money to show gratitude to the Okonkwos Family. for always standing by him in due time when he needed Him most. E-Money posted the video Via his Official Instagram Account.
The intention to chase money shouldn't stop you from keeping a healthy Relationship with People Around you. The Quality of your Friends and Mentors has alot to say about you and Possibly how far you can go in Life.
When you make Money in Life, what comes to your thoughts, i believe everyone will have his her plan on what to do immidiately we start growing in millions and Billions. For Emeka Okonkwo and his Family, they have Decided to Continue showing Love and Appreciation to those that Comes Across their Paths.
To show appreciation to Jnrpope Pope, E-Money, posted on behalf of the Okonkwos Family to thank Actor Jnr Pope as he prayed for him and his family for more more of God's blessings upon [email protected]
E-Money Said as he post;
"God Bless You For Been Grateful, More Blessing To You And Your Family Amen."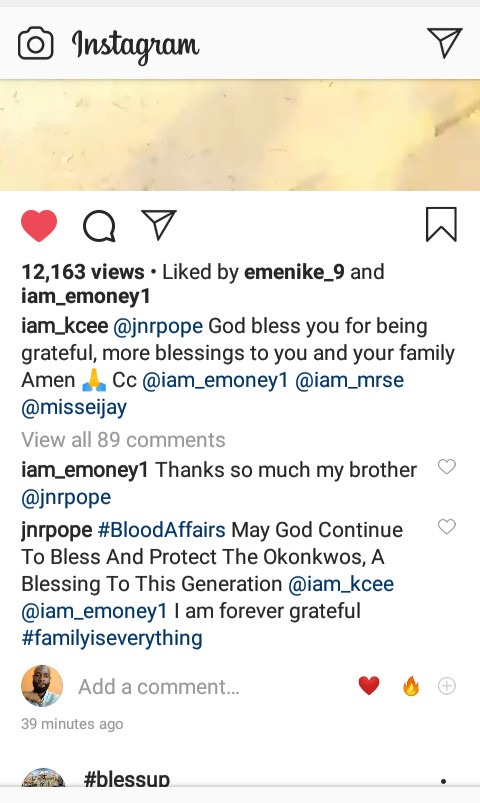 Check out "screnshoted photos" below;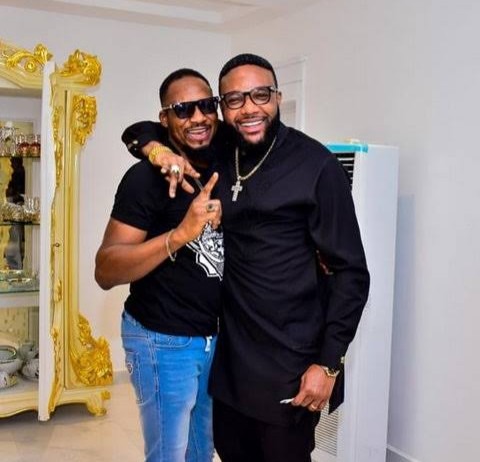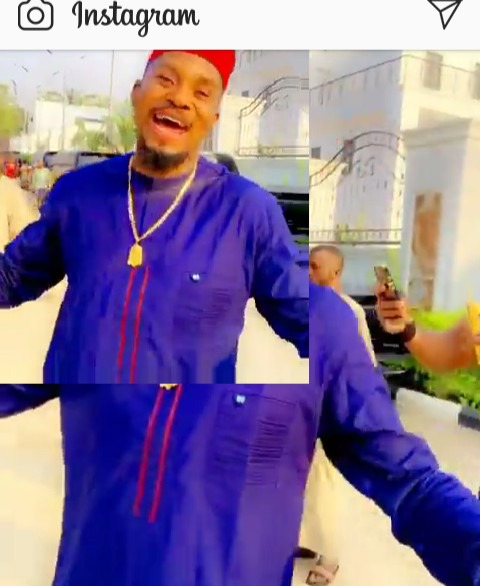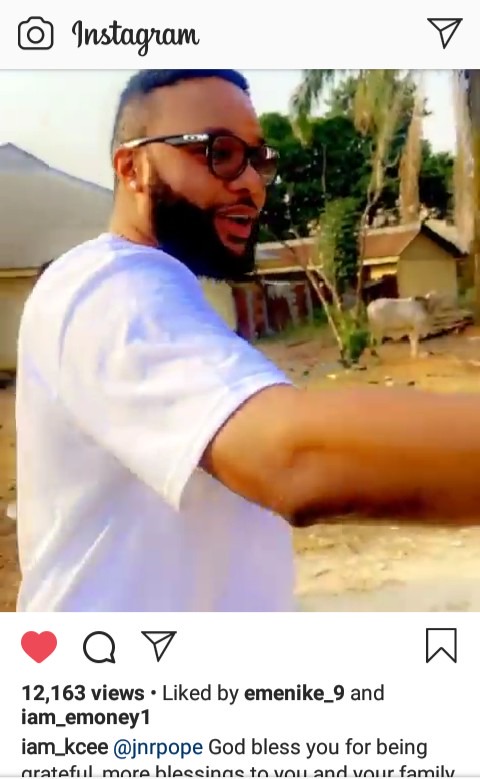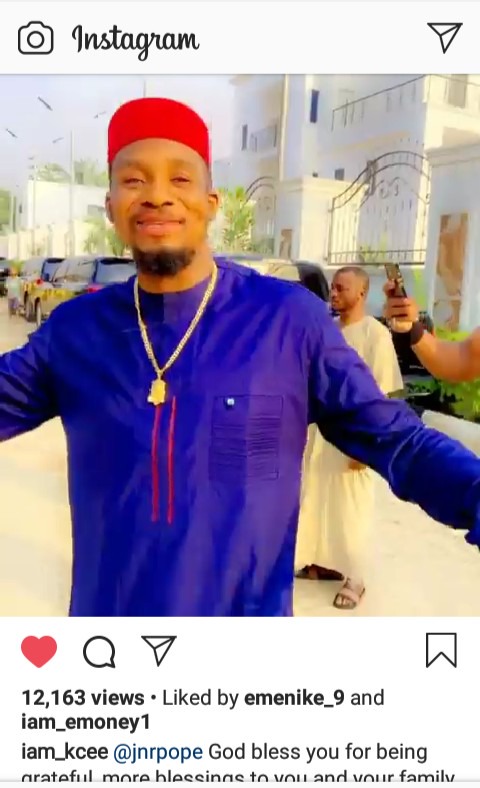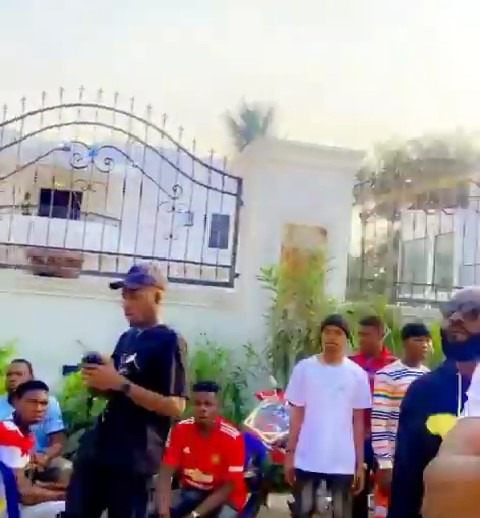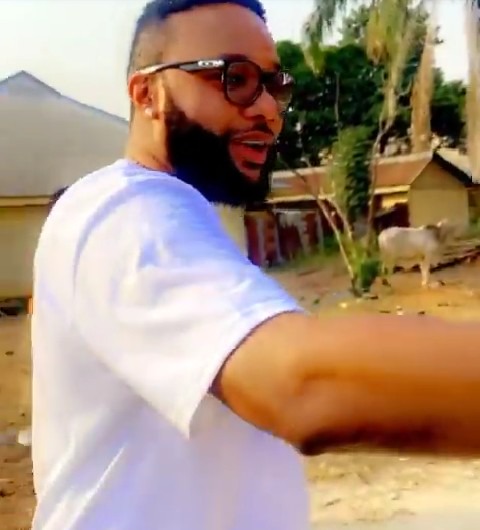 The Nigerian Nollywood Actor who is a family friend and more of a brother to the family of the Okonkwo's replied E-Money as he shows Gratitude to the Okonkwo's Family with a gift of a full grown Cow to the family.
He Said as he replied E-Money' post via comment section;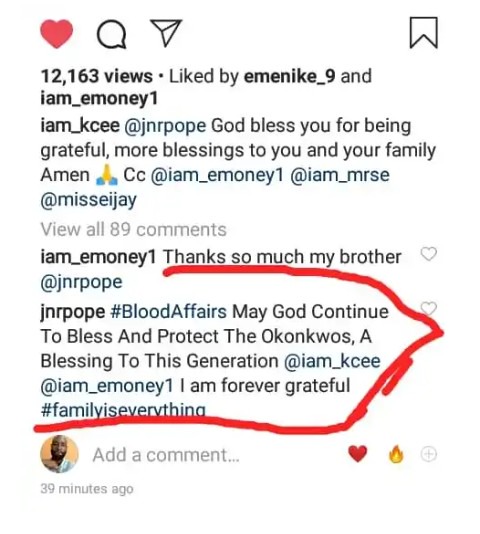 "#Bloodaffairs, May God continue to bless and protect The Okonkwos, A Blessing To This Generation I am for ever grateful. He Thanks @iam_kcee, and @iam_emoney1. He Concluded by saying, "Family is Everything"
Do You Agree With Jnr Pope's Confession That, KCee and his Younger Brother, E-Money are Blessing to Nigeria and Africa At Large?
Let's Interact in the Comment Section as you Share in Your Opinions. Do Well to Like And Share This Article. Some One Might Learn From Jnr Pope's Action of Returning Gratitudes to Whom it's Due.
Content created and supplied by: Kingzentertainment (via Opera News )