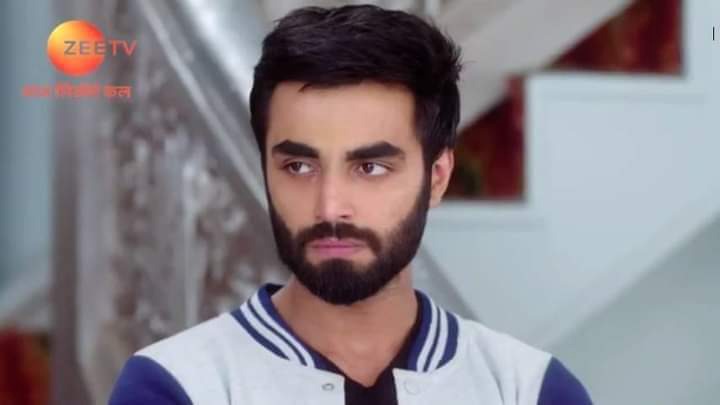 Sahil Protects Vaidika From Tanuj, Vaidika-Sahil Forgiven By Prem Pratab And His Efforts For Vaidika
Sahil comes to Vaidika's parents and says Vaidika's ex-husband came over, her life is in danger. Avantika says he won't get the address. But Vaidika's father gives the address to Sahil. Sahil reaches Tanuj's house but there was no one inside. Some ladies around gather there. One of them say Tanuj took Vaidika into the auto to old factory.
In a godown, Tanuj had tied Vaidika over a chair. He was furious that Vaidika left her home and husband and took a divorce from him, now the world must see what happens to her. He spills kerosene over her. He says Vaidika selected a young man over him, now she must die in suffering. He throws a matchstick over the oil and locks the door of godown. Sahil reaches there and struggles the door of the godown. Vaidika was suffocating while the fire had spread. Sahil jumps into the fire and saves Vaidika.
The media and some neighbors were already there, filming the scene. Vaidika hugged Sahil. Sahil shuts the media's questions, and speaks that this fire was put on by ex-husband of Vaidika Tanuj Malhotra who harassed and abused her for seven years. She divorced him, and now is married to Sahil Kashab. He announces a 20 lac gift prize to bring Tanuj Malhotra to him.
Tanuj had to run across the city as everyone recognized him and chased him for prize money.
Avantika comes to meet Tanuj and came to save his life. She taunts that he failed and wasn't able to punish his ex-wife. Tanuj was curt that Vaidika defamed him in the whole city. Avantika says she had snatched her husband to be. She demands Tanuj to help him marry Sahil, and she will save his life in return.
Tanuj was curt why both sisters are behind Sahil. Avantika repies that's her problem. But right now, they have a single enemy and that is Vaidika. They shake hand.
Shashi pushes Vaidika out of the house. Sahil questions what he is doing. Shashi says this woman has brought disgrace for their family only, she married him undivorced and then her wild husband created all the drama here.
Sahil stops his father and says Vaidika is his wife, he requests him to apologize his wife right now. Rekha asks Sahil to be shameful but Sahil says this is what his father taught him. Shashi was about to slap Sahil for all the misbehavior, Vaidika holds his hand in mid-air. Rekha shouts at Vaidika.
Vaidika apologizes and says she can't see father and son fight with each other because of her. She didn't tell anyone and married Sahil that day, she intended to save her and their family's respect. She had no false intentions, and she was unaware about Tanuj. She doesn't want to break a happy family. Sahil defends Vaidika. Vaidika requests Sahil not to elevate the argument, she doesn't want any differences between him and his family.
If his family doesn't want her to stay here, she shouldn't stay here. Sahil holds Vaidika's hand and says if she leaves the house, he would come along. it was his promise to her that he would never leave her alone. He tells his family he will also leave the house. Rekha tries to stop Sahil and emotionally asks him not to say so; how can he leave his mother for a girl like Vaidika.
Vaidika has done some black magic over her. Sahil says he has always been taught that a woman of house is Lakshmi, and today she disgraces his wife. He has taken responsibility of Vaidika then how can he run from his responsibility. He must leave. Sahil tells Vaidika he can't leave his heartbeat, else he might die.
He meets his mother and Geet, Deepak felt emotional but was stopped by Shashi's stare. Sahil leaves with Vaidika.
In the street, Vaidika sobbed. Sahil tries to cheer her up by draping himself in a dupatta and holding a pottery pot over his head. She place everything back in place. He later picks a bubble machine. Vaidika's mood doesn't improve. Sahil buys her some balloons, then a pot of flowers from a shop nearby.
He then goes to get themselves a glasses of ice cream. Vaidika finally laughs. She asks why he is doing all this for her. She turns to see her father and Arju. Arju was emotional, Prem Pratab asks Vaidika if she is fine.
Vaidika hugs her father, and says Sahil saved her. Prem Pratab goes to join his hands to Sahil. Sahil says she is his wife, and her protection is his responsibility. He did what he deemed right.
At Kashab house, Rekha tried Sahil's number. Shashi says Sahil would be mindful when he would have no penny in pocket and no job. Rekha complains Shashi doesn't care for his son. Shashi says if Sahil has to live in the house, he must follow the rules here. Rekha asks what they will do with the house without Sahil.
At Prem Pratab's house, Vaidika and Sahil tell everyone what has happened. Arju asks them to come inside. Vaidika's mother curses the moment which spoilt everything, they will have to bear another brunt of the society now.
Prem Pratab says they will lose their children if they continue to think of their children. Avantika comes home and asks if only Vaidika is their child, Vaidika can't live in the house. Prem Pratab angrily shouts that this is his house, only he can decide who can stay here and who can't.
They are already bearing for her insensible act. Sahil was excited and jumps up, picking up Prem Pratab into his arms; then apologizes. Arju takes them inside.
At Kashab's house, Mina tells everyone that Prem Pratab has taken Sahil and Vaidika to his house. Rekha says Vaidika has done some black magic over Sahil. What if Sahil permanently stays there; he is the only heir of Kashab family after all.
Arju asks Sahil to go and take some rest, she has sent Vaidika in a room upstairs as well. Sahil says Vaidika is stressed and must stay alone for some time.
He decides to sleep in the yard. Arju claims themselves to be lucky as Sahil behaves as their own son. He wish his parents had accepted his decision as well, but his father never understands him.
Avantika thinks Vaidika and Sahil have made her plans easy. They have come here by themselves.
Vaidika was asleep in her room. Someone breaks into the room. It was Tanuj. He shots her with a bullet. Sahil enters the room then, Tanuj shots Sahil as well. Vaidika wakes up as it was only a night mare. She hurries downstairs concerned for Sahil.
Sahil pulls her close to himself and asks how it happened. Vaidika doesn't reply and goes upstairs. Sahil cheers that I love her so much.
The next morning, Sahil bakes a cake for Vaidika. Her mother smiles watching him. He offers her a piece of cake with stevia (natural product instead of sugar). She takes another piece for Prem Pratab as well.
Vaidika comes to the kitchen and apologizes Sahil for sleeping till late. Sahil offers her to taste the cake. Vaidika complements it. Sahil goes to answer her mother's call.
Vaidika was happy that Sahil has brought much happiness into the family. She thinks she can't let Sahil live like this forever, she must do something to unite him with his family.
It was night and dark, Vaidika comes outside as there was no electricity. She was shocked to see the candle lit around the yard. Sahil turns the decoration of lights on. He presents a gift to her while they enjoy tea in champagne glass.
He offers to dance together. Vaidika happily takes his hand. Sahil holds Vaidika with her back. Vaidika recalls the harassments of Tanuj and begins to scream and cry. Sahil says he is Sahil, not Tanuj and brings a glass of water for her. He says he understands what she has bear, she holds very bad memories from her past.
He only wants to get close to her and assure her she isn't all alone. This new life of theirs would bring a lot of happiness for her. Vaidika says may be she would never be able to love him. Her troubled relationship has turned her insecure.
Sahil assures Vaidika he doesn't expect a lot from her, he truly believes their relation has been made for ages. She would gain trust over him with time. He only wish her to remain on her side forever. He doesn't want to get intimate with her, till she is comfortable.
He gets weepy now that everyone left his side, he hopes at least she won't leave his side. Vaidika promises Sahil she won't leave his side. Sahil leaves. Vaidika thinks she is aware he is hiding all his pain. She also wants to see him happy.
The next morning, Vaidika comes to temple behind Rekha. Rekha was angry and warns Vaidika to stay away from her. Vaidika says she wants to speak to her about Sahil. She isn't a mother, and is worried for Sahil. She must call Sahil back home by convincing his father.
Rekha taunts that Vaidika was so impressed by all the luxury that she isn't comfortable in her own house anymore. She curses Vaidika as she has parted a son from his parents. She earlier broke her ex-husband's house, then grabbed their Sahil.
She doesn't want to see Vaidika at all. Vaidika says whatever she did that day was to save their families from any disgrace. Rekha claims it a lie, and demands Vaidika to break this marriage if she really cares for them.
Content created and supplied by: Gangara2 (via Opera News )
Opera News is a free to use platform and the views and opinions expressed herein are solely those of the author and do not represent, reflect or express the views of Opera News. Any/all written content and images displayed are provided by the blogger/author, appear herein as submitted by the blogger/author and are unedited by Opera News. Opera News does not consent to nor does it condone the posting of any content that violates the rights (including the copyrights) of any third party, nor content that may malign, inter alia, any religion, ethnic group, organization, gender, company, or individual. Opera News furthermore does not condone the use of our platform for the purposes encouraging/endorsing hate speech, violation of human rights and/or utterances of a defamatory nature. If the content contained herein violates any of your rights, including those of copyright, and/or violates any the above mentioned factors, you are requested to immediately notify us using via the following email address operanews-external(at)opera.com and/or report the article using the available reporting functionality built into our Platform See More