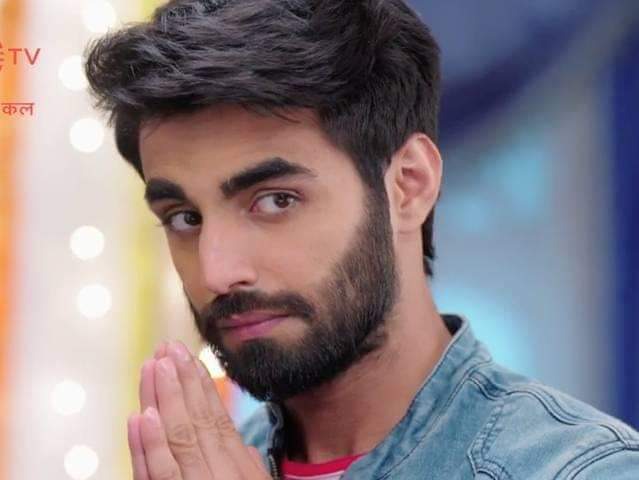 Vaidika requests everyone not to interfere in their family's matters. Sahil lets everyone leave. He requests the stall men to play music as he wish to dance with his wife.
Everyone was shocked to hear and the family objects, but Bari Amma announces she named 51% of property after her son Shirtij's name. He is rightful of all this, and the rest of 49% is named after Sahil. Vaidika and Sahil return home. Vaidika questions how Bari Amma can take this decision.
Doesn't she realize Shirtij is playing games with the family? Sahil objects that he also has a share in this property. He has worked hard on this business; and what about the right of women.
What about Prachi's share, Shruti's share, his Aarya's share and what about his Vaidika ji's share. These women leave their house for their in-laws; can't they make them feel secure. Bari Amma must divide the property as per due share; else he won't let it happen.
Vaidika tells Aarya this is her Sahil Papa, he always thinks about them. He can never kill Guddu. Aarya replies Shirtij already warned her that this could happen, but she was fooled enough.
He must now keep his veiled face away from her. She tells Vaidika she can never see any ill in her husband, but Aarya will always hater Sahil Agarwal. She leaves the hall. Bari Amma announces the division of property will take place, exactly like she decided.
She hands the papers to Shirtij and leaves. When Sahil and Vaidika were alone, Shirtij warns them to practice the household well. Soon they will lose the business as well. Sahil comes to Vaidika and assures after every dark night rises a new sun.
The next morning, Aarya steps on some nails placed straight in her way. It hurts her foot. Shirtij comes to help her at once. Aarya notices the nails, Shirtij wonders if children placed them here while playing may be. He then spots the nail box, and recalls placing each nail on the passage.
He shows the box and the bracelet to Aarya. Aarya recognizes the bracelet as Sahil's. Shirtij says Sahil only shows off a soft face. Its possible Vaidika had asked him to do all this. He takes the bracelet to Sahil. He warns Sahil he will snatch Sahil's daughter from him, like he snatched his father. Sahil grabs his collar, intriguing he would really murder him.
Shirtij asks if he again wants Aarya to get widow. Sahil still grabs his collar. Shirtij places his demand, to spare Aarya. Sahil was ready to do anything. Shirtij wonders why Sahil loves his wife and step daughter so much that he is even ready to die for them. Sahil listens to Shirtij's demand and replies, anything for his Aarya.
Shirtij and Sahil had taken their positions on the staircase. Shirtij confirms Aarya had just entered. Shirtij drops himself down the stairs. Aarya comes concerned, while Sahil follows down the stairs. Vaidika and Aarya were shocked to see Sahil come downstairs. Aarya asks if Sahil pushed him.
Sahil accepts its his mistake. Aarya asks Vaidika if she still believes Sahil can't hurt her husband. She is blinded by Sahil's love, but she (Aarya) now recognizes his real face.
Aarya tells Vaidika and Sahil that as the owner of this house she is parting Vaidika and Sahil. After today, they won't either meet, or speak each other and have no relation with each other.
Like her relationship was broken, she wants to separate Vaidika and Sahil now. Vaidika replies this won't happen, she and Sahil won't leave each other. Sahil replies this will happen. For the peace of this house, they must do this. Vaidika says this is a pointless demand of this girl, it can never happen.
Sahil replies the decision has been taken. Aarya says she leaves the other decision over them, to decide who will stay in the house and who will leave. There is only one condition, they will tell everyone they took the decision willingly. They must make each other realize they can't live together anymore. She takes Shirtij along.
In the room, Aarya doesn't let Shirtij get off the bed. She wonders how they can do this. She admired Sahil and Vaidika. She had a huge share in bringing them closer, she insisted on her mother to accept the live of Sahil. And today, Sahil is doing so to her.
Even her mother went against her. She was crying that she involved him in all this, then leaves the room. Shirtij feels for Aarya, and wonders why he feels bad for Aarya.
In the garden, Vaidika place Sahil's hand over her head and tells him to vow whatever he said isn't true. Sahil insists they must think about Aarya. He can't lose Aarya, and Shirtij is making her do strange things.
Vaidika asserts they have always faced all the problems of life together, they can't bend in front of Aarya and Shirtij. Aarya is wrong here, and they can't uphold her false decisions. Sahil convince Vaidika that Aarya might continue to take them wrong otherwise.
He is doing all this because of his children, he must stay here with Aarya. Vaidika must leave with their sons. He will protect Aarya and distract her from Shirtij's trap. He must do this, to reunite once again. They can listen to her for once. Vaidika consoles herself, then assures her support to him. Sahil hugs Vaidika.
Sahil says his days neither start nor end without her, it's going to be extremely difficult for him. Vaidika now holds Sahil's face out of love and claims himself to be a gift in her life. They will be parted away from each other. She shares a ring with Sahil, so that he never miss her.
Prachi and Puneesh come to Bari Amma and complain she is only concerned for Shirtij and has forgotten the other children. Puneesh also complains she has turned everyone else into a puppet.
Prachi tells Bari Amma they have made a profile for Shruti's marriage. Bari Amma doesn't focus, she did it herself. Puneesh was curt over his wife, as he already lost Bari Amma's money, now Shruti will also be lost.
Prachi looks for the profile in the laptop. Puneesh takes the laptop, and deletes the profile. Prachi was concerned that she herself read the messages of interested candidates. Puneesh says it must be deleted. He asks who used the profile for the last time.
Puneesh says Shruti must have deleted it, she isn't already interested in getting married. Prachi was curt that she is well aware what Shruti wants to do in this house.
The net morning, Sahil shouts at Vaidika in the hall that he doesn't want to argue with her. Shruti comes there. Sahil shouts that Vaidika is stubborn, she doesn't speak to him well herself. He says there is a generation gap between them, they can never reconcile.
He always tried to think according to her point of view. Nani asks when Sahil started to care for age. Vaidika replies the only problem between them is age gap, he always argue with her and behaves as immature.
Deepak was astonished how they began to fight so loud. Nani says there are a lot of differences between spouses, but they shouldn't create a hype of them. Sahil says when there were problems between Deepak and Gauri, but no one knew; and even Shruti and Karan had problems.
Similarly, their problems have escalated. Vaidika and Sahil announce they can't live with each other. Vaidika tells Nani she has tried for years now, but this man will never change; she is fed up of their daily fights. She is leaving his house, his family and his world.
She is taking away Ved and Virat, and shifting to their old house. Shirtij smirks. Puneesh cautiously eyes them. Nani was sure Sahil will never let her go. Sahil speaks Go away Vaidika ji, no one cares; it's good for them. Bari Amma intervenes that her grandchildren won't leave, this is their house.
Vaidika interrupts that her children will live with her, no one can stop her from taking her children. Her child Sahil is living with his mother, Ved and Virat will also live with their mother.
Vaidika clarifies to Bari Amma that her sons will live with their mother, like Sahil is staying with his. Nani tries to stop them. Aarya says the one who holds a real soft corner for Vaidika can also go away. Nani now comes to request Sahil but he holds his hand.
Nani decides she will also go with her daughter. Vaidika brings Ved to the hall. Ved runs to Sahil and asks him to join them. Sahil says it's good for everyone that Ved leaves with Mummy. Ved now asks Aarya to stop Mummy Papa, he doesn't want to leave Papa.
He asks why they are leaving, she always claims Ved is her favorite brother. Aarya's heart melts for Ved but Shirtij clutches her hand. Vaidika had brought Virat and leaves with her children.
Aarya steals a direct look with Vaidika, and leaves the hall by herself. Vaidika turns to look towards Sahil, he symbolically kiss her ring and holds his tears back. Deepak tries to console but Sahil wants to stay alone for some time. He cries when everyone has left.
In her old house, Vaidika was still confused why Sahil did all this. Nani brings the luggage bags inside. She was curt and taunts that her husband has shown his real worth, this is his true color. He is bored of her, and proved himself to be an Agarwal.
Vaidika turns to leave. Nani says she warned Vaidika they have an age difference and they won't be able to end up together. This is the guy Vaidika wanted to protect and Aarya married that Shirtij. Vaidika clarifies to her mother she doesn't know the complete truth, and she won't hear a word against her Sahil
Content created and supplied by: Gangara2 (via Opera News )
Opera News is a free to use platform and the views and opinions expressed herein are solely those of the author and do not represent, reflect or express the views of Opera News. Any/all written content and images displayed are provided by the blogger/author, appear herein as submitted by the blogger/author and are unedited by Opera News. Opera News does not consent to nor does it condone the posting of any content that violates the rights (including the copyrights) of any third party, nor content that may malign, inter alia, any religion, ethnic group, organization, gender, company, or individual. Opera News furthermore does not condone the use of our platform for the purposes encouraging/endorsing hate speech, violation of human rights and/or utterances of a defamatory nature. If the content contained herein violates any of your rights, including those of copyright, and/or violates any the above mentioned factors, you are requested to immediately notify us using via the following email address operanews-external(at)opera.com and/or report the article using the available reporting functionality built into our Platform See More