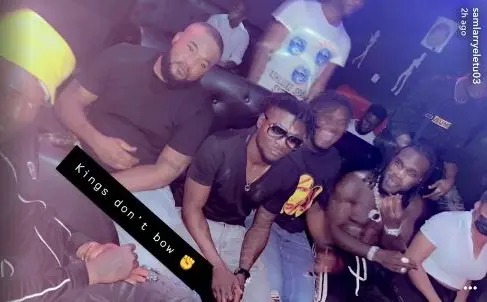 CDQ, Burna Boy, and Obafemi Martins, three Nigerian rappers, seemed to have reconciled their differences after being seen clubbing together.
This comes just hours after CDQ publicly chastised Burna Boy for disrespecting Obafemi Martins at Quilox, a Lagos nightclub.
Many Nigerians have responded negatively to the Nigerian artist.
However, in a new video that has surfaced online, the trios are seen having a nice time while clubbing together.
Recalled that anonymous blogger cutie Julus had a thorough account of the two celebrities' encounter.
According to the blogger:
Concerning CDQ's recent Twitter outburst
Apparently, Obagoal was confronted by Burna and his friends, who ordered him to dobale for one of their men outside Quilox club.
That is why obagoal would 'tasi' one of his lads.
Obafemi Martins should prostrate at his age
Obafemi was confronted by Burna's boy, who demanded to know why Obafemi was making such a racket. Who dey scream, yell, yell, yell, yell, yell, yell, yell, Obafemi became enraged and slapped him.
Burna responded in kind. When elders are speaking, Obafemi advised him not to disturb them. Instead of normally cautioning his bou, Burna should do so on his own.
We don't know Burna's boys name yet, but we do know he's one of Burna's team's small men.
Oba finally apologized, but Burna insisted, and his boys decided to make Oba do frog jumps if it hadn't been for the intervention of other clubgoers who came to his rescue.
Mama with the gist. Authentic as it happened at Quilox.
Watch Video HERE
Content created and supplied by: Allblog360 (via Opera News )