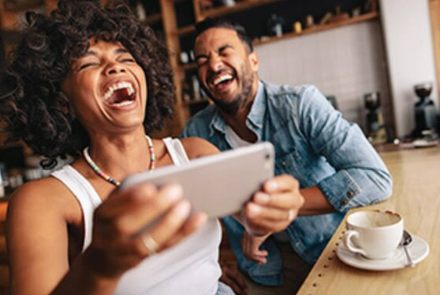 This write up presents two jokes that I hope, will make you relief some pressures off your mind. One is based on the use of few alphabets in place of words when people chat on the social media, the second is the story of a young man who wanted to play a fast one on a rich lady, but the tables turned on him. Therefore without wasting much time, let's dive into it;
The use of alphabets in place of words when chatting could be very annoying; you see messages like K, OMG, LWKMD and so on. It was my birthday and a friend sent me a message on face book; it read HBD, WLLNP, GMUB. I was irritated by the alphabets so I asked him the meaning of what he texted, he replied; ''HBD is Happy birthday, WLLNP is wishing you long life and prosperity, GMUB is God make you bigger''.
Then I texted TFU, he then asked what it means, I replied ''thunder Fire you''.
He thinks he can make life miserable for me, why did he not send the real words? If not laziness, or maybe he just doesn't care enough.
A young man with no financial strength took the daughter of a rich man to an expensive restaurant, fortunately for him the waiter is his friend. He went to his friend and told him he has nothing in his account, his friend should pretend that his ATM card is not paying because of network problem and the girl will have no option but to pay.
After they had finished eaten, the charge was 100,000 naira the waiter came to swipe his ATM card as agreed, when suddenly a text massage appeared in his phone telling him he has just won his bet of 100000 Naira.
That was how his plan to play a fast one on an innocent lady, turned on him.   
Sources;
Senator the comedian.
Barrister, Mike.
Content created and supplied by: firstnews (via Opera News )