Leeches are creatures with 32 brains, 2 hearts, 300 teeth grouped in 3 jaws, five pairs of eyes.
The leech is an invertebrate animal belonging to the phylum Annelida, a zoological category that includes more than 15,000 species of segmented bristle worms and 650 species of leeches in the subclass Hirudinea. Not all leeches suck blood and not all bloodsucking leeches seek the blood of humans. Many have evolved to have impressively specialised food sources: one desert variety lives in camels' noses; another feeds on bats.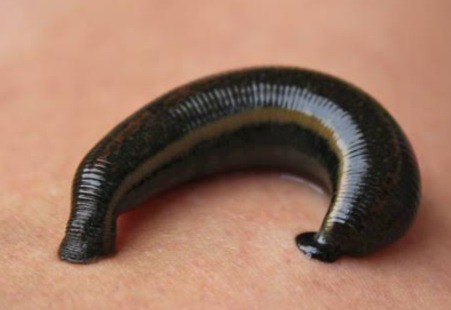 Description
Leeches are segmented worm-like creatures. They are usually flattened dorso-ventrally and have distinct suction disks (suckers) on either end of their bodies. They have a distinct head end with a mouth consisting of sharp cutting beaks located within the head sucker.
How many brains does a leech have
Leeches have 32 brains.
A leech's internal structure is divided into 32 separate segments, and each of these segments has its own brain.
What are the functions of these brains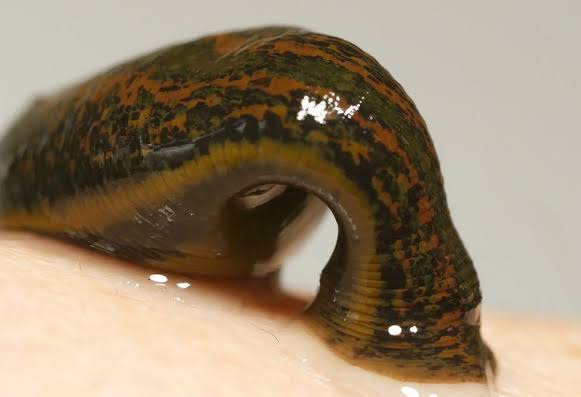 Leeches has 32 brains because physiologically, every ganglion regulate its corresponding segment and operate independently, it is said to physiologically possess 32 brains
How many hearts does a leech have
A leech has two hearts, one on each side. The bulk of it is storage." A fed leech can swell to up to five times its body weight. A small leech can expand eightfold.
What are the functions of the hearts
The segmented hearts propel blood through the closed circulatory system of the medicinal leech and switch every 20-40 beats between two constriction patterns. The heart sphincter, located in the posterior section of each heart segment, directs blood flow differently in the two modes.
How many teeths does a leech have
Leeches have 300 teeths
The leech has 100 teeth in its jaw. But a leech has 3 jaws, each with a hundred teeth, making your total of 300. When the leech bites, the jaws are moved in a sawing motion to open the wound. 
How many eyes does a leech have
The medicinal leech has five pairs of eyes, each with about 50 photoreceptors.
Leeches use their eyes primarily to detect changes in ambient light. If a shadow appears above them, they quickly detect it.
Habitat
Leeches live in fresh water and are mainly surface dwellers; they move overtop the river bottom rather than through it. They are most common in warm, protected shallow areas where currents are minimal and shelter is provided by plants, stones and debris.
Diet
Leeches can be carnivores, detritivores, but are mostly parasitic. Some parasitic species feed exclusively on invertebrate hosts, such as worms, other leeches, snails, and crustaceans, but most of them parasitize vertebrates (species that have backbones).
Life cycle and lifespan 
It generally takes about 2 weeks for the eggs to hatch into little leeches—about 5 per cocoon. They become reproductively mature in about a year. A leech can live from 2–8 years.
Are they intelligent
The giant Dracula leeches are intelligent creatures and very lively and fun to maintain and look after. They have a mind of their own and a personality as well.
Importance of leech
Leeches have been used in medicine from ancient times until the 19th century to draw blood from patients also to reduce fluid pressures in damaged tissues of animals. In modern times, leeches find medical use in treatment of joint diseases such as epicondylitis and osteoarthritis, extremity vein diseases, and in microsurgery, while hirudin is used as an anticoagulant drug to treat blood-clotting disorders.
Thank you for reading, please like, share, comment and follow for more interesting articles.
Content created and supplied by: Overflowingpen (via Opera News )
Opera News is a free to use platform and the views and opinions expressed herein are solely those of the author and do not represent, reflect or express the views of Opera News. Any/all written content and images displayed are provided by the blogger/author, appear herein as submitted by the blogger/author and are unedited by Opera News. Opera News does not consent to nor does it condone the posting of any content that violates the rights (including the copyrights) of any third party, nor content that may malign, inter alia, any religion, ethnic group, organization, gender, company, or individual. Opera News furthermore does not condone the use of our platform for the purposes encouraging/endorsing hate speech, violation of human rights and/or utterances of a defamatory nature. If the content contained herein violates any of your rights, including those of copyright, and/or violates any the above mentioned factors, you are requested to immediately notify us using via the following email address operanews-external(at)opera.com and/or report the article using the available reporting functionality built into our Platform See More