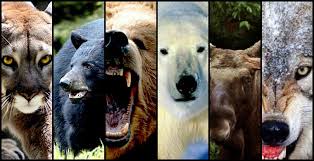 If you frequently spend time in nature - regardless of the type of climate, you may be at risk of animal attacks. The strategy you should take to defend yourself from an aggressive animal will vary based on the animal you're dealing with. While there's not a single, standard way to defend yourself against aggressive animals and survive the encounter, you can choose the best strategy based on the animal that's confronting you.
Handling Attacks From Various Animals
1. Intimidate an aggressive dog by shouting and throwing rocks.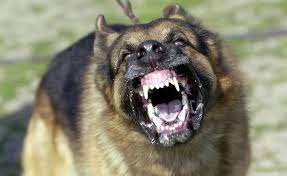 If one or two dogs (domestic or wild) are showing aggression towards you, stand your ground, make yourself appear as large as you can, shout, and throw rocks (or anything at hand) at the dogs. If a whole pack is threatening you, you may need to run for safety if protection is less than 20 feet away. Since dogs can't climb, try to get on top of a boulder or other large objects. If they continue to attack, try fighting them off with your hands or large stick.
2. Stand your ground and shout to deter an elephant
Elephants can be deadly animals. If you find yourself facing a charging elephant, do not run away and never turn your back. Instead, stand your ground and shout at the animal. In most cases, the animal will make 1 or 2 mock charges and then move off. If the elephant isn't mock-charging but makes a real charge, run from the animal in a zig-zag pattern and find a large object to hide behind.
3. Climb a tree when been chased by a hippo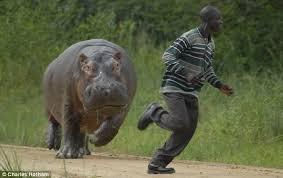 Hippos might look cute, cuddly, slow, and docile, but in reality, hippos can be quite vicious. They're considered to be the most dangerous land mammal in Africa, if not the world, claiming roughly 500 lives per year. Extremely territorial and protective of their young, they will give a chase and are surprisingly fast. You're unlikely to outrun them, so getting out of reach by climbing a tree can save your life.
4. How to survive an encounter with a snake
Snakes are found in many climates and terrains. Sometimes they can even appear in your backyard. For the most part, snakes are harmless, but sometimes they can hurt you. If you encounter a snake, you do not want to engage it, even if you think that it is not dangerous.
Getting bitten by a snake can be horrifying. Not only is the attack itself painful and terrifying, but it also because the average person can't identify a snake on-site, meaning that the possibility of venom often remains a foreboding question mark.
The following steps should be taken immediately:
1. Remove any jewelry or watches, as these could cut into the skin if swelling occurs.
2. Keep the area of the bite below the heart to slow the spread of venom through the bloodstream.
3. Remain still and calm. If you can, roll over to your side and rest in a recovery position. Moving around a lot will cause the venom to spread faster through the body.
4. Cover the bite with a clean, dry bandage. Try to use a pressure immobilization bandage if you can. This type of bandage should be tightly wrapped around the bite. Then, wrap another bandage around the entire limb, so that it's immobilized.
5. Cough when been challenged by a kangaroo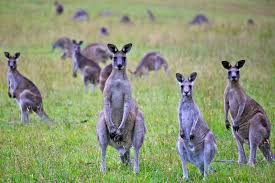 It might sound silly, but coughing can get you out of a losing fight with a kangaroo. A low cough or grunt-like sound is a sign of submission between kangaroos that can easily imitate while backing away from an aggressive kangaroo. Like with many other animals, running is likely to encourage a chase, so avoid it, take the recommended path of submissive slow retreat. You can help your cause by avoiding eye contact. If it's too late, curl into a protective ball rather than fight back, the kangaroo should lose interest once it no longer perceives you as a treat.
6. Run in a straight line if a crocodile or alligator attacks you
If a crocodile charges out of a swamp or overgrown lake and starts to charge, pick a direction and run as fast as you can. Adult alligators and crocs can only run about 18 to 20 miles per hour, so most adults should be able to outrun a crocodile. Large reptiles aren't built for long-distance chases, so they will quickly lose interest in catching you.
If the crocodile or alligator catches you in its jaws, poke and kick it as hard as possible in the eyes. Running in a zig-zag pattern to escape from a crocodile is a common misconception. While it won't necessarily hurt your chances of surviving an attack, it's just not necessary.
7. How to survive a shark attack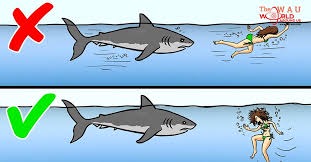 Sharks rarely attack, but when they do, severe and fat injuries commonly result. Scientists do not believe sharks attack humans to eat us; rather, they bite into our flesh because they are curious to find out what kind of animal we are; kind of like how dogs like to sniff new friends, only a lot more deadly.
Staying out of shark habitats is the surest way to avoid getting hurt. If you have accidentally wandered into shark-infested waters, you need to have a plan in place. Sharks have different methods of attack, they will swim right up and charge, sometimes they circle for a while before lunging, and they sneak up from behind for a surprise attack. To be able to defend against the shark, you must know where it is, so make every effort to watch the animal, even as you are working out your escape.
Face the shark and slowly swim backward away from it. Should it come in close and attack, aim for the eyes or gills, they are the most vulnerable areas on the shark. The more you make it clear that you're no easy meal, the quicker and more likely the shark is to leave you alone.
Content created and supplied by: Usheritto (via Opera News )