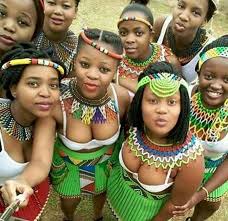 South African is mostly dominated by Zulu's people, from historical perspective Zulu's are the majority who settled first on South Africa soil to trade in Gold and Iron Ores, before they were capture by white European who were colonist. Hence, they managed to migrate into southern part of Africa like Zimbabwe, Mozambique, Swaziland and other places.
Today, the Zulu's people live mostly in Kwa-zulu Natal, and completely taken parts in their most inherited traditions which is distinguished from others cultural traditions in Africa.
Zulu men played dominate roles by breeding Cows and Goats, but the women trade in beads, since beads is essential parts of the cultural fabrics. Beads are used to connote different meanings, shape and color.
SINGLE WOMEN
single women are know as (intombi) that wears only a short skirt made of grass or beaded cotton strings, the ladies will not wear anything on top regardless of her size, weight, small or big butts. This doesn't attract any sexual motives to the naked breast, but a sign of singles ladies that have not been taken, she then spruces up her self with beads and also cut her hair.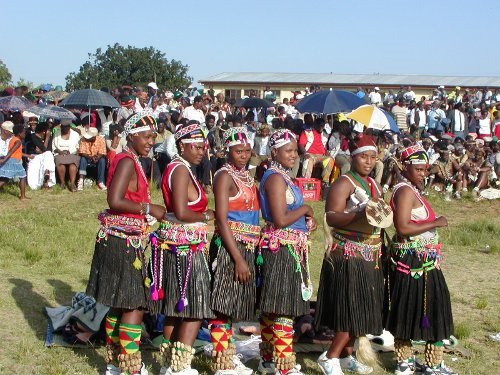 ENGAGED WOMEN
When a young woman has been taken or engaged, she let her hair grow and covers her breasts with a decorative cloth as a sign of respect for her future family, it also an indication for her community that a man is on the way.
MARRIED WOMEN
Married women cover their bodies completely, which is signs that she is above the unmarried, she then wear a heavy knee length cow hide skirt, the hide is treated until it is relatively soft, then they cut it into a long strips and sewn together.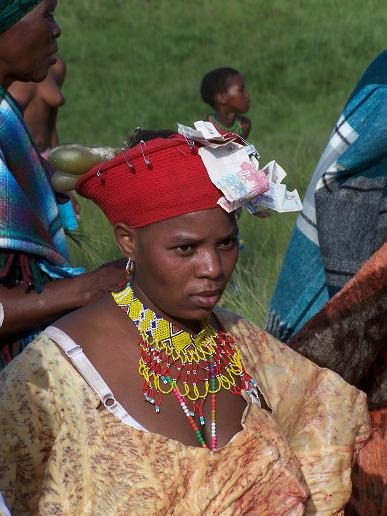 Over the skirt, a cloth that is decorated with predominantly red, white and black is worn or draped over. Beads are also worn and materials or skin to cover their breasts, although this days they tends to best or beaded bra.
PREGNANT WOMEN
In this traditional contents pregnant women are not left out attaire are known to be ('isibamba') this is a thick belt with glass or plastic beadwork to support the swollen stomach and the additional weight.
ZULU MEN
Traditional dress for men consists of the status of the person wearing them.
The turf of a Cow tail called (amashobi) are worn on the upper arms and below the knee to make the person appear broader than he is.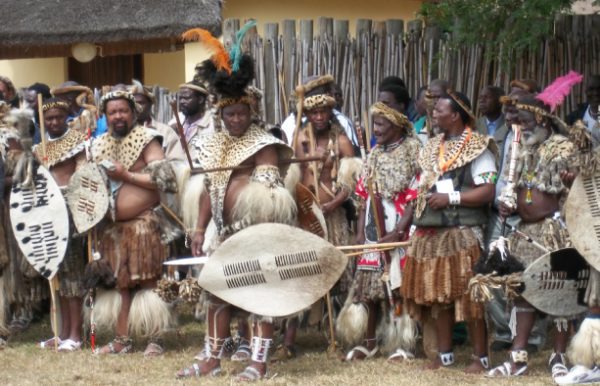 The Apron worn by men to cover their butts is called 'ibheshu', it is made from calf-skin, so it is soft and easily processed. Young men wear one that is knee-length as it is more practical for fighting, hunting and dancing, older men wear one that reach their ankles as they do not readily partake in those activities.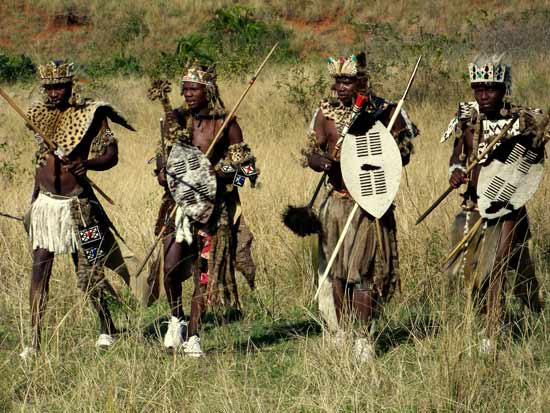 Africans should embrace our rich cultural heritage so that it can be developed and celebrated also the generation unborn can continue to promote this practice.
Content created and supplied by: Korex-prosper (via Opera News )