Many items claim to be able to remove stretch marks, but they don't live up to the hype. Stretch marks fade over time and become less visible, but they do not disappear.
It's unlikely that you'll be able to get rid of stretch marks in a totally normal way. They're a form of scarring that only occasionally fades to the point of being undetectable. However, there are several home remedies that can make stretch marks disappear faster and become less noticeable.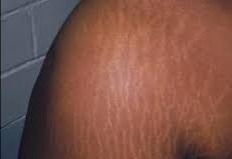 Stretch marks may be caused by a variety of factors. Pregnancy, obesity-related weight gain, adolescent growth spurts, drug side effects, or a sudden rise in muscle size due to weightlifting are all examples.
1. Vitamin A (retinoid): Vitamin A is a retinoid. Retinoids make skin look younger and smoother. Many over-the-counter topical cosmetic creams include them.
Simply applying a topical vitamin A extract or taking vitamin A orally will help your skin's health and appearance. A diet that includes a variety of foods.
3). Coconut oil: Because stretch marks are scars caused by skin damage, coconut oil may aid in the healing process.
4). Aloe vera: While there is little clinical evidence that aloe vera can help with stretch marks, it is a natural healer and skin softener. As a result, it's an excellent home cure for stretch marks. After you shower, apply pure aloe vera from a plant to your stretch marks.
Content created and supplied by: Andura (via Opera News )