 Round patterns give an entirely different look to the hands. These round shaped mehndi designs are suitable for almost all occasions and the fine detailing on the fingers make these designs traditional and are good options for festivals as well as for bridal mehndi functions. The round shape is popularly known as mandala which is very common in a bridal mehndi design.
The large round serves as the base around which several designs are made. This gives a multi-dimensional look to the design. Most abstract and geometric patterns are arranged in a round fashion. Many such designs look like complicated wheels or ancient symbols. The circular bases give a royal look to the hand.
Latest circle mehndi designs
72Design the centre of your palm with a Mandala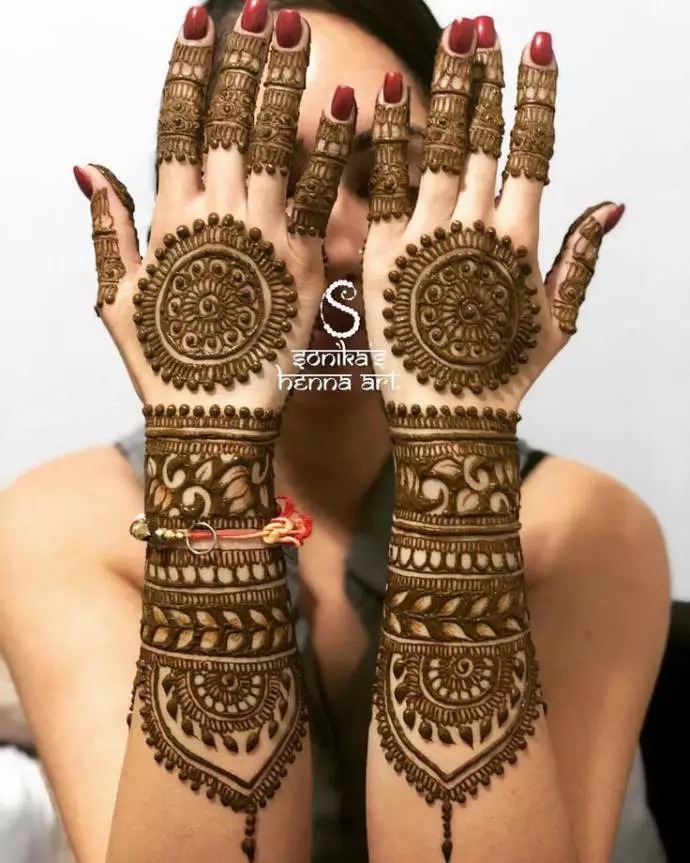 This design that extends to the elbows from the palm of the hand has intricately designed mandalas that combined along with other geometrical elements looks fabulous on any woman's hands.
71Beautiful Mandala on the back of your hands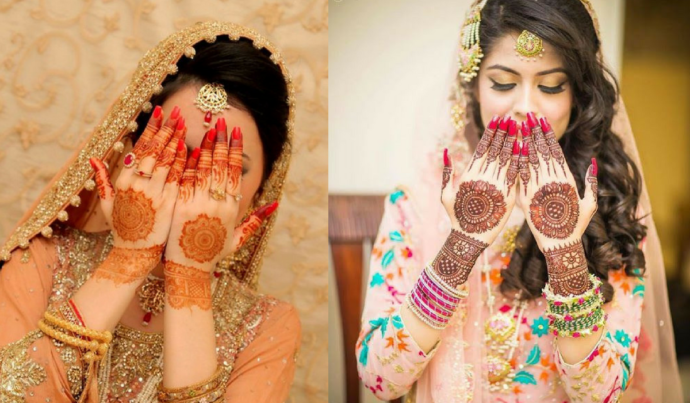 This design is a minimalistic look on the back of the hand which features the first two fingers with jewelry like design which graces the hands with the delicate design and beautiful color.
70Graceful geometric mandalas on your hands
This mandala design that takes up the design of bangles near the wrist and leave the fingertips on the back of the hand clean is a sophisticated design that will turn heads.
69Elegant mandala and flower design for you
This mandala design is mixed with natural elements like the flowers and leaves which increases the grace of the hands by leaps and bounds and also offers a slight variation in shades.
68Intricate leaves and mandala design
The mandala design on the back of the palm along with well-spaced and well-detailed design on the fingertips looks excellent. There are leave like elements around the wrist portion too.
67The floral story
The designs are a favorite when we talk of floral patterns. You can go for light and dark shades of mehendi depending upon your preferences. He length can be kept like this or extended following the same pattern.
66Finger special mehendi
This design is best for people who like works on their fingers. The fingers look beautiful with intricate work. The palms have been kept clean and pretty with design only in the middle of the palm. In the second design, it has been extended even in the wrist areas.
65Floral diamonds
The images remind you of diamond structures with intricate floral work inside them. The designs have been spread well. You can pair it up with pretty rings and bangles. The finger work looks perfect for any wedding.
64The Simple circles
This is a rather simple looking design with lovely work on the palms followed by leaf shaped structures towards the end. The finger designs are a highlight of this pattern. you can further extend the mehendi if you want. This is preferred by women who like their mehendi plain and simple.
63The coaster mehendi
These mehendi patterns look like coasters. With a huge design in the middle, you can see that the other parts of the hand have been kept clear to highlight the patterns. It is suggested to avoid wearing big rings as it would hide the lovely patterns made in the fingers.
62Quick beauties
Quick and fast, less hassle and a beautiful outcome is what women generally want. This design can be used without any reason or occasion. A small round structure in between and the work on the fingers make it a daily wear.
61Cone mehendi
This design can be called a cone design because of the patterns drawn on the fingers. The intricate work on the fingers with a round flower structure in between makes it a favorite for people who like making a statement.
60The bridemaid mehendi
This is a kind of pattern one would like to get done on her best friend's wedding. It looks rather embroidered with lovely round patterns extended till your arms. The fingers have been covered well with intricate designs. This can easily be paired up with a gorgeous lehenga or saree.
59The manly mehendi
It is a known fact that even men need to apply mehendi as an Indian tradition of weddings. These designs are perfect for men with a floral structure in between and straight patterns on the finger. This can be applied real fast that avoids sitting for several hours for getting the mehendi done.
58The Royal affair
The patterns remind you of Ranis and Maharanis of the historical ages. With intricate work on the fingers, and niche patterns on the palms, these patterns stand out in the crowd.
57The ornamental mehendi
The mehendi looks like an ornament itself as it has been linked from the fingers to the floral structure made on the palm. The second mehendi makes the fingers look beautiful with most of the focus there. The palm has been kept simple and nice.
56The hidden beauty
One special feature of this kind of design is that you will not see any place covered with mehendi. It has been done just with the help of patterns throughout. The second mehendi design has wrist design that deserves much appreciation. It is intricate and simple in its own way.
55Love shades
The mehendi, as the name goes, has beautiful 3D shades created by the artist. The flowers in between are enormous and beautiful. You can also see how classy the finger and wrist work look. The artist has further used beads to decorate the hands.
54The ring friendly mehendi
If you need a mehendi pattern that will stand out even if you pair up huge rings with it, these are the patterns you should be looking for. Intricate finger work with circular flower structure in between, the design compliments your jewelry.
53The sangeet mehendi
These are the perfect designs in case you want to have pretty hands in any sangeet or ring ceremony. The designs are small but look absolutely stunning. Pair it up with lovely rings and shine in any party you go.
52The chandelier mehendi
The patterns remind you of beautiful chandeliers with perfect floral patterns in between. The designs are small but well finished. You can for such designs for any small occasion like pujas or parties. Pair it up with salwar kameez or Indo-western outfits.
51Wrap on mehendi
These designs appear as if they have been wrapped around your hands. They are a mirror image of one another and are perfect for a bridal look. The work is classy and takes professional hands to look this way.
50The natural look
The designs here are simple, compact and subtle. The first design would go with Indian outfits for any small occasion. The second has a repeated pattern on fingers and wrist. The middle of the palm has been beautifully decorated with floral prints. The empty places have been filled with dots.
49Cherry Hands
Red mehendi is the new trend in the market. It is different and looks beautiful when applied properly. This design is well drawn in the sense that the hand neither looks empty, nor does it look over done. The design looks just perfect and would like nice on anyone.
48The marigold mehendi
As the name goes, this design covers your entire hand. It is easy to make with different layers of designs. This is the perfect design for people who want to cover their hands with the design without spending much time.
47The teenage mehendi
The designs are perfect for teenagers and young girls who don't like the idea of pending hours on mehendi. A simple circle in between, a bit of work on the fingers and you are ready to go. Wear it with finger rings to enhance the look.
46Pashmina touch
There are some designs that will remind you of the famous Kashmiri work. These mehendis do the same. The trick is, you need to use different thickness of mehendi cones to get this texture. The leaves and check work look lovely.
45The bridal fetish
The first design is for women who like keeping it simple and still making a statement. The second design is much extended and reminds us of perfect bridal mehendi. It has been perfectly made with intricate and repeating patterns. The nails have highlighted with mehendi filled on the either sides.
44The shy hands
A perfect combination of colors and mehendi, these designs are not that intricate but look amazing because of the colors involved as well. The first has red hues, while the second has been paired up with lovely jewelry.
43Circle mehendi
The circular patterns have always been a favorite of most of the artists. The intricate work along with the simple look is what makes a statement in every party. The finger work is nice and simple. Pair it up with rings and bangles to enhance the look.
42The small wonder
You would often find long and extended mehendis but have you ever seen mehendis that are small and this vivid? The flower structures are so well decorated with none of the spaces left untouched. The same can be said about the fingers which have five to six types of designs one after the other.
41Childhood mehendis
These designs are perfect for children who love applying mehendi occasionally. Simple and cute round structures with filled fingers are the most adorable things you can come across. You can also experiment with colors to make the mehendi look more exciting.
40Dots and dashes
It is fantastic how the designs have been sketched so well. Fine lines and dots made with thin mehendi cones make your mehendi look beautiful. The curves and circles look perfect. You can pair these mehendi up with a sophisticated pair of khadi kurtas or saree. Absolutely stunning for any social gathering or party.
39The traditional touch
This mehendi talks a lot about our traditional designs. It will remind you of those designs our grand moms and moms used to make during their wedding parties. Repeated patterns throughout the hands with no spaces left makes your hand look beautiful.
38The new season look
These designs are perfect for any newly married brides and brides to be. You can apply them easily and also experiment with normal and red mehendi. Pair it with jewelry and clothes of the same color and enhance your outfit this season.
37Back hand gorgeous mehndi design
Apart from the mesmerizing patterns done on the back side of each finger, this pattern is gorgeous for the elaborate work done on the backside of the hand. The use of circular patterns, dots and spiral lines make it desirable for every girl.
36Artistic back hand mandala mehndi design
Different styles are made on each hand. This design is perfect for every bride who is about to tie the knot. The patterns are neat and intricate which makes them easier to make. Each and every pattern makes for an exciting and outstanding look.
35Minimal round mehndi design
Not looking for something that is way too much? Then, try out this beautiful yet simple work of art. The centre of the palm is painted with a beautiful floral art. It is surrounded by more details of curved lines, dots and designs. The fingers show a bare minimum design. Each finger has the exact same design.
34Gorgeous back hand mandala pattern
Different patterns are made on two hands. One shows wrist work that depicts straight lines, semi floral patterns, dots and spiral designs. The other hand has work done on each finger. Although, the designs are similar and not too much. They create the perfect charm. The centre of the hand sees a round pattern that has been beautifully decorated. Perfect for any mood and reason.
33Wrist and palm mandala mehndi design
The black colour of this mandala mehndi is so exciting. It beautifully brings out the round pattern that has been further designed. You will see the exciting work on the wrist. This unique pattern makes for the best minimalistic patterns you will get.
32Elaborate mehndi design for your hands
The backside of your hands is about to look like it has never before. Each finger will be covered in an intricate design of criss-cross patterns, straight lines, curved patterns and so much more. To balance the heavy work on the fingers, the palm shows a simple yet elaborate work. The round mehndi design is covered in simple and beautiful patterns. This mehndi design is perfect for every bride.
31Mandala art mehendi deisgn
Cherish the good times with a flavoured aromatic mehendi adorned on your pretty little palms to get your style game on. This traditional Mandala art mehendi is a surefire hit amongst the young women to burst the bubble of the authentic fuller hands henna design. The unmarried girls largely prefer such minimal yet festive -ready henna design to bask in the after-glow of trendy designer hands.
30Dainty intricate round mehendi design
Let the eyes be on you as you gracefully adorn your delicate hands with the Dainty intricate round mehendi design which is a beautiful blend of traditional and modern design. This awe-inspiring henna design is all about the eternal flair of wedding and festive special mehendi that young girls can sport effortlessly.
29Elegant whiff round henna design
Decorate your pretty long sleek hands this festive season with gorgeous earthy finish intricate geometric shape henna design. The round circle in the middle will become the centre of attraction and catch your fancy whiff as you will become the flawless beauty amidst the chaos. Indulge in a stylish affair and let the beauty take a toll on you.
28Arabic style round geometric mehendi design
Take your henna game up a few notches with this stylish Arabic round geometric henna design to embrace creativity and glorious mess on your gorgeous hands. Set those eyes on fire as you delicately flaunt the mesmerizing style and woo men with that oomph which will instantly make you the limelight stealer.
27Bridal persian round mehendi design
Soak in the peppy vibes this festive season and let the bride in you shy away with sweetness to lure in beau and belle feels. We got you covered with this unique round Persian henna design to adorn your delicate palms and legs with the gorgeous generous mehendi. You can lift the fashionable quotient and sway in style just like your glorious crown to spread the infectious vibe.
26Bridal full-length round leg henna design
Let the bridal glow spell a cast on you as you step down the aisle in the breath-taking round temple designer henna on your legs. Let your beau be taken aback with surprise as you enchant him in your spell-binding aura and weave an eternal blissful henna design by imprinting the geometric designs on your feet and palms.
25Pretty red round mehendi
Steal the spotlight as you strut down the street in this glorious pretty red round mehendi design. Shy away in the breezy festivity or adorn your hands with peculiar designer henna on the wedding season to be the alluring attractive bride. Let your gorgeous hands be the kitschy conversation-starter as the guests turn heads to look at the mesmerizing you.
24Gorgeous flower round mehndi design
Round Flower Mehndi Design on the back of the hand is gorgeous.Flowers beginning with a small darkened circle and proceeding to be filled with several petals makes an excellent pattern. A single flower can be made on the palm or more flowers in different sizes in order to make the design larger and more ornamental. The edges are adorned with spirals that complete the look of the petals.
23Complex round mehndi design with elaboration
This is a round mehndi designs which is made complicated and elaborate by adding a lot of intricate patterns within the major circle thin circular lines with several curls and spirals makes the image look like some ancient symbol.
22Concentric circles round mehndi design
A beautiful round mehndi design made with several concentric circles can create a number of different patterns. Thick dots and spiral in between act as supplementary elements that complete the design. A border along the fingers and the wrist adds to.
21Simple round mehndi design
A rather beautiful and simple round mehndi designs which is suitable for any special occasion. This is a traditional design that adds beauty to the hands. The intricate circular pattern on the palm and detailing on the fingers are remarkable. The use of black mehndi makes it more prominent.
20Floral pattern mehndi design
This design too looks beautiful with a central, round design on the palm and floral pattern on the lower part of the palm. The central, round design is surrounded by floral motifs which extend till the wrist and beyond. The patterns on the fingers have floral motifs.
19Mehndi design with modern twist
This is another simple and interesting design in a round shape giving a modern twist. The pattern is dense, detailed and shines out with blue glitter which highlights the central flowermotif. The detailing is not cluttered but refined to give the design a clear look.
18Pretty look mehndi design
This mehndi design on the feet looks right for a bride. The round shape on top of the feet and small detailing on the toes gives the feet an elegant look. The central, floral design is surrounded with another circle and small detailing work around the circles makes it look pretty. The toes are decorated with small floral patterns to make them stand out.
17Wedding function mehndi design
This design in circular shape is perfect for any occasion, be it a family function or wedding. The smallest circle in the middle of the palm is surrounded by small half circular motifs with a fine intrinsic pattern. The weave pattern on the fingers adds beauty to the hands.
16Red colored mehndi design
This beautiful mehndi is made with red mehndi color. The main central design in a circular pattern has an inner circle filled with red color. The tips are filled with color and minimal designs are drawn on the fingers.
15Rich design mehndi with small dots
This is a very intricate and rich design in round shape. The central covers the whole palm with detailed pattern. The fingers are decorated with fine patterns followed by small dots. This is a simple design perfect for a bride.
14Central round designed mehndi
A small floral, round mehndi design for the hands is here. The central round design has floralmotifs. The fingers are beautifully decorated with floral, weave and lace like patterns.
13Combination of red and black mehndi
This is a superb combination of red and black mehndi. The outline is done with black mehndi and the patterns are filled with red mehndi.
12Engagement ceremony mehndi design
This unique, round mehndi design features a detailed central design along with a small chain like intricate pattern. The ring finger is highlighted with a small design and rests of the fingers are left vacant. This is an ideal mehndi design normally used for Sagai or engagement ceremony.
11Arabic style mehndi design
An outstanding Arabic design in circular shape is here. It has an intrinsic detailed pattern   filled with hues of orange. The circles and semicircles on the fingers add beauty to the hand.
10Artistic mehndi design
This is another Arabic pattern with different size of circles filling the complete palm and the fingers with black and orange mehndi. The rounds are artistically converted into flowers with the help of dots and small strokes.
9Clean circle mehndi design
Many people would like to get the mehndi design that is not very heavy or load but would get a simple touch in order to create a beauty pageant. This can also be a tool of yours when you are willing to attend a casual party or a religious occasion right at your home.
8Circular mehndi designs for long hand
If you have long hands like the one which is displayed in this image, the particular design of circular mehndi will suit you the best. Look how beautiful the hands are looking with the exclusive circular design drawn at the back side of the hand and the middle portion is kept blank which looks like a small stone placed.
7Circular mehndi design at the wrist
These days the mehndi design is not only portrayed over the palms of the individual, rather it is created at other parts of the hands. Look at the exclusive mehndi design that is placed at the wrist. If you have a wider wrist, this circular mehndi design wills suite you the best. Also a wonderful artistic design is portrayed from the wrist and extends till the middle of palm.
6Small ball circular mehndi design for hand back
If you are not good in art and cannot draw a very good image, even very fine mehndi design won't be your cup of tea. But, this is such a simple mehndi design which will give you a gorgeous look without having to create a very fine and difficult lines on your hands. This can also be very suitable for novice.
5Floral round design on hand
If you are looking for an exclusive mehndi design, this design will be a great hit. You can have a look at it and portray it o your hand. But, if you are not daring to do it with full confidence, call up your friends or relatives to do the same. You can also call up a mehndi artist to go ahead with this beautiful creation.
4Chain inclusion circular mehndi design
Mehndi design portrayed in this image looks really great and easy to create as it looks really different and creative. In the middle of the hand back there is a bigger flower with a circular look. Two chains are displayed at the back and in a finger just between your middle and small finger along with a small flower portrayed just below the nail.
3Red and black circular mehndi design
There was a time when only a simgle color mehndi was available in the market but today with innovation in cosmetic market people can get different colors of mehndi. This is also an exclusive mehndi design that is created with the combination of two mehndi colors. The red and black color combined together looks exclusive.
2Wedding exclusive circular mehndi design
If you are looking for the mehndi design to be portrayed on your hands, this is a wonderful one displayed in front of your eyes. This can also be your tool when you are willing to make the crowd surprised. Check this out today and avail it to make yourself look attractive. This particular mehndi design is a deal to surprise your loved one.
1Circular clicks mehndi design
Another very simple mehndi design can be exclusively portrayed over your palm and the portion of your wrist. This can be tried on ladies of all age groups whenever they are on the verge of attending an occasion. Whether it is a casual function right at your home or at your friends place, this circular mehndi design will work really well. Try this today and surprise your friends and relatives on the occasion you are going to visit. You can even portray this mehndi design right with your own hand.
Content created and supplied by: studio.opera.com (via Opera News )
Opera News is a free to use platform and the views and opinions expressed herein are solely those of the author and do not represent, reflect or express the views of Opera News. Any/all written content and images displayed are provided by the blogger/author, appear herein as submitted by the blogger/author and are unedited by Opera News. Opera News does not consent to nor does it condone the posting of any content that violates the rights (including the copyrights) of any third party, nor content that may malign, inter alia, any religion, ethnic group, organization, gender, company, or individual. Opera News furthermore does not condone the use of our platform for the purposes encouraging/endorsing hate speech, violation of human rights and/or utterances of a defamatory nature. If the content contained herein violates any of your rights, including those of copyright, and/or violates any the above mentioned factors, you are requested to immediately notify us using via the following email address operanews-external(at)opera.com and/or report the article using the available reporting functionality built into our Platform See More