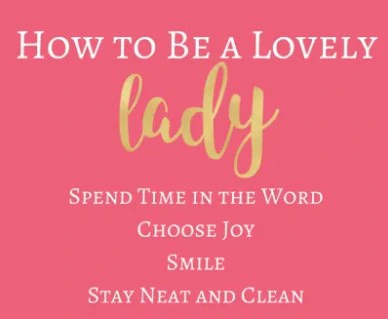 Hey Sweet Friend,
Today I want to talk about much-needed, and much forsaken topic in our culture…
How to Be a Lovely Lady.
Sadly, many girls are growing up not being taught how to be a lady. Our world is full of grown women that no longer know what it means to be a woman, or how to be a feminine and lovely lady. Feminine and ladylike behavior is becoming more and more rare. 
So, today we are going to talk about some very basic practices you and I can apply to our lives to become a truly lovely lady. Many of these are just basic manners and good etiquette, but it's worth being reminded of them all.
After you're done reading this post, I want to hear your thoughts on the subject of being a lady!
How to Be a Lovely Lady
Spend Time in the Word
A young woman who chooses to spend time with the Lord, reading His Word each day, will be lovely inside and out. When we read the Bible, we learn what God has to say about true womanhood and femininity. God's Word is our guidebook, and as Christian women we will benefit greatly from situating our minds and heart in the word of God ♥ If you want to be a truly lovely lady… spend time with the Lord in His Word!
Choose Joy
Choose to rejoice in the Lord. Joyfulness is a lovely characteristic that makes a woman truly beautiful. Choosing to be joyful in the Lord doesn't mean we will never feel down or have a bad day. No, it means that in spite of it all the ups and downs of life, the joy of the Lord is our strength (Neh. 8:10). Joy in your heart and soul will give your face a lovely and beautiful countenance.
Smile
It seems as if so many young women don't know how to smile anymore! Putting a smile on your face is a free way to improve your outward appearance…. and a genuine smile (not a fake one!) will make you look lovely!
Stay Neat and Clean
I'm sure you know this already… but proper hygiene is so important! Not only will help you look and smell better… it will help you feel better. Taking daily showers, using deodorant, brushing your teeth, getting hair trims when necessary (speaking of which, I need one myself!), and wearing neat and clean clothing are all part of being a lovely lady!
Smell Lovely
I've already mentioned daily showers and deodorant, but there a lots of other (simple) ways to smell lovely. Scented shampoos, scented body wash, perfume, and/or essential oils are all wonderful ways to add some scent to your persona. It never hurts to smell lovely (just be careful not to over-do it!)
Dress Appropriately
Learn how to dress appropriately for all occasions. We must all be careful to dress modestly, but the type of clothing we wear should vary… weddings, funerals, church services, play/leisure, and work, are all different occasions that call for different kinds of modest clothing. Learn to dress modestly and appropriately for each occasion.
Look Like a Female
In a world where men are looking effeminate and women are donning all kinds of masculine styles, make sure your appearance is distinctly feminine. We should be careful to avoid manly looking hair cuts and masculine clothing styles. Make sure it's obvious to the world that you are a feminine lady by the way you look.
Keep Your Makeup Natural
Too much makeup doesn't look lovely on anyone (unless you're a skilled makeup artist that knows how to make it look natural!). Use a light hand when it comes to makeup, and learn how to apply it conservatively, and naturally.
Say Please and Thank You
Manners will forever be a vital aspect of loveliness. You cannot be a lovely woman without good manners. Simple things like saying "please" and "thank you" go a long way.
Learn the Art of Writing Thank You Notes
People love to feel appreciated. When someone gives you a gift, treats you to a meal, or makes a kind gesture, send them a thank you note in the mail. It's always exciting to receive something in the mail, because most people choose to text or send a message via social media. Hand-written thank you notes are becoming a lost art.. don't let that happen, learn to write and send your own thank you notes.
Make Others Feel Special
A woman who makes others feel loved will be remembered and appreciated. Learn to be friendly, be kind, and show others that they are special and loved. Give others a genuine compliment, smile at someone who looks sad, and give a hug to someone who needs one. People will never forget how you made them feel. How can you make someone feel special today?
Remember Names
One of the best ways to make someone feel special, is to remember their name and use it. I must admit, I am not the best at this, but it is something we can learn to do, and we can get better at it. When you learn someone's name, try to pick out something unique about them to attach with their name. Such as: Sarah has strawberry blonde hair, Rachel has brilliant blue eyes, and Hannah is an amazing violinist. Learning to attach a person's name with something about their appearance or personality will help you remember their name and remember something unique about them that you be able to use later!
Be Considerate
This goes right back to having good manners and making people feel special… but be considerate of another person's feelings. My mom used to tell us (my brothers and me) over and over again… "if someone doesn't like something, don't do it!" She had to say this so often because as siblings we often didn't "get it". However, it's an old principle that's worth remembering and applying.
The reverse is also true… if someone likes something… do it! Go and talk to that lonely girl, give flowers to the friend who loves them, and give a hug to the elderly lady who loves to receiving them. Consider the feelings of others, and then do something about it!
Show Respect
Unfortunately, many young people (young ladies included) do not know how to respect those in authority. Whether it's your parents, teachers, grandparents, or other adults at church, learn to be respectful. Remember to say "Mr." and "Mrs." instead of calling an adult by their first name (unless they've asked you to use their first name). Saying "yes sir" and "yes ma'am" never hurts either.
(A quick side note here: I once worked at as a counselor at a Christian camp, and all the campers were required to use "Miss" and "Mr."along with out first names – what a great way to teach kids to be respectful!)
Showing respect should not be disregarded or forgotten; it's still important. It's also another mark of truly lovely lady.
Let Your Personality Shine 
Some girls are so shy they never let others see their amazing personality. I remember reading in this beauty book that when a young women is in a group, she should smile and talk, and let her lovely personality shine. This can be really hard to do if you are naturally a quiet person. The key here is to focus on being a friendly person and find someone (or several people) that make you feel comfortable in their presence. Practice being friendly with them and let your own unique personality come out as you interact. Then gradually learn to talk and interact with others. Before you know it, you will naturally become a more outgoing person who isn't afraid to be friendly and share her unique personality with others.
Don't Be Stubborn
A stubborn woman is not a lovely woman.
There are times when we ought to be stubborn – like when we need to stand up for something that's right, or when we need to stand up for someone. But most of the time, a woman who is stubborn and set in her ways will never have an air of loveliness about her. The Bible compares stubbornness to iniquity and idolatry (I Sam. 15:23)! Those two things are definitely not attributes of lovely lady!
Put Your Phone Away
I'm sure you've already noticed that our society is extremely attached to their phones. There is something addicting about that little device with a screen. However, if you find yourself in a group, or someone wants to engage you in conversation… put your phone away! I know this can be hard to do, but always remember that real-life connections with people are so much more important and valuable than connecting over a phone. So, choose to put your phone away!
Be Prompt
Running late isn't just rude, it inconveniences other people, and it's a poor testimony. Of course, we all run late occasionally – sometimes circumstances don't allow us to be on time. But, as best as we are able, we should make it a habit to be prompt. This might mean getting up earlier, getting ready faster, or not stopping for coffee! But whatever it takes, discipline yourself to get ready early and be prompt!
Learn How to Be a Hostess
A lovely lady knows how to be a warm and welcoming hostess. Her home and the food she serves do not need to be perfect… the most important thing is that she makes her guests feel welcomed, at home, and comfortable. Hospitality is something else that's becoming a lost art. You do not need to go all out – just learn how to open up your home and make people feel special. You don't even need to serve a full meal, just coffee and dessert can be a blessing to a new (or old) friend.
Be Virtuous
Last but not least, what makes a woman truly lovely is her godly and virtuous heart. This comes when we spending time in the Word of God and allow Him to mold and shape us into women of godly character. The best secret for becoming a lovely woman, is to become a Christ-Like  the virtuous woman!
"Who can find a virtuous woman? for her price is far above rubies." Proverbs 31:10
"Favour is deceitful, and beauty is vain: but a woman that feareth the LORD, she shall be praised." Proverbs 31:30
Final Thoughts
There you go, my lovely friend. Those are 20 simple ways to be a truly lovely lady. I hope you will read over this list, think about each principle and make any necessary changes in your life.
Please don't let feminine, and lady-like behavior die in our culture – choose to be different, choose to embrace femininity, and choose to be a lovely lady!
If you would like to read more about the topic of lady-like femininity, I would highly recommend Elizabeth Elliot's classic book, let me be a woman . It's a must-read for every woman!
Before You Go…
→ I want to hear your thoughts! What would YOU add to my list?
(Pssst. I created a little infographic for you! Save it to Pinterest and share it with your friends! Let's encourage other girls to become a truly lovely lady ♥)
Content created and supplied by: SK9ja (via Opera News )
Opera News is a free to use platform and the views and opinions expressed herein are solely those of the author and do not represent, reflect or express the views of Opera News. Any/all written content and images displayed are provided by the blogger/author, appear herein as submitted by the blogger/author and are unedited by Opera News. Opera News does not consent to nor does it condone the posting of any content that violates the rights (including the copyrights) of any third party, nor content that may malign, inter alia, any religion, ethnic group, organization, gender, company, or individual. Opera News furthermore does not condone the use of our platform for the purposes encouraging/endorsing hate speech, violation of human rights and/or utterances of a defamatory nature. If the content contained herein violates any of your rights, including those of copyright, and/or violates any the above mentioned factors, you are requested to immediately notify us using via the following email address operanews-external(at)opera.com and/or report the article using the available reporting functionality built into our Platform See More