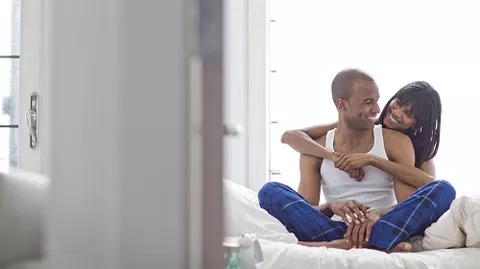 After spending the entire day in work clothes or active gear you'll probably want to end the day in your comfiest of clothes. But what if we tell you that you can wear something comfy as well as flirty at the same time.
Here's a spoiler ladies, a man would preferably want you to wear NOTHING in bed. For some, what you wear is of no concern to them since the whole point is to rip it off you instantly. Basically, anything or nothing goes.
However, clothes have a certain appeal to them. For men to rip them off you, there has to be something 'on' you that arouses them. Your body does a good job of catcalling your boo even without words, but here's a fun fact about clothes.
Fun fact: Clothes accentuate a woman's natural curves and adds to her appeal. Therefore, whatever clothing item she wears heightens her s£xual appeal. We don't make the rules but just go with the flow. And according to these s£xually active men, they know what works for them.
Before we proceed ladies, take notes because as usual, men are pretty simple and know what they want.
READ ALSO: How to Make more than $1,000 in Less than A Month Online
READ ALSO: Stop saying 'I love you', see the correct words to say
10 Things Men Like Their Women to Wear in Bed
1. Oversized T. Shirts: The movies don't lie. There's nothing like a girl in a plain old big shirt strutting around the room. It makes men wonder if she's even wearing anything beneath.
2. Just an itsy-bitsy underwear: Are you feeling the heat already? Men love a woman who goes braless to bed. This makes it easier for them to cuddle you and feel their skin on yours without any stress. Most of these kinds of men also go to bed bare chested. Worry not, even if the night is cold, you've got body heat to keep you warm.
3. Pyjamas:
Yes oh! Some men actually find a woman in pyjamas s3xy. They are big and they will hide her body completely and that is what makes them super - hot. It's the mystery underneath that is so seductive.
I mean these PJs are something completely opposite of s£xy. They are equivalent for 'granny clothes'.
She looks more innocent in them and makes the pounce a thrill.
4. Booty shorts: Men find this extremely attractive. You don't have to show your butt to be s£xy.
Men also love these booty shorts with cute prints or an inscription on them. It looks like you are innocent, girly-men like that.
5. His shirt: As long as boo is clean, what's the biggy. Men like to see their ladies in something they've worn. If a guy loves you he'll probably love to see you in his clothes. His loose fitting t-shirt will look extremely s£xy on your skinny body I don't know if this appeals to a Nigerian girl but an alternative to take something clean from his closet. However, the whole point is for them to smell themselves on you. Don't ask how I know this.
6. Matching underwear: This could be a matching sports bra and underwear or any coordinated set of underwear. It makes their ladies look like they just walked off a Victoria secret magazine.
7. A s£xy night dress: Don't always leave the s£xy for the honeymoon. Men fall head over heels over their ladies on that particular night for a reason. So, ladies get the s£xy back with that nightdress and matching lingerie. Men go gaga for this!
8. Glasses and a messy bun: Glasses equals intelligence. And on the plus side, men get these teacher - student fantasies whenever they see a girl with glasses.
Messy bun-hot, hot, hot! It's messy, it's s£xy. Men probably get the idea that you're restless and adventurous. But, you are sending the message: "I don't care.
I just got up and I tied my hair up and I DON'T CARE." That's when you are the most interesting to them; when you are not interested.
9. Socks: If you were hoping to read more don't sweat it because it's just socks and nothing else. These men may have a foot fetish and simply find a woman who is naked knee up hot hot hot.
10. Absolutely Nothing: Surely you saw this coming. Why waste time wearing clothes when they are just for decoration right? Guys, if there's anything left out from this list. Feel free to share by dropping your comment. There's every guarantee that ladies have their eyes on this, and a making notes.
Follow this blog for more interesting posts on this subject matter as well as other related and none related topics. You can also connect with me by following me on Twitter here and Instagram here.
Kindly like, and share this article.
Content created and supplied by: Johnisaacsblog (via Opera News )